5 tips to help you satisfy your inner wanderlust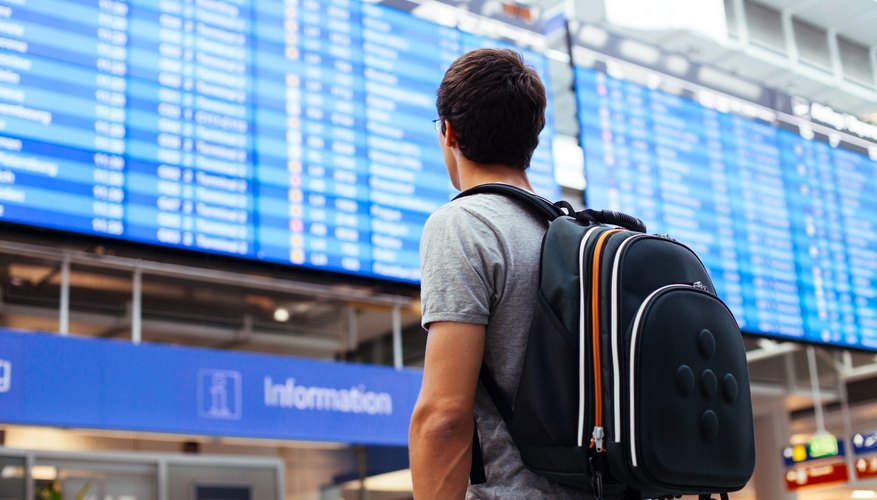 Booking your first international flight can be a nerve-tingling moment. For the first time in your life you're preparing to leave the U.S., step outside your comfort zone and go to a whole new country. Compared to flying within America, planning an international trip is a little more complicated. Get your ducks in a row a few months before you go to guarantee a stress-free, budget-friendly experience.
How to fly internationally cheap or free
The cost of an overseas flight makes up a significant percentage of the cost of your trip. Here are some tips for flying for free or cheaply:
Credit card air miles: Save up enough credit card air miles and you could end up paying nothing for your flight. Check for fees and charges before signing on the dotted line and pay off the monthly balance to avoid interest payments.
Book early: Airlines increase ticket prices as departure dates draw nearer. Usually, the earlier you book, the cheaper the ticket.
Go incognito: Some airlines increase the price of a ticket when you search frequently in order to encourage you to book before the fare goes even higher. Use a search engine to find the cheapest flight, but use incognito mode on your internet browser so your searches aren't recorded.
Be flexible: Search for dates several days before and after your ideal date. Airfares are often cheaper on unpopular days like the middle of the week. Traveling at quiet times of the week also increases your chances of a free upgrade.

Book the legs of your journey separately: If your flight requires a layover, check the cost of booking one flight to the transit airport and a second flight to your destination. Remember to allow for a long layover in case of delays. If you miss your onward flight, you won't be entitled to compensation.
What to expect at TSA and Customs
You pass through security screening when you leave the U.S. and you may be screened again at your transit airport. Before you enter the departure lounge and gates, you'll pass through the security area where TSA personnel screen you and your carry-on bags. The TSA's 3-1-1 liquid rule applies, which means you can only carry liquid in containers that hold 3.4 ounces, and all your containers must fit inside a transparent plastic one-quart bag and you are only allowed one bag. Tempted by those liquid products in duty free? Leave them sealed in their duty-free packages and they're exempt from the liquids rule when you pass through a transit airport.
Passport considerations
A valid passport is a must-have for international travel. Other IDs, like a passport card, just won't cut it for air travel. What's more, many countries require you to carry a passport that's valid for six months after you return home and contains at least two blank pages. Also, some countries require a separate entry visa. This is an area where you really have to do your homework. If you don't have the necessary documents for travel, the airline won't allow you to board the flight. Though U.S. citizens can travel to many countries visa-free, for some destinations, you have to apply at the relevant embassy or consulate. Check the country's entry requirements when you book your vacation.
Surviving long flights
Let's face it, long-distance flights aren't usually the most comfortable, but you can make the best of the experience by picking your seat well and pampering yourself a little.
Online check in: Airlines often provide online check-in 24 hours before departure. Sometimes you can swap the seat you were given when you booked for a better one.

Exit seats: Sitting next to an exit offers the best legroom, but you must be fit and able to open the door in case of an emergency.
Aisle seats: An aisle seat might prevent you from seeing the view, but it saves you from clambering over other passengers for restroom visits or to stretch your legs.
Window seats: If you plan to sleep the flight away, a window seat means other passengers won't be clambering over you.
Best of both worlds: Traveling with a companion? Book the window and aisle seats. A single middle seat is often last to be booked so you might find you have extra legroom. If a passenger turns up to claim the seat, they'll probably behappy to swap for a window or aisle seat.
Muscle cramping and dehydration are your enemies on international flights. When the seat belt sign is off, stand up and walk around. While in your seat, change position often and do sitting exercises to keep your blood circulating. Sip water and apply moisturizer to combat the effects of the dry cabin air.
What to pack for every international flight
A few well-selected items can help your international flight pass quickly and put you in a great mood when you reach your destination.
warm sweater

earplugs or noise-canceling headphones, and eye mask

pen for filling in landing forms
hard candy or chewing gum to help your ears pop at take-off and landing

travel pillow
books, magazines, reading device, tablet or laptop
portable device charger