5 Things to Keep in Mind When it's Your First Time Flying
By Denise Schoonhoven

; Updated June 08, 2017
Ready, jet, go! All you need to know before your first flight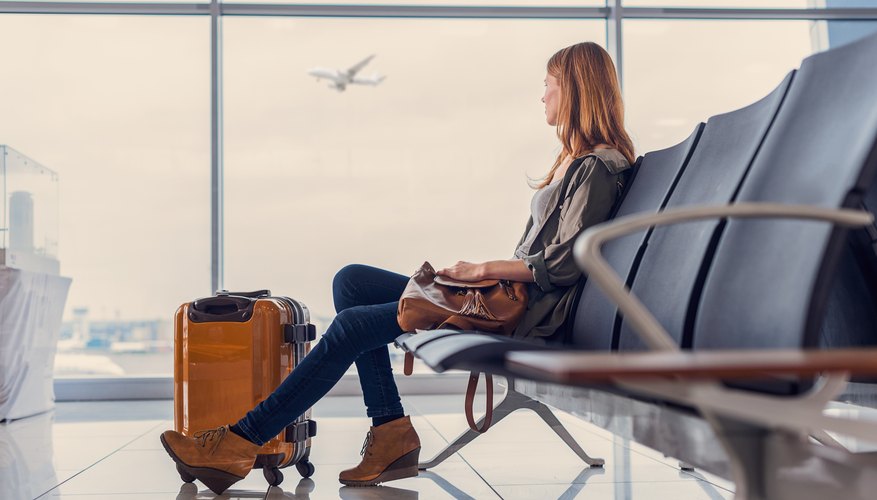 In the great tradition of adventurers throughout the ages, taking your first airline trip is a rite of passage. Or maybe, you just need to get to Denver for a meeting, and fast. Either way, you'll find moments of amusement, sense a bit of trepidation, and discover a few rules that absolutely must be followed. Pretty much like any new thing you try in life, really. And like every new thing, you'll be ready to weather any small bumps along with smooth sailing when you're properly prepared.
1. Winning the name game
A valid ID is essential when you plan to get on a plane. Keep your driver's license or a state photo ID right where you can lay your hands on it promptly. You'll be asked to show identification when you check in with the airline, check your luggage, go through the security checkpoint and potentially again as you board the plane. For international travel, you'll also need a passport and possibly a visa, depending on your destination. Check the TSA website for other types of acceptable ID, as well as updates to current rules.
2. Secrets of carry-on luggage
You might be able to get away with just a carry-on if you only plan a short stay at your destination. Even if your stay is longer and you need larger luggage that must be checked, it's wise to pack a few essential clothing items and your toiletries in a carry-on bag just in case your luggage gets lost en route to your final destination. But before you decide on the perfect backpack, duffel or weekender bag, you must know two things:
Size matters. Each airline has its own limits on the dimensions of bags allowed as carry-on luggage, and it's probably smaller than you'd expect. Check your airline's website for the precise measurements. If you try to board the plane with a carry-on that's larger than permitted or if your plane is overbooked, your carry-on may be moved to the plane's cargo hold, and you won't see it again until you claim it in the baggage area at your final destination.

The 3-1-1 Rule. You can only have 3.4 ounces each of any liquids, cream, pastes, gels or aerosols in your carry-on. All the items must fit in a clear, resealable one-quart plastic bag. And, you're only allowed one plastic bag. Make sure you buy travel-size shampoo, toothpaste and other personal care items, or pack your own in 3.4-ounce or smaller containers.
3. Bypassing airline check-in
If you give yourself at least two hours' notice, you'll often arrive at the airport with plenty time to spare before your scheduled departure; but if your airline recommends earlier, follow the advice. If you want to bypass the check-in line and you don't need to check bags, many airlines offer online check-in, which you can do from home or the office. You can usually only access this service 24 hours before the departure time.
If you have luggage to check, or if you didn't receive a boarding pass on a mobile device when you checked in, go to the airline check-in desk. Sometimes the waiting lines are long, but be patient and pay attention to any airline personnel. Sometimes, they come out and ask for those on a specific flight to step forward and speed up the process. When you have your boarding pass and baggage check tags, make sure you keep them with your ID, as you'll have to show them together to proceed through security.
4. Navigating to and through the security checkpoint
Now that you're checked in, find the departure terminal and gate for your flight. In a small airport, this is usually an easier task. In a larger airport, check the big display boards that list flight numbers, departure times, the designated terminal and the gate number. Then, follow the overhead signs toward the terminal, which is where you'll find the nearest TSA security checkpoint. If you're unsure of where to go, just ask uniformed airport personnel for guidance, and they'll be happy to help.
TSA, the Transportation Safety Administration of the U.S. Department of Homeland Security, operates under specific guidelines set by law. Your cooperation makes the security check go smoothly. During the check, a TSA officer examines your boarding pass and ID. Other officers view the images as you and your belongings pass through the screening apparatuses. You may be asked to step aside for a pat-down screening which will be conducted by an officer of your gender.
When you arrive at the checkpoint conveyor, take the clear plastic bag containing your carry-on liquids out of your carry-on and put it in the bin provided. If you packed your laptop, that will also need to go in its own bin. Depending on the airport, you may be given a smaller basket for the contents of your pockets, including keys and cash. And finally, take of your shoes and put them directly on the moving conveyor belt. Whew! Collect and double check that you all your belongings make it through the scanner before you enter walk through the machine, and then make sure you pick up all your personal items on the other side, including your ID and ticket, before you leave the checkpoint area.
5. Flying onward and upward
After security, continue on to your departure gate. You've earned a chance to sit and relax a few moments before it's time to board. Feel free to stretch, get a drink of water and use the restroom. Soon you'll hear the airline desk attendants begin to welcome passengers on board by seating sections. Have your boarding pass and ID ready for one more check as you leave the waiting area for the plane and your first flight.