What Identification is Needed for a Child to Fly?
By A.J. Andrews

; Updated June 08, 2017
Tips to know when traveling with youngsters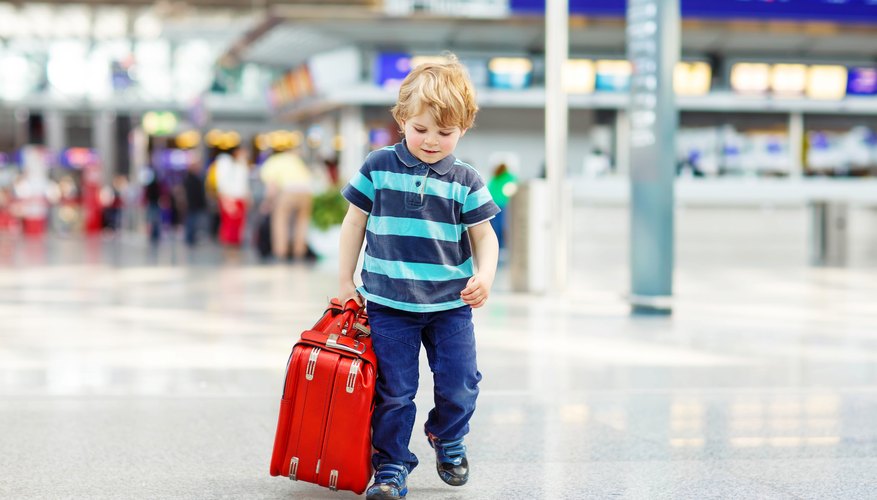 Children under 18 flying domestically with both parents don't need an ID, but some airlines might ask for a certified birth certificate. For children under 14 days old, the airline may ask for a physician's letter attesting to the child's ability to travel. All children under 18 flying internationally need a passport. Airlines have their own regulations concerning child travel, as well. Check your carrier's child-travel policy before departing.
Children with parents or guardians
The TSA doesn't require identification for children flying domestically, but carriers might ask for a certified birth certificate as proof of age for a child who will sit on your lap. The TSA and U.S. Customs and Border Protection (CBP) strongly recommend that children flying with one parent, a non-legal guardian or as part of a group carry a parental consent letter, preferably notarized, that includes all travel details, such as child's info, parents' info, reason for traveling, length of stay and contact information. You can find detailed information on parental consent letters on your carrier's website.
Unaccompanied Minors
Airline policy comes into play when children fly unaccompanied, both domestically and internationally. For example, JetBlue limits unaccompanied minors 5 to 14 years of age to nonstop flights. American Airlines limits children 5 to 7 years of age to nonstop, but allows children 8 to 14 years of age on connecting flights through certain major airports.
Check-in and pickup policies of unaccompanied minors might also differ between carriers, but expect them all to require a guardian named in the reservation to check in with ID at the ticket counter during drop-off and to obtain a pass to accompany the child through security. Some airlines require the unaccompanied minors to wear a lanyard, obtained during check-in, identifying him or her as an unaccompanied minor before, during and after the flight.
The Takeaway
The onus of proving identity falls on parents or legal guardians, not the child. To cover the bases, bring as much of your children's official identifying information as possible.
Expect TSA, CBP and airline officials to request certified birth certificates, notarized letters of consent when traveling as a single parent or guardian and clearance letters from a physician for infants, even if the need to have them is not stated on a carrier's or agency's website. If your child can get a government-issued photo ID, such as a passport or state-issued ID card, arrange for it in advance of your travel date to make flying as stress-free as possible. When entering the U.S. from overseas with a child who holds U.S. citizenship but was born in another country, bring the Consular Report of Birth Abroad (known as a CRBA or form FS-240) to present to CBP officers if requested.