Tips for Flying With Large Dogs
By Jodi "Jato" Thornton

; Updated June 08, 2017
Bark and go: tips for flying with your four-legged friend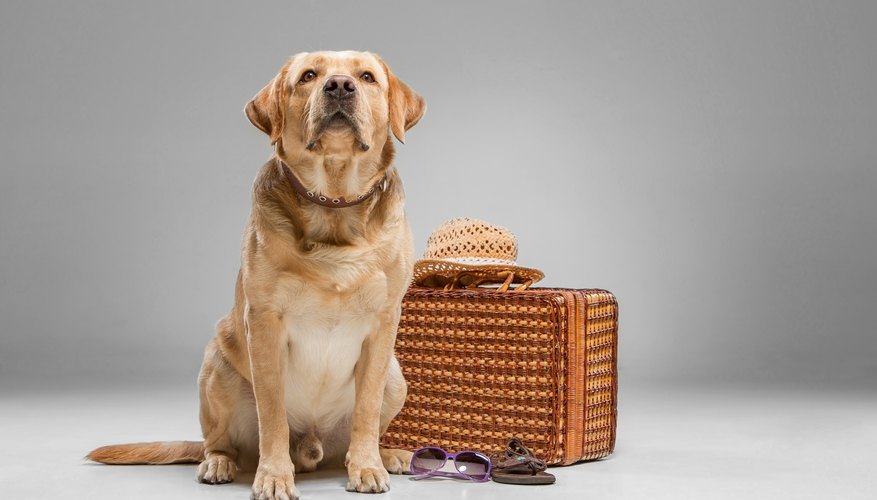 Some vacations are just made for sharing with your furry best friend; hiking a wooded trail or pet-themed events like Toronto's popular Woofstock or the World's Ugliest Dog contest in Petaluma, Calif., to name a few. If you're not up for a long drive to your destination, flying with your pet makes sense. Many airlines let dogs under 20 pounds ride in the passenger compartment, providing they fit in a pet carrier under the seat. But when you're flying with a larger dog, different rules apply.
Pet travel requirements and restrictions
TSA requirements and restrictions: TSA doesn't restrict pets or service animals as long as they follow your airline's pet policies. When going through the security checkpoint, take your dog out of its pet carrier and walk it or carry it through the metal detector. Don't let your pet ride through the X-ray machine!

Airline requirements and restrictions: Each airline has its own set of regulations for pets. In nearly all instances, you'll need to ship your dog, if it weighs more than 20 pounds, as checked baggage or cargo. Most airlines also require a health certificate from your veterinarian issued within 10 days of your flight.

Destination requirements and restrictions: Even if you're not flying internationally, you may have restrictions on your dog. Hawaii, for example, has an extensive checklist of conditions to fulfill before you can bring your dog into the state. The checklist takes at least four months to complete, or your dog will get impounded in the state for up to 120 days at your expense.

Seasonal restrictions: Even with advanced planning, you might not be able to take your dog on your flight. Temperatures above 85 degrees prevent dogs from riding as baggage on Delta Air Lines, American Airlines and others. Alaskan Airlines restricts pet travel during busy holiday travel times such as Thanksgiving and Christmas.
Breed restrictions: If your dog is a brachycephalic breed over 20 pounds, which means he has a cute snub nose like a boxer or bulldog, he's likely banned from traveling by air. Flat-faced breeds tend to have breathing problems, making it harder to adjust to changes in temperature, cabin pressure and oxygen levels.
Airlines that allow large dogs
Cape Air allows dogs up to 80 pounds to ride in the cabin with their owners. The airlines will confirm space for only one pet per flight, although they may allow more than one dog from the same family to travel together. Dogs don't have to be in a kennel, but you'll have to keep them on a leash or harness and out of the aisle. Not all flights are dog-friendly. You can't bring your pet to Virgin Gorda, BVI or Culebra, Puerto Rico or on Britten-Norman Islander Aircraft.
Other airlines allow large dogs in the baggage hold, providing they don't exceed combined weight limits for the pet and its kennel combined:
Air Canada: 100 pounds
Alaska Airlines: 150 pounds. Larger pets can travel through the airline's air cargo division.
American Airlines: Must be able to stand up and turn around in a kennel no larger than 40 inches by 27 inches by 30 inches (extra large/500 series kennel).
Delta Airlines: No weight restriction
Large service dogs
Service animals and emotional support dogs need not fit in a crate under the seat in front of you on many airlines. American Airlines and United Airlines allow a service animal to be at your feet, under your seat or on your lap. The airlines require an emotional support or psychiatric service animal to travel with you, provided you have documentation from a licensed medical or mental health professional.