How to Pack a Suit
By Jenny Green

; Updated June 08, 2017
Expert tips to make sure your suit is wrinkle free when you fly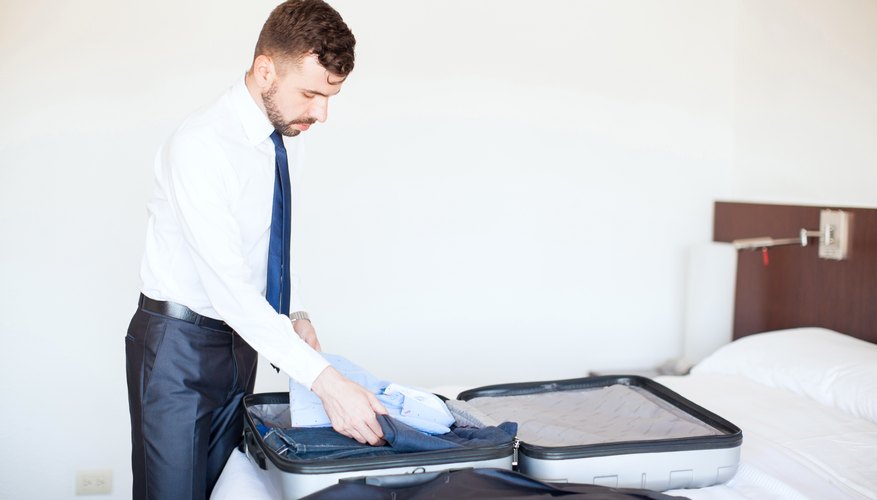 Wouldn't it be great to pull a wrinkle-free suit out of your suitcase like a magician pulls a bunny out of a hat? You could impress your colleagues at that international business meeting or stroll the boulevards of your tourist destination like a seasoned globetrotter. When you learn the secrets of suit origami, you're well on your way to performing the crease-free suit magic trick.
How to pack your suit so it's wrinkle free
To avoid creasing your suit when you pack it, create a suit parcel.
Place the suit jacket face-downward on a bed.
Fold back the left shoulder and left side of the suit.
Turn the right shoulder inside-out.
Slide the left shoulder inside the right shoulder.
Hold both shoulders together, and lift up the suit.
Fold the suit in half.
Spread the trousers across the bed, leg creases together.
Place the folded jacket across the center of the trousers.
Fold the bottom half of the trousers over the jacket.
Fold over the top half of the trousers.
Place your suit parcel atop the rest of your packed clothes.
Dry cleaner tips
If you pack a suit that was recently cleaned and pressed, it's more likely to arrive at your destination still looking good. Remove the plastic bag from your newly cleaned suit when you arrive home to allow the dry cleaning chemicals to evaporate. When it's time to pack your suit, however, replace the bag to prevent friction between the layers from creating wrinkles. With some fabric, such as linen, a few creases are unavoidable, but you can try hanging up your suit in the bathroom at your destination while you take a long hot shower. The steam should help smooth out the wrinkles.
When to bring a suit bag and other considerations
A suit bag or garment bag protects your suit from being crushed by the other clothes in your suitcase. If you're traveling by road or your airline ticket allows you a suit bag, it's an option worth taking as it should reduce the wrinkle factor.
Take care if you're flying, however. Regrettably, some airlines don't specify rules for garment bags in their literature, and many standard suit bags are too large to meet the size restrictions for carry-on baggage. If you'd like to pack your suit in a suit bag, buy a bag that conforms to the size restrictions. Alternatively, you might be able to fold the bag in half to make it smaller.