What is EDC, Las Vegas?
By Meg Jernigan

; Updated June 08, 2017
Tips to help you navigate festival season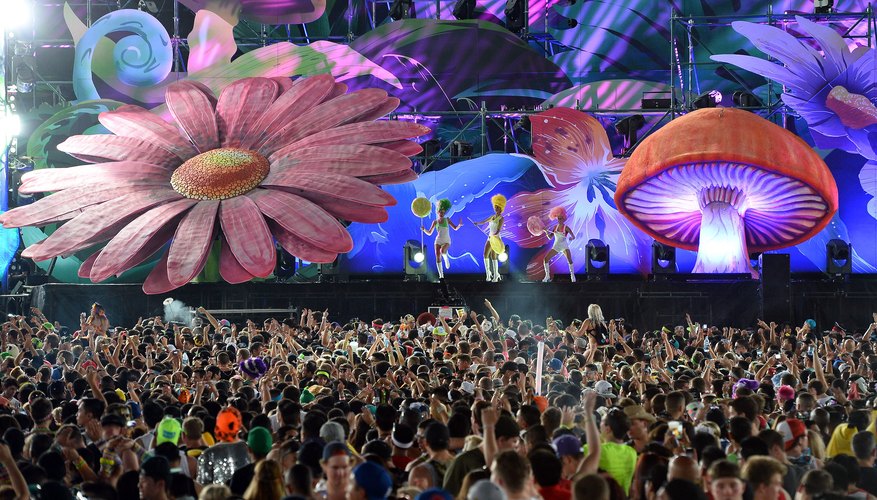 The Las Vegas Motor Speedway lights up for the Electric Daisy Carnival, an annual electronic dance festival with worldwide venues. Typically held in June, the celebration in Las Vegas features not just DJs and music on nine stages, but also performance art, thrill rides and live performances. The pace is frenetic, the bands are loud and the beats are constant.
You and your best half-million friends
EDC's roots stretch back to the 1980s, when Stephen R. Enos, known as Steve Kool-Aid, began hosting raves. The festival evolved into an epic dance party that draws as many as 400,000 fans over three days. Distinct areas with fantastic staging blend nature and technology with art and performance. A series of art shows, parties and performances at EDC Blowout week bookend the official festival. The party begins in the early evening and lasts well past the wee hours of the morning.
How do you get there?
With so many people vying for space inside the speedway, getting around outside the venue is difficult for novices. The wait for a cab, ride share service or a hired car can take hours and, if you like to walk, the nearest accommodations are a few miles away. Premier parking, at an additional cost, gets you in and out of the festival more quickly than parking in one of the lots. Shuttle buses with amenities like free water, and misters at bus stops, provide dependable transportation to and from the festival. If you're into it, private helicopters, available for charter, will whisk you to and from the revelry for a hefty price. Just know that regardless of how you plan on getting there, plan on waiting a couple hours (at least).
Hotel, casino or campground
A number of Las Vegas hotels offer an EDC week package that includes your room, shuttle passes, merch and other goodies like tickets to the carnival. Keep in mind that casino hotels require the reservation holder to be 21 years old. Call ahead if you think you might encounter difficulties at check-in. Las Vegas campgrounds have tent and RV spots, but June is typically hot with low humidity, and tent camping can be uncomfortable. Make your reservations early; some hotels sell out as early as March.
Once you're there
If you do decide to drive, be aware that you will spend a long time sitting in your car. One highway connects the speedway with the city, and it becomes a parking lot during prime hours. Take a break in the grandstands or the "chill zone" in Carnival Square, where you'll also find Wi-Fi and charging stations. Bring an approved water container and use the free water refill stations to stay hydrated, a must in the Nevada desert.
References