How Much do Travel Agents Charge?
By Jodi "Jato" Thornton

; Updated June 08, 2017
How to navigate the waters with a travel agent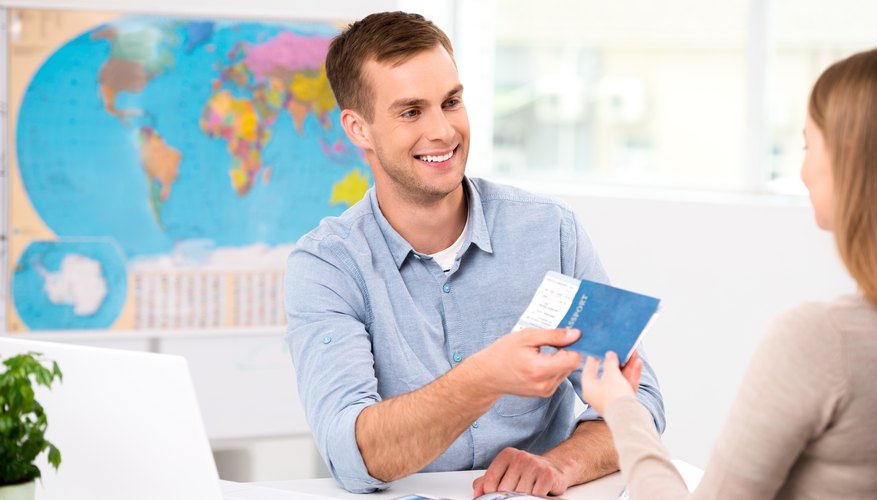 With trip bookings just a finger's touch away on your smartphone, you might think using a travel agent is an overpriced service for people who are too lazy to plan a trip themselves. However, a travel agent's insider knowledge of your destination can mean the difference between a "pretty good"trip and a once-in-a-lifetime experience available only to travel agent clients. You might even save more money than booking bargain vacations online.
How does a travel agent work?
The advantage to using a travel agent goes beyond insider knowledge. Although you can research YouTube videos and "ask a local" sites to find out the best off-the-beaten-track adventures, travel agents goes this one better. Their secret? Connections. Your travel agent can hook you up with one-of-a kind experiences, such seeing your destination through the eyes of archaeologists and architects that moonlight as tour guides. Tour guide connections with hotels, cruise lines and other providers can mean garnering free upgrades, credits or other perks that aren't offered to the general public.
When good trips go bad
The best perks of using a travel agent come with the unexpected monkey wrench. When bad weather grounds your plane, kick back in the hotel lounge or take a taxi to see a few sights while your travel agent tweaks your itinerary. From VIP phone line access to bumping you to the top of waiting lists or getting you a seat on a flight that might say "full," a travel agent's connections, expertise and diligent work lets you relax.
How does a travel agent make money?
Travel agents make money in a few different ways.
Commission: Your travel agent receives a percentage from the hotels, tours and other travel you book through him. This doesn't raise your costs. When you book online, the commission is already built into the price you see and is paid to the online provider. The amount your travel agent gets is exactly the same as what you see online. The only difference is your travel agent might have a relationship that can score you some perks for the price you'll pay, and he sometimes has access to deeper discounts.
Service fees: In the early 2000s, airlines stopped paying commissions to travel agents. Because they lost this stable part of their income, some agencies started charging service fees for the expertise and time to book your trip. Service fees could include a $25 to $50 fee per airline ticket, or up to $500 for full itinerary design and booking. Some agents charge by the hour, but not all agencies charge service fees.
Net based pricing: Some venues give your travel agent their bottom line price, and your travel agent makes the difference between that price and what you are charged.
Pros and cons of booking through a travel agent versus online
Pros:
A travel agent has direct access to specials, upgrades and deeper discounts than those offered online to the general public, based on her relationships with airlines, hotels and tour companies.
Your travel agent knows the reputation of airlines, hotels and tours. On your own, you might book with a bargain airline that has a reputation for delays and missed connections. Your travel agent can steer you to a better option.
Your travel agent can manage unforeseen problems like missed connections due to weather delays while you take it easy.
Cons:
Not all travel agents have after-hours service. Your travel agent may or may not be available if problems happen outside of business hours.

You might be able to score a better deal on your own. When you're planning your honeymoon or exotic getaway, you're best off using a travel agent. When you're flying across the country for a weekend away, you might find the best deals online.
Not all travel agents are equal. You can spend hours researching and vetting the best travel agent for your needs. Travel agents don't need to be licensed in some states, and some people are agents as a part time gig. The best way to find a reputable travel agent is from friends who recently used one and are gushing happily about their trip.