How to Get to Key West, Florida
By Amy Curtis

; Updated June 08, 2017
Navigate your next Key West vacation like a pro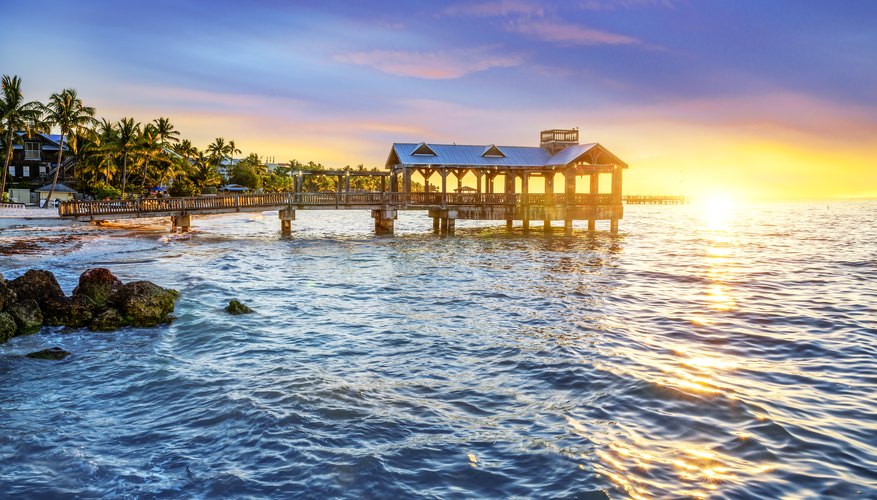 Each year, Key West attracts almost a million visitors, even though it's an island with an area less than 7 1/2 square miles. What's the draw? It's got some of the most beautiful ocean views in Florida, a history that includes such luminaries as Ernest Hemingway, Tennessee Williams and Harry Truman, and quirky, colorful nature that embraces kitsch and culture, pirates and presidents, six-toed cats and free roaming chickens. Even the drive down is a thing of wonder and beauty, if that's the way you choose to get there.
Of course, you could fly
Key West is a small island, but it does have an airport. Some major airlines offer service there, including US Airways, Delta, American Airlines, JetBlue and United. Charter service is also available. Once you get there, it's pretty easy and inexpensive to get around.
The drive down is both easy and scenic
From Fort Lauderdale Hollywood International Airport, take 595 West to the Florida Turnpike, which ends at US 1 in Florida City. Take US 1 as far south as it goes, and you're in Key West.
If you're coming from Miami International Airport, take LeJeune Road south to 836 West. Then just hop on the Florida Turnpike and follow the signs.
From all other points north, it's the same – just take the Florida Turnpike to US 1. And from Florida's west coast, you'll take I-75 east to the Miami exit and south to the Turnpike Extension.
Do you know about the ferries?
Key West Express now offers passenger ferries to Key West from Fort Myers Beach and Marco Island. The trip takes about 3 1/2 hours each way, and the ferries travel once a day each way. They leave their port of origin in the morning, and return from Key West in the evening.
Once you arrive, you might want some budget travel tips
Key West isn't the most budget friendly city, but you can cut costs if you're willing to prioritize. You may have your heart set on visiting during a particular festival, or eating at a particular restaurant, or chartering a boat for deep sea fishing. That's fine: Spend where you want, and find another place to cut back.
Visit during the off season, June through November. Really, September through November are probably your best bet, because not only will it be less crowded, but the heat will be less oppressive than in summer. If you're flexible on travel dates, you can save money on room rates.
Consider scaling back your accommodations. There are bed and breakfasts in Old Town with rooms that are relatively affordable, for instance, if you're willing to share a bathroom. Another benefit of the B&B? Breakfast is included, so that's one fewer meal on the go. You could also plan to stay on one of the upper Keys, and make Key West a day trip.
Don't bother renting a car. You can rent a bike and get around easily, particularly if you stay in Old Town. If you're staying in New Town, make sure your hotel has a shuttle service.
Make the most of the free things to do in Key West. Walk around and admire the sights. Go to the beach, or a park. Watch the sunset at Mallory Square. See the Southernmost Point. Many things to do in Key West will occupy your time without dipping into your wallet.
Chat with the locals about the best places to eat. Hitting the happy hours at harbor bars is a great idea, because you can get appetizers and drinks for half price. You can also find places like the Conch Shack on Duval Street where you can pick up treats like conch fritters or burgers for a reasonable price.
However you get there, whatever you do once you're there, Key West offers an engaging experience. Whether you spend your time swimming with tropical fish, communing with nature as you stroll along the nature trail at Key West Wildlife Center, relaxing poolside in a hammock, listening to a street musician or feasting on conch fritters and margaritas, the memories will stick with you for a long time. Now that you know how to get there, how soon will you go?