How to Take a Dog on a Plane
By Jodi "Jato" Thornton

; Updated June 08, 2017
How to bring man (or woman's) best friend on your next vacation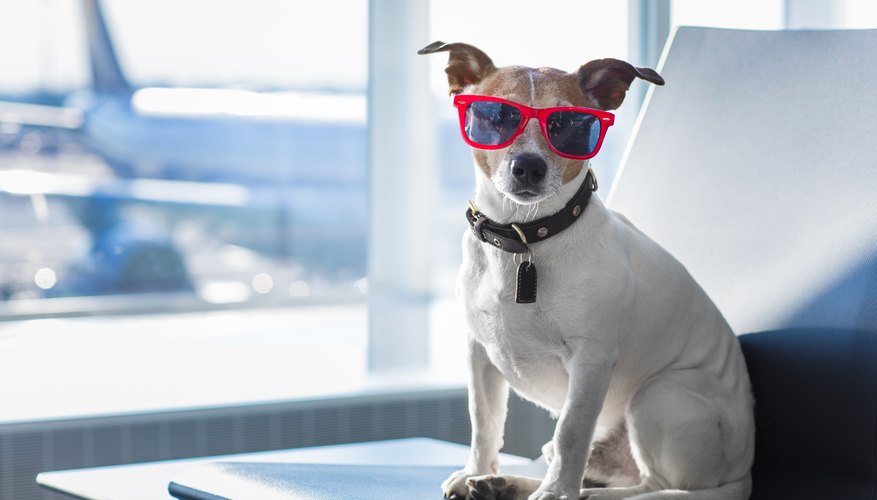 Share your vacation with your furry family member by bringing Fido along with you. Although bigger dogs must travel in the cargo hold, dogs under 20 to 22 pounds can ride with you in the cabin on some airlines. Make sure you're familiar with all of your airline's requirements before showing up at the airport with your pup so he won't get left behind.
What airlines allow pets in the cabin?
As pet travel becomes the norm, an ever-increasing list of airlines allow small pets to ride in the cabin with their owners. They include:
Alaska Airlines

Allegiant Air
American Airlines
Delta Air Lines
Frontier Airlines
JetBlue Airways
Southwest Airlines
Spirit Airlines
United Airlines
US Airways
Virgin America
Planning for plane travel with your pooch
Plan your trip as early as possible if you want to take your dog along for the ride. For example, if your pooch is going on a Hawaiian vacation with you, start at least six months in advance to meet vaccination and other veterinary requirements to prevent a lengthy and expensive impound when your plane touches down.
Although other domestic destinations don't have such stringent requirements, it's still a good idea to book as far in advance as possible. Some airlines allow only one pet to be on board at a time. JetBlue has one of the most relaxed pet policies and allows up to four dogs to travel on the plane at once.
Packing for the trip
On most airlines, your dog is limited to a carry-on sized travel crate that can fit underneath the seat in front of you. Your dog needs enough room to stand up and turn around in the crate, and the total weight of dog and crate must be less than 20 pounds on most U.S. airlines. Include your dog's health certificate, which is required by the airline, license, treats and other supplies for your trip. Carry a clear picture of your pet with you on your smartphone or in your wallet in the event he escapes and becomes lost.
At the airport
Most airlines require you to check in with your pet at the reservation desk, so you'll usually have to wait in line. Arrive with your dog in his airline-approved crate. At the security screening area, take your dog out of the crate and carry or walk him through the process with you. Place the empty crate on the conveyor belt to go through the X-ray machine.
The strange smells, sights and sounds of an airport can make your dog need to "go" more frequently than usual. Locate the pet relief zones at your airport and give your pup a chance to relieve himself and relax. Some airports, like Sky Harbor International Airport in Phoenix, roll out multiple park-like relief zones complete with fire hydrants, native plants and water stations. JFK Airport in Queens, N.Y., has a 4,000-square foot grassy Wooftop for pets.
How much does it cost to travel with a pet?
Fluffy and his crate count as carry-on luggage. But even if your airline doesn't charge for carry-on luggage, you'll still pay a fee to bring your dog on board with you. One-way fees range from $75 on Frontier Airlines to $125 on American, Delta, United and US Airways.
Emotional support animals
Airlines don't charge a fee to fly with a dog if it is a service or emotional support animal. To bring your dog on board as a support animal, it should behave well in crowded conditions. You'll need certification from a healthcare professional stating that you require the presence of your dog due to a mental or emotional disability recognized in the Diagnostic and Statistical Manual of Mental Disorders. Your dog must fit on your lap or sit at your feet during the duration of the flight without protruding into the aisle. Some airlines, such as American Airlines, require large emotional support dogs to ride as checked baggage.