Best Time to Visit Charleston, SC
By Leah Rendon

; Updated June 08, 2017
A taste of Southern charm: All you need to know before you visit Charleston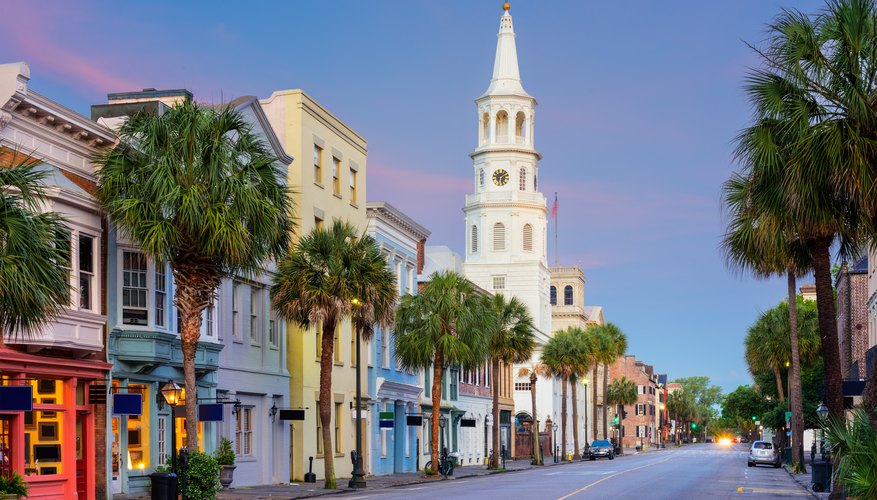 Dine on gourmet low country cuisine, stroll along pristine beaches, ride in a horse-drawn carriage and explore antebellum mansions all in one majestic city – Charleston, South Carolina. Although it's rare, during certain times of the year, Charleston can provide less than idyllic conditions, including harsh weather, exorbitant hotel rates and hordes of tourists. Keep your dream vacation intact by knowing exactly how and when to visit Charleston.
When should I visit Charleston?
If you're planning your trip to Charleston around the weather, you'll probably find the most comfortable conditions during the spring, when there's little humidity, and daytime temperatures range from the mid-60s to high 70s. Although the city can be very crowded during the spring, it's also the best time to see the flowering trees and azaleas in full bloom. If you're looking to avoid crowds and save some money during your vacation, however, Charleston has very few tourists and an abundance of affordable hotel rooms in the late fall.
What's the weather like in Charleston?
Charleston's subtropical climate produces mild winters with temperatures usually hovering around the high 50s and low 60s. The city starts to warm up a bit in the early spring, and, by May, midday temperatures usually climb to the low 80s, and tourists start heading for the beaches. Charleston really heats up in the summer as scorching temps hit the high 80s or low 90s, with humidity that can reach 100 percent. The summer season also brings mosquitoes and close to 6 to 7 inches of rain, so make sure you pack your umbrella and bring plenty of bug spray. Things start to cool off as temperatures drop to the low 80s by early autumn and to the high 60s by late fall. While hurricane season usually occurs between June 1 and November 30, hurricanes rarely make landfall in Charleston.
When are the peak and off-peak tourist seasons in Charleston?
Spring is a peak season for Charleston, with particularly high hotel rates around Easter. In addition to warm but comfortable temperatures, springtime tourists are drawn to the city by the popular Festival of Houses and Gardens, during which they can tour some of the city's historic homes. September through early November is also peak season as tourists pour into the city for such popular foodie events as Charleston Restaurant Week and Taste of Charleston.
Although the heat actually scares off some visitors in the summer, the beaches are more crowded than they are all year. Winter is the city's off-season, and you can sometimes find affordable hotel packages that include carriage rides and plantation tours. There is a slight surge, however, during the Holiday Festival of Lights, which takes place in James Island County Park from November through January, and around Valentine's Day.
How can I avoid the crowds in Charleston?
While you won't avoid the crowds at Charleston's most beloved eateries, you can avoid the long lines by making reservations. But plan ahead, as some of the city's most popular restaurants, such as Husk and Hominy Grill, require reservations made months in advance.
For a peaceful beach experience, make the 45-minute drive from Charleston to Kiawah Island. While most of the island is home to private beaches and golf courses, Kiawah Beachwalker Park is a public beach with very few crowds.
What's the best way to get around the city?
With its grid design and flat landscape, Charleston is a very walkable city. Pedicabs, which usually seat two, are also plentiful, and many hotels rent bikes. The city-operated DASH offers free rides throughout downtown aboard an old-fashioned trolley. Driving in Charleston is not recommended as parking is very limited and expensive. You'll probably need to rent a car, however, if you're going to explore areas outside the Historic District, such as the nearby plantations or beaches. For a view of the city from Charleston Harbor, Charleston Waterway Taxi provides harbor cruises. A 30-minute ferry ride also takes you from Charleston to Fort Sumter, where the first shots of the Civil War were fired.