Best Time to Visit Bermuda
By Kathy Adams

; Updated June 08, 2017
Plan the perfect time to bask on Bermuda beaches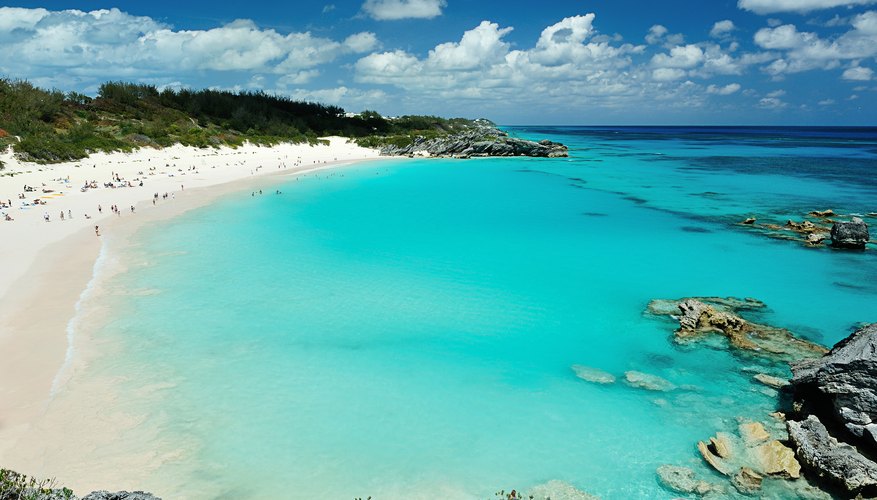 Bermuda is the place of dream vacations: Play a few rounds of golf, stroll over the island's pink sands or simply do nothing at all. Visit Bermuda in spring for the best deals, or late spring through late summer if you prefer hot weather and water sports.
The best time to visit Bermuda
The best time to visit Bermuda, in terms of comfortable weather and reasonable hotel or lodging costs, is from March to April. Early spring's temperatures are warm enough for strolls on the beach sans jacket, even if the water itself is a bit cool for swimming, so it's a great time to visit to escape the doldrums of cooler climates. It's also well before hurricane season, which starts in June. Further, late winter and early spring occur before peak tourist season, so you're likely to snag great deals on hotels and resorts. Good Friday (in March or April) at Horseshoe Bay Beach offers quite a spectacle, as islanders fly their colorful handmade kites.
Seasonal considerations
May through October is peak beach and tourist season in Bermuda. This is the idyllic summer season when even the lows hover near 70 degrees F. Since Bermuda is a top tourist destination this time of the year, luxury hotel rooms may cost close to or even above four figures, selling well in advance. As a comparison, some rooms may be found in the $200 range if booked in November or December, well after peak season. This is also a great time to book golf-based vacations, since deals abound.
Wildly wonderful weather
The weather in Bermuda is wonderful pretty much any time of year, with the lowest daily average temperatures hovering from 68 degrees F to 70 degrees F any time from December through April. The average climbs to 75 degrees F in May, 80 degrees F in June and around 85 degrees F for July, August and September before tapering off a few degrees each month. March, April and May have among the lowest average rainfall amounts for the year, averaging from 3 to 4 inches per month. October is the rainiest month, with 6.34 average inches of rain.
Hurricane season technically runs from June through November, although hurricanes rarely reach Bermuda, so they're not much of an issue. Regardless, it's best to check regional weather maps before your trip to ensure the best experience.
Tourist considerations
If traveling during peak tourist season, you may have a hard time booking your preferred hotel or resort unless you book months in advance. If you prefer visiting when it's not so crowded, consider going in November through January, when tourism drops significantly in Bermuda. The off season is also a great time to take in a tour by trail or bus, when the weather isn't so hot and the tours are less likely to be crowded. Sunset boat tours, kayak and jet ski rentals or even tours through caves are a few of the many adventures that await, any time of year.