Best Time to Visit Seattle
By Leah Rendon

; Updated June 08, 2017
Setting your schedule for the city of the Seahawks, Starbucks and the Space Needle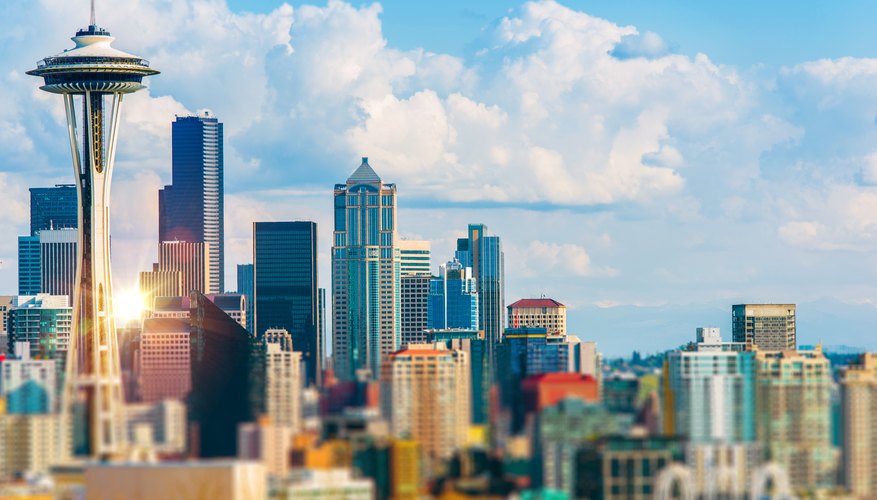 Whether you're sampling fresh salmon at Pike Place Market, kayaking across Elliott Bay or gazing at snow-capped Mount Rainier from atop the Space Needle, Seattle offers a unique experience for adventurer-seekers. When you're planning a vacation, the city's rainy reputation makes some travelers nervous, but other factors, from prices to crowds, can also impact the quality of your trip. Learn how to craft an Emerald City vacation around a season that will give you the best travel experience possible.
Rain, rain, go away: Weather in Seattle
You'll see the least amount of rain in the summer, particularly in the driest months of July and August. Summer temperatures usually hover around 75 degrees with daytime highs rarely reaching the 80s. Because of Seattle's northern location, it stays light until about 10:00 p.m. during the summer, but evenings can dip into the 50s, so bring a light jacket. In autumn, daytime highs retreat to the 60s and 50s. By late fall, the rain starts to pick up, with nearly 5 inches usually falling in November alone. Wintertime brings a lot of rain and chilly temps in the 40s and 30s; snow is possible if it gets cold enough. The city starts to warm up in the spring, with temperatures hitting the mid-50s and 60s. In some spring months, you'll also see cold winds and up to 3 inches of rain.
Peak season vs. off-season
Summer is Seattle's high season, and the city is pretty packed with tourists. Hotels are expensive and often full during this time, so make sure to book early. The city also hosts many summertime festivals, including the immensely popular Seafair, which features everything from parades, boat races, air shows and street performances.
You'll find some decent hotel and airfare bargains during the spring when the crowds are somewhat sparse. The opening day of boating season, held on the first Saturday of May, is a lively spring event, in which everyone from yachters to kayakers set out for the waters of Lake Washington and Lake Union.
Winter is the off-season as cold weather makes sightseeing difficult. As a result, the city is typically tourist-free, and hotel deals are readily available. Seattle experiences a high density of rain in the winter, but you can enjoy excellent skiing conditions in the nearby mountains.
The perks of a fall visit
Fall, particularly September and October, may be the best time to visit Seattle. In the early autumn months, you'll still experience pleasant temperatures; most of the summer crowds will have cleared out, so you'll find plenty of rooms at affordable prices. Bumbershoot, one of the city's most popular music festivals, takes place in September as well.
Getting around Seattle
Seattle offers plenty of public transportation, including a light rail line that runs from Seattle–Tacoma International Airport through downtown to the University of Washington. The city's streetcar operates two lines: one from downtown Seattle to South Lake Union and the second from Pioneer Square to Capitol Hill. Buses travel extensively through downtown, but you must use exact cash fare.
Explore Seattle's surrounding waterways via the passenger-only water taxi, which runs between Vashon Island or West Seattle and Pier 50 in downtown Seattle. Washington State Ferries cross Puget Sound from downtown Seattle to nearby Bainbridge Island or Bremerton via car and passenger ferries. Purchase a multi-day ORCA card, and use it on the light rail, streetcar, buses and ferries.
If you want to use a taxi, you'll have to call for one or use an app; they're not always easy to find on the streets. Cabs can be expensive, so if the weather is nice, you might consider walking, though you may have to climb some hills in certain Seattle neighborhoods.