Best Time to Visit Copenhagen
By Leah Rendon

; Updated June 08, 2017
Dates to do Denmark's capital in comfort and style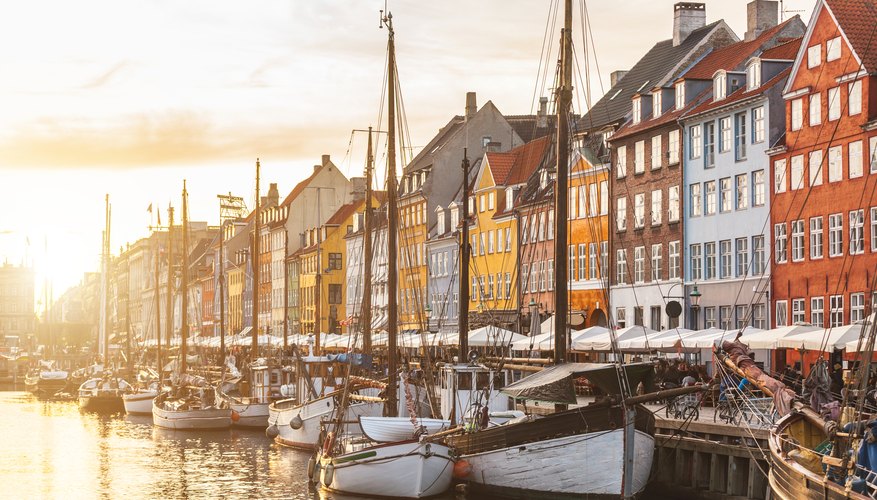 Life moves at a slower pace in Copenhagen, the cozy Scandinavian city known for its quaint theme park, beloved Little Mermaid sculpture and sleepy canals. The laid-back lifestyle includes leisurely walks along Stroget, Europe's longest pedestrians-only shopping street, and Nyhavn, a waterfront district where outdoor cafes line colorful 17th-century buildings. Add another level of relaxation to your Denmark vacation by finding the best time to beat the crowds and experience fine weather.
From sunny days to freezing conditions
Summer temperatures in Copenhagen average in the high 60s and low 70s. Even in mid-summer, chilly winds can blow through the city, so pack a sweater or light jacket. Copenhagen doesn't see a lot of rain, but the wettest months are in the summer – about 2 inches a month between July and September. Temperatures drop drastically during the fall to the low 50s and 40s. Bitterly cold winters see low- to mid-30s and frequently below-freezing conditions during short days. February is the driest month. When Copenhagen starts warming up in the spring, it's only to temps in the low 40s to high 50s.
Summer fun in Copenhagen
Summer is a great time to visit Copenhagen. Warm weather means major attractions are open and the outdoor cafes are bustling with activity. The sun hangs around the longest in June and July – from 4:30 a.m. to 10 p.m. The city and surrounding region hosts numerous summer music festivals, including the Copenhagen Jazz Festival and the Roskilde Festival, an immensely popular rock festival. Scandinavia attracts British and southern European travelers in August, but you'll never deal with crushing crowds.
Other travel seasons
Summer crowds start to fade in the fall, and hotel rates become affordable. Autumn also brings colorful foliage and the Copenhagen Night of Culture, a one-night event with cultural performances held at various museums, theaters, churches and squares throughout the city. Spring continues to offer similar hotel rates and crowd sizes, even though the Copenhagen Carnival in May is a massive world music festival.
Winter sees small crowds until tourists start showing up again for the holidays. Sip on mulled wine and shop for local goods at the bustling Christmas markets.
Special events at Tivoli Gardens
Opened in 1843, Tivoli Gardens is a historic theme park with lush gardens, carnival rides and coasters. The summer season runs from April through September, when the park features blooming gardens, outdoor concerts and first-rate theatrical productions. Halloween celebrations take place from mid-October through early November as the park showcases parades, food festivals and more than 20,000 pumpkins. Celebrate a Nordic Christmas with Christmas markets and holiday decorations at the park from mid-November through late December.
Getting around town
Copenhagen is small enough to explore on foot. Bike lanes and bike sharing programs ensure getting around on two wheels is also a fairly easy process. Expensive parking and confusing one-way streets make driving in central Copenhagen unattractive.
Trains and buses in Copenhagen operate for 24 hours, and all forms of public transportation use the same ticketing system for easy access and transfers. Small ferries, or harbor buses, provide transportation along the canals.