Best Time to Visit Venice
By Meg Jernigan

; Updated June 08, 2017
A time for intrigue and romance in the City of Canals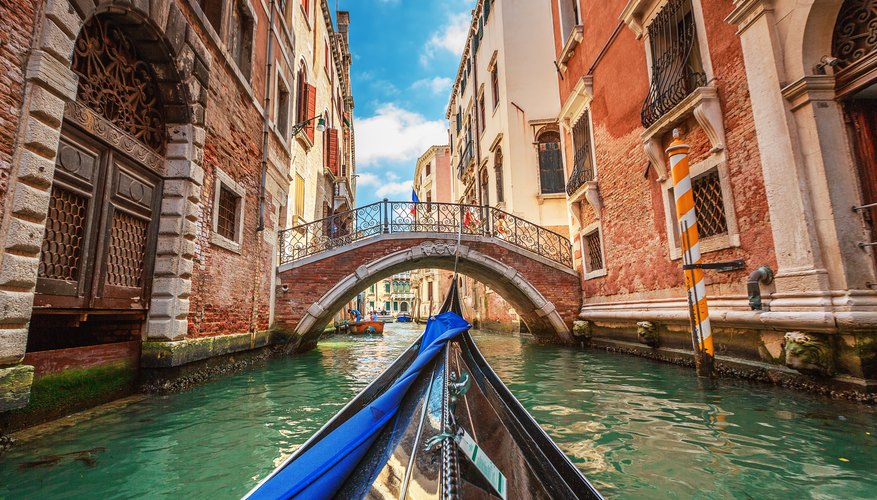 Imagine a city where canals stand in for roadways and the driveways of ornate residences are really ground-floor boathouses. Fog rolls in from a vast lagoon, lowering visibility to a few feet. A costumed figure wearing an ornate mask appears before you, welcoming you to Venice. The city is magical at any time of the year, but having it to yourself in the winter leaves you time and space to explore.
Best time to visit
Forget anything you may have heard about Venice being smelly in the summer. Infrequent algae blooms and occasional low water levels in smaller canals can create temporary aromas, but don't let the myth of the stinky city keep you from visiting in summer. What should deter you is the heat, humidity and crowds. Hotel rates dive in the winter and the city empties of tourists. You may even find yourself moving from room to room in a museum without any fellow travelers at all. Yes, you may experience high tides, but wooden walkways are laid down over the rising water.
Carnevale
Despite the heat, tourists crowd the sidewalks of Venice in the summer, thronging the Piazza San Marco and waiting in line for a seat at Harry's Bar. Business owners close up shop and go on vacation to escape the city's heat. In late August, the Venice Film Festival begins and runs through the first week of September. Spring and fall are less crowded, and the weather is more moderate. Masked and costumed revelers celebrate Carnevale, the two-week celebration leading up to Mardi Gras. Winter is cold and wet, with few tourists, but the city lights up for Christmas.
Acqua alta
July and August are the hottest months in Venice, with highs reaching into the mid-70s. This may seem delightful, but high humidity creates a hot and sticky atmosphere. Spring is cooler, with daytime highs in the 50s and 60s, but the season can be foggy, and fall temperatures drop from the 50s to the 40s. December and January are wet and typically see highs in the 30s and lower 40s. One climate phenomenon to be aware of when you travel to Venice is "acqua alta" – high water. Floods ranging from mild to more severe happen most often in the winter. Locals look to the statue of Gabriel atop the Campanile: If the angel turns to face the Basilica di San Marco, expect rain.
Getting away from the crowds
Cars are forbidden in Venice. If you do drive to the city, park your car on the mainland. Lots in Mestre are less expensive than lots closer to Venice's older city center. The best way to experience Venice is to head away from crowded spots on foot and allow yourself to get lost in the narrow alleys and small squares. Take a "vaporetto," or water taxi, on one of the main waterways to get from point to point when you tire of walking, or head to a "traghetto" – a public gondola with a set route. Buy a city pass online for discounted access to museums, tours and transportation. If you're traveling in January, you may find tourist-focused restaurants and shops closed.