Best Time to Visit Germany
By Amy Curtis

; Updated August 11, 2017
Top-notch timing for your tour of Germany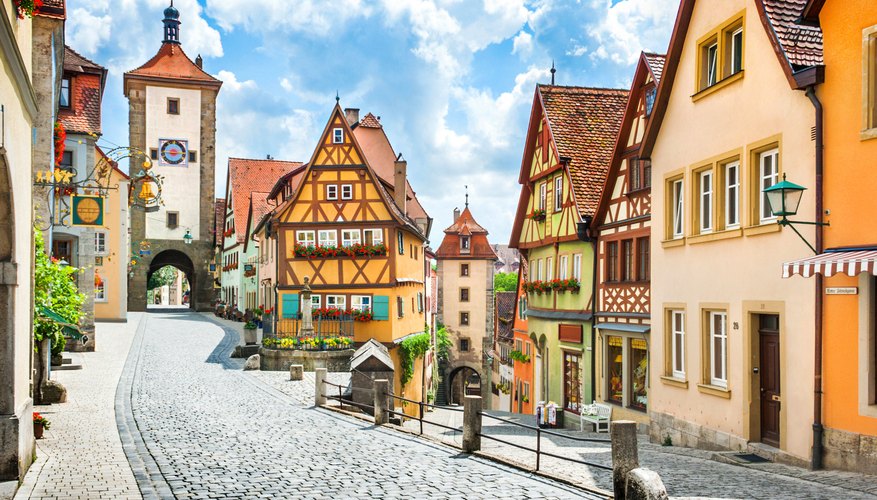 Anytime is a good time to visit Germany. From Berlin's many museums and the festivals in Frankfurt to the charming castles of Bavarian, there's always something to do in Deutschland. The best time to go depends on where you're headed and what you plan to do when you get there.
Best time to visit
In summer, the weather is perfect for beaching on the Baltic Sea, cruising the Rhine or hiking in the Alps, and it's a great time to explore the German countryside with a scenic drive, bike ride or train trip. Additionally, there are festivals all over the country, where people gather for music, rides, food and drink and colorful local culture. The downside is that the prices are high, and tourist areas are crowded.
To avoid the high costs and crowds of summer, spring and fall provide great options. The weather is mild, but prices are lower and the crowds are thinner than in high season. This "shoulder season" is perfect for exploring the Black Forest or visiting picturesque places like Heidelberg. There are also many festivals spring and autumn festivals across the country, including the famous Oktoberfest.
Winter in Germany is cold, with short gray days and temperatures that often dip below freezing at night. However, Christmas in Germany is a treat that you should experience at least once in a lifetime. The streets are decorated and sparkling, the sweet and spicy smell of gingerbread fills the air alongside the sharp smell of sizzling sausage, and Christmas markets are everywhere – there are over 50 in Berlin alone. Stroll through one of these Weihnachtsmärkte, breathe the scent of fresh fir garlands while shopping for handcrafted gifts, enjoy various performances and indulge in sugared nuts and hot mulled wine, called Gluhwein. For the children, there's Kinderspunsch, a hot cider drink made with tea and lemon, and attractions like rides and petting zoos. A Christmas, the weather is cold and the sky may be gray, but the atmosphere is warm and inviting.
Seasons and the weather
Germany has a temperate climate, with four distinct seasons. Spring is lovely with average highs ranging from the high 40s to the 60s, and summer is warm with highs typically in the 70s. The rain can be heavy in the summer months, especially in the south and east. Fall is pleasant, with temperatures similar to spring, and winter can sometimes see temperatures below freezing, though heavy snowfall is not common in most of the country. For snowy landscapes, head for the higher altitudes.
Tourist and travel considerations
Germany is a courteous place, and Germans on the whole have high regard for U.S. citizens. Most people speak at least some English, and it's easy to interact but it's important to be on your best behavior. Speaking too loudly, being excessively chatty, acting entitled or drinking heavily in public will all garner German disapproval, and Germans can be direct in expressing it. This is a rule-following country, where punctuality and a good work ethic are prized, and the people are educated, well-traveled and well-mannered. It's a good idea to learn a few German phrases as a courtesy and to help you get around.
Traveling through Germany is easy. The public transit system has an impressive and timely network of trains, buses, subways and streetcars, and the roadways are in good repair. It's easy to rent a car, especially because travelers can use a valid U.S. driver's license for up to six months of driving Renting a car is a great way to see Germany and enjoy its scenic countryside.
Tip
A train pass is a good deal in Germany. Purchasing a pass allows travelers to easily and economically move not only between German cities, but also between Germany and the rest of Europe.
Popular itineraries
Germany and Switzerland: Time a trip to Switzerland based on the agenda: for skiing it's the winter, and hiking, the summer. Late spring and late fall are the low season, when it's not ideal to travel because many resorts and activities are closed. Consider a trip through Germany and Switzerland in September when mild weather and slow tourism make it a wonderful time to explore the Black Forest and the Swiss Alps. On the other hand, a visit in December gives you a taste of both countries' charming Christmas markets, as well as access to skiing. Note: Switzerland's high season happens in July and August and then again from mid-December through February.


Germany and Austria: There's no bad time to take this trip

–

both countries are full of wonderful things to experience all year. Unless the focus is skiing, the best time to go is probably spring when the weather is nice but the summer rush has not yet begun. A fun way to take in these two countries might be to rent a car and focus on Bavaria, visiting Munich and perhaps some smaller picturesque towns as well, like Wurzburg and Rothenburg ob der Tauber. From there it's easy to visit castles like Neuschwanstein and Hohenschwangau on the way to Austria. If time permits, consider visiting one of Germany's beautiful resort towns, like Garmisch or Berchtesgaden. Austria is a beautiful country to drive through, enjoying the splendor of the Alpine scenery on your way to cultural destinations like Salzburg and Vienna.
* Germany and France: France is best visited in spring and fall, so keep that in mind when planning a trip through both Germany and France. The nearest French city to the German border is Strasbourg, but Paris is a mere 5 1/2 hour drive from Frankfurt. A Eurail pass can get you there even faster: riding the ICE train makes it there in four hours. If Paris isn't the goal, consider a cruise on the Rhine River, through beautiful wine country, past fairy-tale castles and into cities like Strasbourg, Koblenz and Cologne.