Best Time to Visit Niagara Falls
By Meg Jernigan

; Updated June 08, 2017
When to see, and hear, the mighty roar of Niagara Falls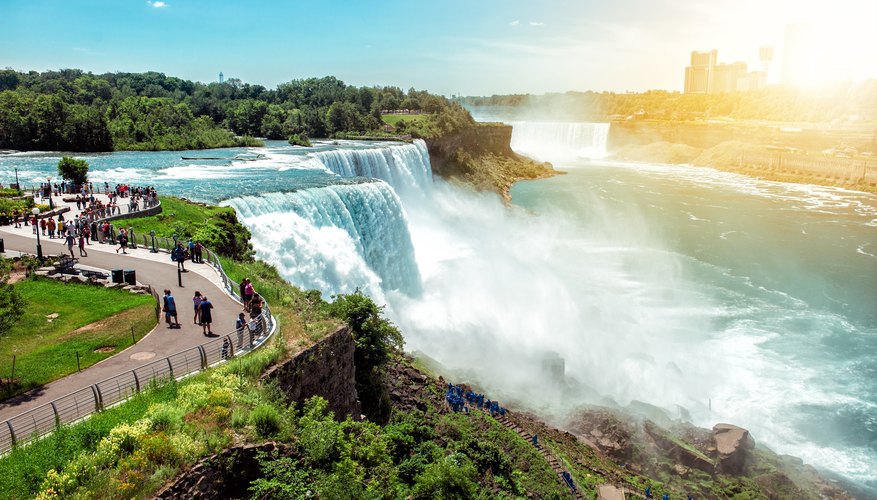 Twenty percent of the fresh water in the world tumbles over the American Falls and the aptly-named Horseshoe Falls into the Niagara Gorge northwest of Buffalo, New York. While you can still plan a dandy wedding at the falls, touring the region is a must-do for many world travelers. If you've lost it, your sense of wonder will return at the edge of a river as it drops 17 stories with a deafening rumble.
Best times to visit
Winter's frigid temperatures may deter you from visiting, but the sight of the falls encased in ice is worth bundling up in a warm jacket for. In the spring, winter withdraws, trees bloom and you'll have more of the natural wonder to yourself. The bigger crowds in summer are bearable if you like knowing that amusement parks will be open. Crowds thin as leaves change colors in the fall, but attractions start to close in advance of oncoming cold weather.
Seasonal considerations
The falls are spectacular year-round. In the winter, they gradually freeze, leaving pinnacles and boulder-like mounds of ice. Since the average temperature of the water remains around the freezing point, and the water is constantly moving, a complete freeze-over is unlikely. Leaves on the trees in the parks around the falls and the Niagara Gorge typically show fall colors in the third or fourth week of October. During spring, summer and autumn most of the attractions on both sides of the falls are open, but crowds are larger.
Bring your slicker!
Blooming flowers and budding trees get a slow start in spring at Niagara Falls as the season begins chilly and then warms up to the mid-60s by the end of May. Summer temperatures can soar into the 90s, but 80-degree highs are more common. The Niagara Gorge microclimate creates a longer fall season than that of the immediately surrounding area, and winter can be brutal, with heavy snow and high winds. No matter the time of year, expect to get a bit wet from mist drifting from the falls.
Keep in mind
The four parking lots at Niagara Falls State Park fill up quickly during the peak season. Plan to arrive early, or choose one of multiple city lots downtown. Lot 1 is closest to the Maid of the Mist. Lots 2 and 3 are near Goat Island, and lot 4 is the place to park to visit the Aquarium of Niagara and the Discovery Center in the Niagara Gorge. You can also pick up a free shuttle bus here.
If you plan to visit the attractions on the Canadian side of the falls, you'll need a valid passport, passport card or a NEXUS card. Children younger than 16 need to provide only proof of citizenship. You can walk or drive across the Rainbow Bridge, the most direct route to the attractions, or cross the border on either the Lewiston-Queenston Bridge or the Peace Bridge.