Best Time to Visit Montana
By Monica Wachman

; Updated June 08, 2017
Set your schedule for big sky country adventure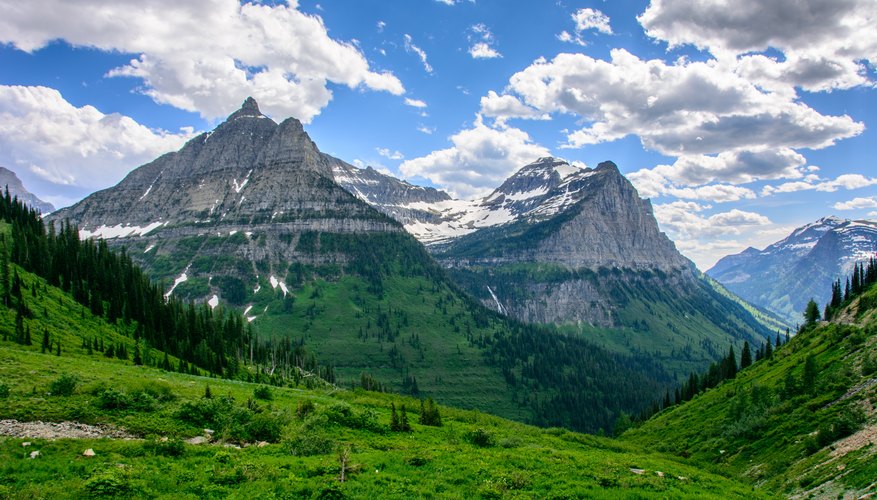 It's no wonder that sapphire and agate are the two state stones of Montana. The rich blue of a summer Montana sky is every bit as enticing as that flashing sapphire. Rugged mountains change from their winter whites to a seasonal mixture of warm earth tones, mimicking the agates. Trendy cities, such as Helena, Missoula or Billings, and the geological wonders of Glacier National Park await. What's the best time to visit? Check the tips below and discover why Montana is a year-round traveler's delight.
Choose your passion
Ski destinations dot the western half of the state. To avoid the crowds, consider Big Sky Resort where lines to runs on the lower slopes are few. Big Sky's 11,166-foot Lone Mountain is also a draw for expert skiers that prefer plenty of personal space. That said, expect the last two weeks of December to be the exception at Big Sky and other ski resorts. Likewise, visit resorts such as Blue Sky and the usually busier Whitefish Mountain, for some summer fun. Enjoy hiking, mountain biking and even zip-lining in the off-season. Go horseback riding or bring those binoculars for some bird or animal watching. Visit between mid-spring through fall and enjoy "festival season." Head for the MSU Billings Foundation Wine and Food Festival in May, or take in the Montana State Fair in Great Falls in late July through early August.
Consider the seasons and the weather
State-wide, November through March is the official winter season. Spring, summer and fall sometimes blend together, depending on the weather patterns. The Continental Divide, an imaginary line that runs along the Rocky Mountains' highest peaks, gives the state two distinct climate zones. If visiting the north Pacific zone, to the west of that line, expect milder winters and cooler summers. Bring that extra sweater and a waterproof jacket since rain or snow is more likely year-round. The eastern side of the divide has a continental climate with more distinct seasons. Expect hot summers and colder winters. Precipitation is governed mainly by topography. If heading to the western end in winter, especially into mountainous areas, be prepared for snow drops of up to 300 inches. Winter tires, chains and warm clothing are a must. Protected valleys in the eastern end, such as along parts of the Yellowstone River in Carbon County, typically see an annual precipitation of less than 10 inches. In either case carrying an emergency kit with food, water and a charged up cell phone, preferably with GPS, is wise.
Getting around and about
Traveling on Interstates 90, 15 and 94, with the exception of winter snow closures, is quick and efficient. Expect heavier summer traffic, especially in and around festival and tourist areas. If the Montana State Fair in Great Falls or a visit to the state capitol in Helena is on the agenda, plan for more vehicle and foot traffic. In downtown Helena, parking in the capitol complex can be challenging when the legislature is in session. Glacier National Park is huge, but traffic and crowds aren't usually an issue. Overnight lodging and camping options in the park do tend to fill up quickly, so book ahead to avoid disappointment. Airports dot the state, both regional and international, for those wanting to fly in. Or, for a relaxing ride-with-a-view, hop on an Amtrak train to cross Montana's northern end.
Visiting Glacier National Park
On the north-western corner of Montana, along the Alberta, Canada, border, Glacier National Park welcomes visitors throughout the year. Take advantage of the reduced entry fee that starts in the fall, just in time to take in the seasonal leaf colors. Winter visits are sometimes challenging because of road closures and fewer lodging options. Put on those snow tires, carry chains and bring your emergency kits and experience this national treasure under its blanket of white. Self-reliant snow campers are welcome. Spring is brief but unpredictable. Be prepared for that surprise snowstorm which does produce some great photo-ops. Visit in summer, from late May until early September, to find the park's facilities in full swing. Guided horseback rides, hikes, raft and boat tours are just part of the fun. Or, grab your fishing tackle and do some fishing at a glacier fed lake. No license is need within park borders, but catch limits and use restrictions do apply.