Best Time to Visit Seoul
By Leah Rendon

; Updated June 08, 2017
Between skyscrapers and subways: When to find the heart of Seoul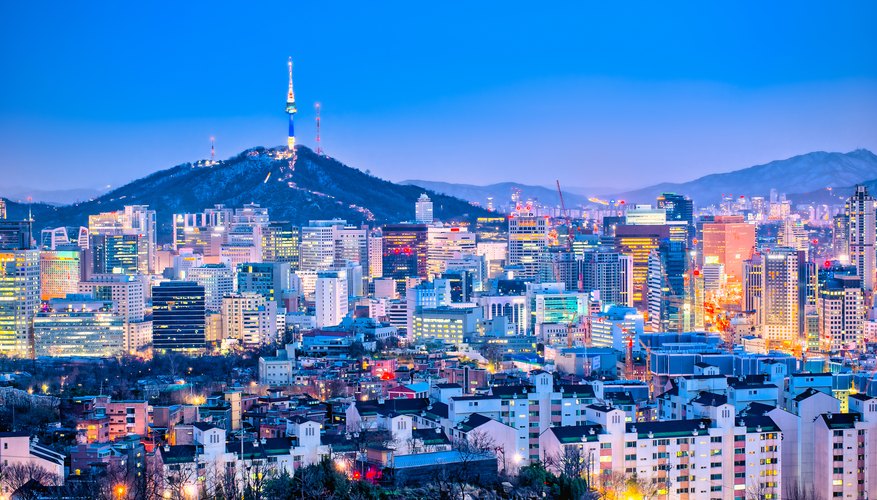 The modern streets of Seoul, with towering skyscrapers and open-air markets that buzz with activity, teem with crowds of people, while centuries-old Buddhist temples and former palace gardens serve as peaceful retreats. The city hosts a flurry of cultural events throughout the year, but choose wisely when deciding the timing of your visit as extreme weather conditions and major traffic concerns can negatively impact your Seoul vacation.
Harsh weather: from monsoons to snowfall
Summer is Seoul's monsoon season as massive downpours drop between 13 and 14 inches in July and August, respectively. Scorching summertime temperatures can reach the high 80s, partnered with intense humidity. Temperatures start to dip to the high 70s in the early fall and to the low 50s by late autumn. In the winter, conditions become very dry and cold with highs hovering in the 30s and lows dropping to the 20s. Snowfall is also not uncommon during the winter. By spring, temperatures start to warm up as daytime highs linger between the low 60s and mid-70s.
Shoulder seasons in Seoul
With cheap airfare, affordable hotel rooms and manageable crowds, the shoulder seasons of spring and fall are two of the best times to visit Seoul. Certain attractions, such as zoos and museums, see a slight increase in crowds on Children's Day, the May 5 holiday when parents spend the day with their kids. In the spring, the city begins to bloom as showcased during the Hangang Yeouido Spring Flower Festival in April, which highlights colorful azaleas, forsythia and cherry blossoms. Beauty is on display as well during the Lotus Lantern Festival in May, which features parades, musical performances and thousands of decorative lanterns, which light up the evening sky. In the fall, the city gets a little more crowded, and rates go up slightly during Chuseok, South Korea's major harvest moon holiday. Cultural events dominate the city's fall schedule, including the Seoul International Dance Festival and Hi Seoul Festival, the latter of which showcases street performances.
Off-season and peak season
Although snow provides skiing opportunities in the local mountains, hotel and airfare rates are at an all-time low during the winter months. Seoul features its smallest crowds in the winter except during Seol, or Seol-nal, Korea's Lunar New Year holiday.
Seoul in the summertime is packed, and the hotels reflect it with high rates. Major summer events include the Seoul International Cartoon and Animation Festival in July, which celebrates Korean and global animation, and the Seoul Fringe Festival in August, which gives indie artists from the world of music, dance, film and art a chance to share their work. Although it's not as busy as during Seol or Chuseok, the city is a little more crowded during children's school break from mid-July to late August.
Traffic concerns
Try to stay off the roads during Seol as Seoul and the surrounding regions experience horrendous traffic throughout the holiday season. If you have to be on the road then, understand that your travel time may easily double. If you're traveling by bus or train during Seol, make sure you buy your tickets months in advance as reservations fill up quickly.