Best Time to Visit Glacier National Park
By Meg Jernigan

; Updated June 08, 2017
Great times to see all that Glacier National Park has to offer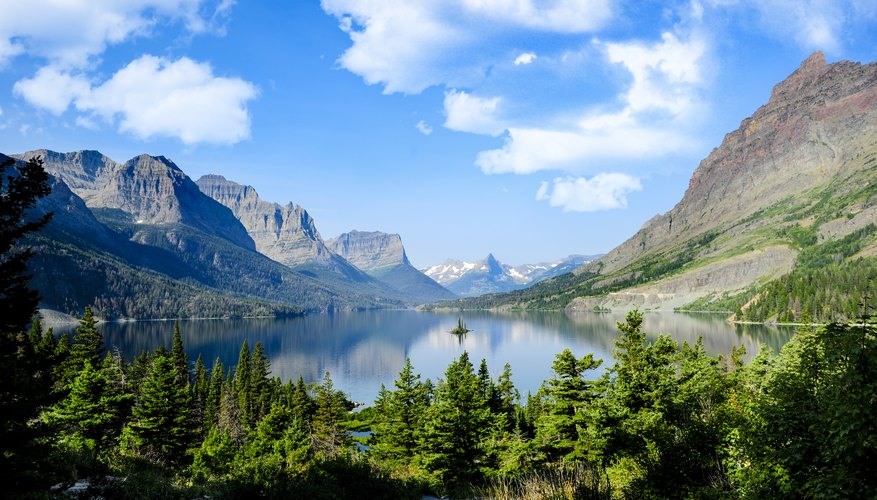 The mountains and meadows of the Crown of the Continent, Glacier National Park, draw you toward Montana for a day or a week. When you get home, you'll be able to boast that you've been to a national park, a biosphere reserve, an international peace park and a world heritage site. Glacier is the only spot in America where you'll find all four.
Packed and ready to go
Visitors are welcomed in the park anytime, year-round, but weather conditions determine when some facilities open. The National Park Service relies on melting snows and road conditions to decide on opening and closing dates for visitor services, but generally they're open from late May to early September. If it's important for you to ascend by car or bike to Logan Pass – at 6,646 feet the highest point on the road – visit in summer or early fall. Campgrounds remain open year-round, so if backcountry hiking and solitude appeal to you, plan a winter trip.
Winter, spring, summer or fall?
If you're into hiking, biking or ranger-led activities, summer is the best time to visit. In all likelihood, all of the park's roads will be open. Rooms in the park's lodges and backcountry chalets fill up early in July and August, and all 13 campgrounds are open. Fall brings breathtaking displays of color as the leaves change, but park services begin to shut down. In the winter, you're pretty much on your own. A blanket of snow beckons to cross-country skiers and snowshoe enthusiasts. An added benefit for winter travel is that entrance fees drop. Spring is late and short, but you'll encounter fewer fellow visitors as trees begin to bud and flowers bloom.
What's the weather like?
Warm, wet air from the west and cold, dry air from the east clash at the Continental Divide in Glacier National Park, creating unpredictable, and sometimes extreme, weather. Even in the summer, when temperatures rise into the 90s, nighttime lows dip into the 40s. Changes in elevation in the mountainous park create pockets where rain falls less frequently, but snow can fall anytime. Winds as high as 100 mph sweep down the eastern slopes, and when cold air makes it over the divide, blizzards dump heavy snows. The National Park Service recommends hikers wear layered clothing and carry rain gear year-round.
Avoiding the crowds
July and August are the busiest times at Glacier National Park. December, January and February, when most park facilities and many of the roads are closed, are the least busy. You'll encounter fewer crowds if you drive the sections of the jaw-dropping Going-to-the-Sun Road that remain open in the winter. The entire length of the road opens in late June or early July, because of snowy conditions at the highest elevations. Shuttle buses, cars and bikes make the two-hour, end-to-end trek. Avoid crowds by staying away from the busy hotels and visitor centers during the high summer season.