Best Time to Visit Norway
By Leah Rendon

; Updated June 08, 2017
The most inspired times to travel to Norway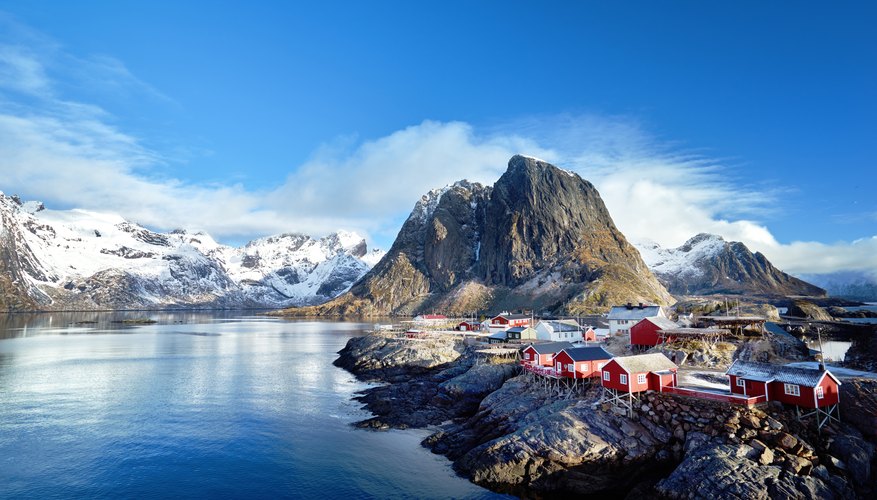 From lively big cities with thriving arts scenes and groundbreaking modern architecture to sleepy seaport villages just steps from magnificent glaciers and fjords, Norway provides attractions for travelers with a variety of interests. Its seasonal backdrops shape and color the experience of once-in-a-lifetime events like viewing the dazzling aurora borealis or basking in the glow of the midnight sun. And they create some inviting travel deals to boot.
Preparing for Norway's weather
Springtime arrives in southern Norway, including the capital city of Oslo, on schedule and ahead of the northern region, where things may not warm up until late May or early June. By mid-spring, daytime temperatures in the south reach the high 50s and low 60s. From late June through early August, summer days typically hover around the high 60s and low 70s, with coastal areas, such as the western fjords, adding cool breezes. Fall temperatures, averaging around the high 50s and low 40s, start to drop throughout Norway by late November and, in the north, as early as October. Most of Norway gets snow and dips below freezing in the winter, although air currents keep the west coast wet but comparatively warm.
Springtime, summertime sunshine
Summer, particularly late June through early August, is Norway's peak season, and beaches along the southern coast bustle with activity. The rates are typically more expensive during this time, although a slight break in rates occurs around May 17, Norway's National Day holiday.
Offering travelers unique experiences, spring and summer are two of the best seasons for visiting Norway. Enjoy long days from mid-May through late July in areas above the Arctic Circle, such as the Lofoten Islands and the city of Tromso, where, by midsummer, the sun still shines at midnight. From May through mid-June, rushing waterfalls and blossoming trees line the lush fjords of Geirangerfjord. Summertime also turns icy glaciers, such as Jostedalsbreen and Tystigbreen, into skiable terrain.
Great deals and outdoor adventures: Norway's off-seasons
While the crowds decrease during the winter, snowy landscapes create ideal conditions for Norway's popular winter sports, including skiing, skating and sledding. Winter days are also very short, but the North Cape is completely dark from November through January. On certain nights between September and March, the northern lights dance across the sky in northern Norway.
Norway sees small crowds and reduced hotel rates throughout the early fall. By mid-fall, visitors see autumnal colors sweeping across fjord hillsides and berries ripening throughout Norway's mountains and forests.
From trains to ferries: Making your way across Norway
Most major cities and airports offer car rental agencies. Norway features well-maintained roads with very little traffic congestion, particularly from mid-August through October. Prepare for high gas prices and expensive tolls.
Trains travel throughout most major regions of Norway. A single-country Eurail pass offers unlimited travel around Norway, while the Scandinavian Pass includes Denmark, Finland and Sweden.
Soak up panoramic views during the one-hour ferry ride down the Geirangerfjord. The popular ferry departs from the villages of Hellesylt and Geiranger between May and October.
Oslo and the medieval port town of Bergen are both easily viewed by bike or on foot. Both cities offer comprehensive public transportation systems, including light rail, buses and ferries.