Best Time to Visit Lake Tahoe
By Leah Rendon

; Updated June 08, 2017
Lake Tahoe: Liveliest and quietest times to visit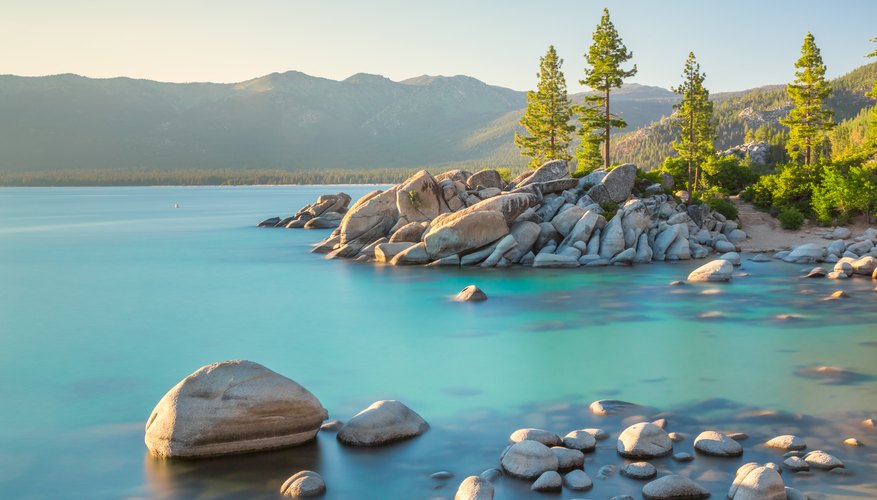 Nestled in the majestic Sierra Nevada mountain range, Lake Tahoe is a sparkling, deep blue alpine lake with a beauty that entices travelers, no matter the time of year. Divided between Nevada and California, Lake Tahoe offers an array of attractions, from snowy ski slopes to sunny beaches to bustling casinos. As a result, tourists flock to the region year-round in search of a variety of experiences, from outdoor adventures to a bit of rest and relaxation.
From snow to sun: Weather in Lake Tahoe
Winter daytime highs are surprisingly mild for the Sierras, hovering around the low 40s, but the evenings are very cold as temperatures dip into the 20s. Expect plenty of snow during the winter as well, with 75 to 85 inches falling each month. Temperatures begin to rise in the spring, starting in the high 40s and climbing to the low 60s. Snow production starts to decrease by April as well. Summers typically hit the high 70s, and July is usually the driest month with rain totaling less than an inch. As fall progresses, temperatures drop from the low 70s to the high 40s. Snow really starts to pound the region again in November, sometimes up to 50 inches, and the wind is often very chilly.
Seasonal crowds and rates
Tahoe in winter is overrun with skiers and snowboarders. Hotel rates increase as a result, so you should book early, particularly for the week between Christmas and New Year's Day. The crowds and hotel prices both decrease in the spring, especially in early March, but by summer, the region is again packed with tourists. As Tahoe's peak season, summer rates are high, although you might find slightly cheaper rates on weekdays. Book at least three months in advance since hotels fill up fast, especially during the July 4th holiday. By the fall, summer crowds have cleared out, and hotel prices drop again, particularly in November.
Location, location, location: Understanding Lake Tahoe's layout
Lake Tahoe is a fairly large area, so research where you'd like to stay. The city of South Lake Tahoe, with its casinos and large hotels, dominates South Tahoe. North Tahoe is quieter, featuring small resorts, vacations rentals and quaint towns like Tahoe City and Kings Beach. The lake's western area primarily comprises camping sites, while the east is fairly undeveloped.
Public transportation options are limited, so you'll probably need to rent a car. During the summer, the 72-mile road around the lake is often congested, and in the winter, you may have to battle ice, poor visibility and deep snow. Some ski areas offer shuttle service between the resorts and the towns.
Best time for seasonal activities
Skiing and snowboarding are popular Tahoe winter activities, particularly at Squaw Valley Resort, just a 15-minute drive from the North Shore, and Heavenly Resort, South Lake Tahoe's only ski area. Other common winter adventures include snowmobiling, cross-country skiing and sledding.
With cool days and blooming mountain flowers, hiking conditions are excellent during the spring. The weather can change quickly in the Sierras, so dress in layers, carry plenty of water and wear sturdy hiking boots.
Tourists flock to the lake during the summer to rent kayaks and pedal boats. While most beaches are open between May and September, even on the hottest summer day, the water is a biting 70 degrees. River rafting and tubing on the Truckee River are also summer-only events.
Fall's somewhat sparse crowds may mean you'll get the slopes to yourself or prime tee times at the golf course. The crisp autumn weather is also ideal for a bike ride along the lake.