Best Time of Year to Visit Switzerland
By Leah Rendon

; Updated June 08, 2017
Balancing your adventures between big cities and Alpine villages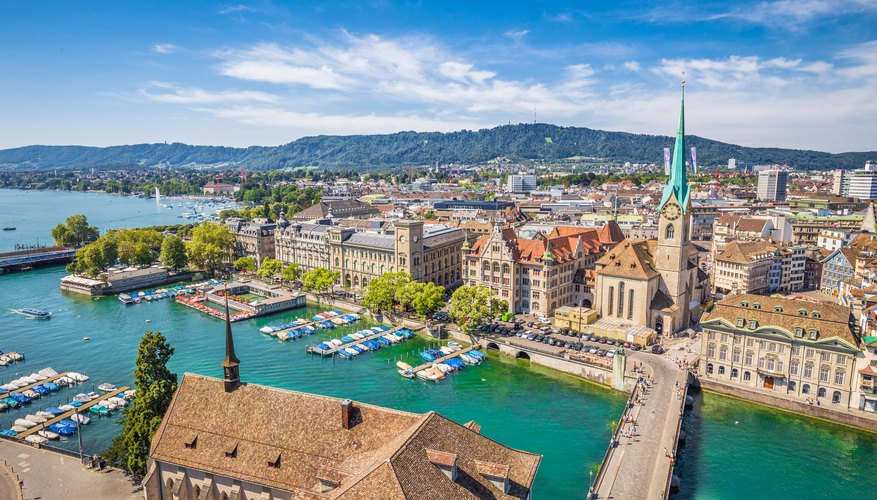 Whether hiking across rugged peaks, skiing down snow-covered terrain or swimming in sparkling Alpine lakes, adventurers find plenty of outdoor excitement throughout Switzerland. For travelers seeking a slower pace, Switzerland's cosmopolitan cities offer world-renowned museums, while its sleepy mountain villages typically showcase laid-back cafes and cozy shops. Avoid the crowds, catch the deals and deal with the weather for a memorable Swiss excursion.
From the Alps to the lowlands: weather in Switzerland
Switzerland's summer daytime highs, particularly between July and August, range from the mid-60s to the low 80s, but rain and chilly evenings may also occur. Crisp air blows through high Alpine villages even on sunny summer days. Winter temps in the lowlands fluctuate between the high 20s and mid-40s, while Alpine villages experience below-freezing temperatures, fog, biting winds and snow arriving as early as November. Spring and autumn days often hover around the mid-40s and high 50s. Autumn foliage sweeps across the landscape in mid-September through October before excessive rain strips trees bare. Southern Switzerland is the exception to most of the rules, especially the region of Ticino, which enjoys a mild, Mediterranean climate year-round.
Peak season for travelers
Switzerland's Alpine villages and small mountain towns attract large crowds during its peak season from June through early September. Hotel rates and occupancy are particularly high in August, but a dip in crowd size and prices sometimes occurs at the start and end of the season, during early June and early September. Summer remains a great time for outdoor adventures. It's often warm enough to enjoy a dip in the Berner Oberland region's more than 800 lakes, or to take in clear views from the Top of Europe, the continent's highest railway station perched atop the Jungfraujoch mountain ridge at an elevation of more than 11,000 feet.
Most travelers visit Switzerland for its natural wonders, so big cities like Zurich and the capital city of Bern offer manageable crowds and steady but high travel rates year-round.
Seasons for slowing down
Some resorts shut down briefly or offer reduced rates in late spring between the end of ski season and before the start of the summer rush. There's also little resort activity during late autumn, between mid-October and mid-November, when the foliage is gone and snow hasn't arrived. This is a good time to skip the Alps and explore Switzerland's cities.
Low season depends on the location. For instance, many ski resorts, such as Verbier and Zermatt, feature high rates during the winter, particularly between Christmas and New Year, but lower rates the rest of the year.
Travel in and around Switzerland
Most travelers fly into Switzerland via Zurich Airport since other regional airports are very expensive. Trains provide efficient transportation around the country, and multi-day Swiss Passes include access to certain intercity buses, ferries and tour boats, plus admission to multiple museums.
Book a car ahead of time to save money, remembering that rental rates increase greatly for customers under age 25. Gas and toll fees throughout Switzerland are costly as well.
Climb to the top of a mountain via one of the approximately 50 funiculars found throughout the Swiss Alps. Other unique excursions include a paddleboat ride across Lake Lucerne and the Glacier Express, an old-fashioned train ride through rugged mountain landscapes, complete with views of the Matterhorn and the Rhine Gorge.