Best Time of Year to Visit Nepal
By Jodi "Jato" Thornton

; Updated June 08, 2017
On top of the world: Visiting Everest and beyond in Nepal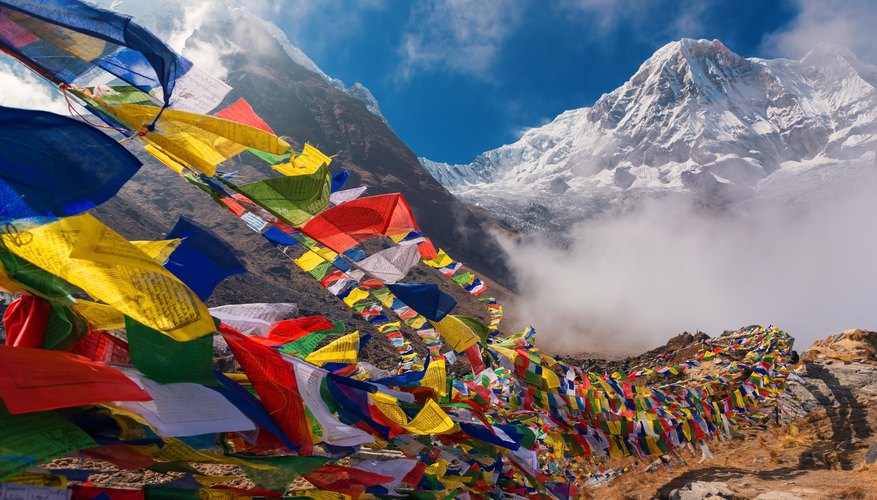 Planning a trip to Nepal likely brings to mind visions of burden-laden sherpas trekking up the slopes of Mt. Everest, but the snow-mantled Himalaya Mountains are just one aspect of the country. From wide-ranging grasslands to lush rain forests, Nepal rolls out a variety of terrain that is relatively new to tourism, heightening the sense of adventure. To get the most from your Nepal vacation, choose the best time of year in the region you plan to visit.
The best time to visit Nepal
Although there's plenty to do and see in Nepal year-round, the best times to visit are when the weather is mild. Autumn and spring are the peak tourist seasons in Nepal. Autumn offers the clearest skies, rolling out stunning views of the Himalayas, but early winter storms can drop snow as low as 8,000 feet. April and May find the country decked in fields of blooming wildflowers and rhododendrons. Spring mornings are usually clear, but clouds build during the day, sometimes bringing afternoon rains.
Avoid the rainy season
Nepal experiences a seasonal cycle similar to most of the Northern Hemisphere with the addition of monsoon season. Running from June through September, monsoons deliver more than 80 percent of Nepal's annual rainfall. Temperatures during monsoon season rise into the upper 80s. Combined with humidity of more than 80 percent, it can feel like 100 F or higher on the heat index.
Winter bargains
Snap up big savings when you visit Nepal in the winter. Fewer tourists means you'll get trekking trails to yourself and pay less for lodging. It's the season when the Himalayas shield Nepal from harsh winter winds blowing across Central Asia. Although winter temperatures plunge to subzero in some areas, the city of Kathmandu enjoys a relatively mild winter with low temperatures of just 35 F. Winter rain varies by region. Take a scenic trek in the Mustang region's red cliffs knowing that the area receives only about 11 inches of rain annually. Winters are drearier in the western hills where up to 63 inches of winter rain can put a damper on things.
Getting around Nepal
Although seeing the countryside en route from Kathmandu to other destinations can seem like a charming thought, you're better off flying as close to your destination as possible. Irregularly maintained roads and significant damage from monsoons make lurching along on potholed roads a less-than-charming experience. Combined with the sometimes terrifying habits of local drivers and the high accident rate, it makes sense to spend as little time on Nepal's roads as possible. If you go during peak spring and autumn trekking seasons, make airplane reservations as far in advance as possible, as flights fill up in high season.
Buses: If you do decide to get around on terra firma, avoid the temptation to rub elbows with the citizens on local buses. While the people have a reputation for friendly helpfulness, the buses are usually packed beyond capacity and not always well-maintained. You'll usually have to put your bag on the roof, leaving it vulnerable to theft. Stick to tourist buses that connect Kathmandu with destinations like Chitwan National Park and other popular attractions. Book your seat in advance and carry a small bag with you or put larger ones in a locked compartment.
Renting a vehicle: You can rent a car and a driver, a prospect that can be either reassuring or terrifying. Be in control by renting a motorbike, providing you have an international driver's license. Acquaint yourself with the local driving customs like making liberal use of your horn to let others know you're there. Forget the usual way of driving a roundabout: Vehicles entering have the right of way. And don't hit a cow. Killing one comes with a jail sentence of up to 12 years.