Simple Camping Food Ideas
By Fred Decker

; Updated June 08, 2017
Easy meals and snacks for the campsite cook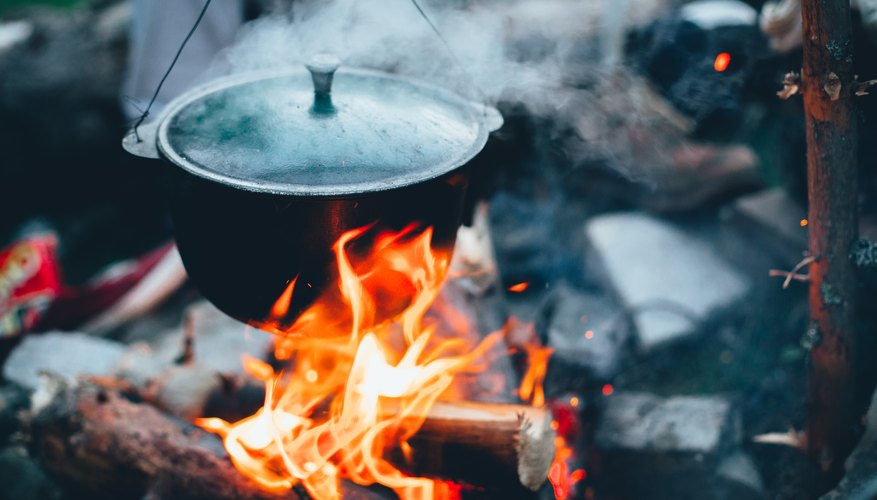 Camp cooking isn't especially difficult or complicated, but it does require thinking about things from a different perspective. Cooks don't have all the pots and utensils they're used to, there's a limited supply of perishable ingredients and running to the store for forgotten items isn't usually an option. It's best to plan meals in advance and bring just what's needed because space and weight are considerations even when car camping. Here are a few simple camp-friendly ideas to get you in the groove.
Start the day right with a good breakfast
Quick-cooking oats are almost as fast as instant – a consideration when working with a camp stove or a small fire – but without all the additives and sweeteners. Premeasure oats into zip-seal bags at home and add dried fruit, spices and milk powder to taste. When camping, just dump a bag into a pot of hot water each morning and stir till done.
Breakfast sandwiches: Pick up an oblong loaf of French or Italian bread from the supermarket. Cut thick slices almost to the bottom of the loaf, leaving them joined by the bottom crust. Stuff between every other pair of slices cheese, ham or precooked bacon, and any other ingredients that appeal to you to make a log. Fold up foil to surround the loaf and pour in beaten eggs, then wrap tightly in foil so no egg escapes. Heat the log over the campfire until it's warmed through and the cheese is melty, then separate it into individual portions and serve.
Quick, easy lunches that won't keep you from the fun
Twice-baked potatoes: Any time you bake foil-wrapped potatoes in the coals for dinner, make a few extra for lunch the next day. Halve the potatoes, then scoop out a cavity in each half. Mash up the scooped-out potato with cheese, bacon, minced onion or any other savory ingredients at your disposal. Stuff them back into the potatoes, wrap them loosely in foil and pop them back onto the fire until they're hot and the cheese has melted.
Quick lunch burritos: Firm cheeses hold up well in the cooler, and beans are a campfire staple. Add flour tortillas and you have the makings for burritos. Mash and season the beans with spices or an envelope of taco seasoning and roll them up in tortilla wraps with a generous handful of cheese. Roll each one tightly in foil and put it at the edge of the fire to heat through. Ground beef or leftover meats from the night before are welcome optional add-ins.
Satisfying, crowd-pleasing dinner ideas
Double-crust pizza: Premade pizza crusts keep for several days and are light and flat enough to easily pack. For a simple dinner, put one crust on a sheet of heavy foil and spread it with sauce from a zip-seal bag or a can. Add toppings – it's worth packing extra cheese just for this – then spread sauce over a second crust and place it sauce down over the toppings. Fold foil around the pizza and cook, turning frequently, until it's hot and melty inside. Let it cool for a few minutes, then cut it into wedges and serve.
Chili casserole: It's not camping unless you eat chili at least once, right? Bring along a favorite variety – canned, homemade, meat-only or vegan – in its original packaging or made ahead and frozen so it can last a few days in the cooler. Reheat the chili in a Dutch oven over the fire or camp stove with a layer of cooked rice or noodles on the top that will warm and soften in the fragrant steam. Top with cheese and cook until the cheese is melted, then serve with a garnish of corn chips for crunch and added heartiness.
A few points of camp-cooking finesse
Keep highly perishable fresh meats or poultry in a cooler and plan to use them as soon as you run out of ice. Extend their useful life by bringing them frozen, but remember to cook perishables as soon as they thaw.

Pack eggs whole in their shells in a rigid plastic egg carrier or nestled snugly into bags of dry ingredients to save space and weight.

Bring lots of energy bars. They're compact, lightweight and will keep low blood sugar at bay while meals are underway. In case of a culinary catastrophe, they can also become the meal itself.

Instead of cans, prepared ingredients are often available in lighter-weight pouches. Those are usually a better option for camping because they're lighter and not as bulky to pack in and out.