6 Easy Camping Lunch Ideas
By Fred Decker

; Updated June 08, 2017
Midday menus for simple campsite satisfaction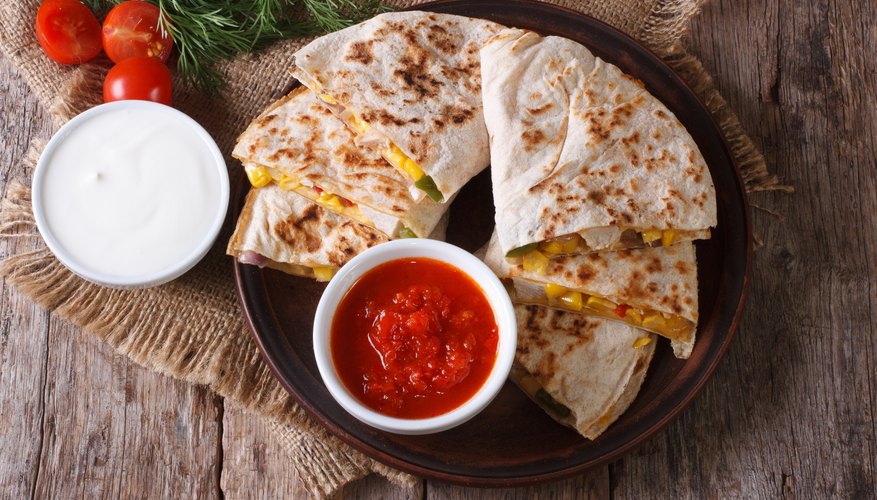 Lunch might be the most difficult campsite meal to plan for. At breakfast everyone is still close to the tent, and at dinner you're mostly done for the day, but at lunch time the day's activities are still in full swing. Your best bet is usually to keep things simple, relying on meals that come together quickly with minimal preparation so that everyone – especially the cook – can go back to having fun as quickly as possible. Here are six examples to help start your planning.
Campfire grilled cheese
This is one of the simplest lunches you can prepare at home, and it's just as easy when you're out camping. You can make up the sandwiches at home ahead of time, or in a few minutes at the campsite. Either method works fine. Make up the sandwiches with your choice of bread – sturdier whole-grain loaves don't squish as easily – and processed or real cheese. Then fold each sandwich into its own foil pouch, and toss them onto your fire or camp stove as needed. It takes just a few minutes on each side for the cheese to melt and the bread to be golden brown. Tomato soup is entirely optional.
Brunch skillets
If you eat lightly at breakfast and wait until lunch for something more substantial, that's a perfect excuse for combining breakfast-y foods to make an outdoor brunch. Saute durable, camp-friendly ingredients such as onion and bell pepper, then add sausage – fresh if you have a cooler, dried if you're backpacking – and then pour in beaten eggs and top it a handful of cheese. Leftover potatoes or cooked meats and vegetables from the night before are worthy offerings, too. If you're backpacking and don't want to haul a skillet, you can create similar meals in a foil pouch to cook gently on a small camp stove or in the embers at the edge of your fire.
"Whatcha got?" quesadillas
This is a slightly more adult take on the grilled cheese sandwich, and it's also a perfect opportunity to use up leftovers from the previous night's meal. Lay out a soft tortilla per person – more, if you have serious appetites – and scatter them with diced bell peppers, canned or pickled green chilies and any suitable meats, sausage poultry or fresh herbs you have at your disposal. Add a handful of cheese to each, fold them over, and wrap them individually in foil. Heat them over the fire until the tortillas are crisp and the cheese is melted, then cut them into wedges and serve them with a splash of salsa or your favorite hot sauce.
Sturdy, filling salads
A hearty salad provides a quick, easy, lunch with the added benefit of not requiring a fire, and eating something refreshing on a summer afternoon. Lettuces usually won't last more than a day or two on the trail, but there are plenty of other, camp-friendlier ingredients you can use. Couscous, rice, quinoa and bulgur wheat are all easy to prepare while you have the fire going, and all make a sturdy, sustaining base for a salad. Add chickpeas or lentils, shredded carrots or diced bell peppers, and you have a perfect lunch in your bowl. Just drizzle it with lemon juice or simple vinaigrette, and you're done. A slaw made of shredded carrot, cabbage or other durable vegetables is equally refreshing on a hot day and just as easy to do at the campsite.
Deluxe dogs
Hot dogs are always popular at the campsite, but roasting them the traditional way with sticks can be rather time consuming, especially when younger diners prepare their own. Leave those meals for a long, leisurely evening, and prepare your lunchtime dogs quickly and conveniently in a foil wrapper. Make up family-sized or individual pouches containing hot dogs with any combination of onions, sauerkraut, chili, bacon or cheese that suits your taste and cooler capacity. Seal the heavy foil bundles tightly and place them over the fire until they're well heated, then carefully open them and serve out the dogs and trimmings onto plates or buns.
Pro tip: The grown-ups can use the same technique in separate pouches for brats or other more sophisticated forms of sausage.
Homemade energy bars
The ultimate no-fuss camping lunch is also one of the lightest, most compact meals you can take on the trail. That's energy bars, a chewy and highly concentrated meal-in-your-hand that can get you through a whole day of hiking, kayaking or just keeping the kids entertained. Most include some combination of dried fruit, nuts or grains, often requiring as few as three ingredients. Making your own lets you tailor yours to special dietary considerations – vegan-friendly, nut-free or gluten-free, for example – and keep your costs down. With a fistful of these made up ahead and tucked into your backpack, lunch is wherever and whenever you need it to be.