What to Pack for Camping
By Meg Jernigan

; Updated June 08, 2017
Rugged and rustic or all the creature comforts: what to take when you go camping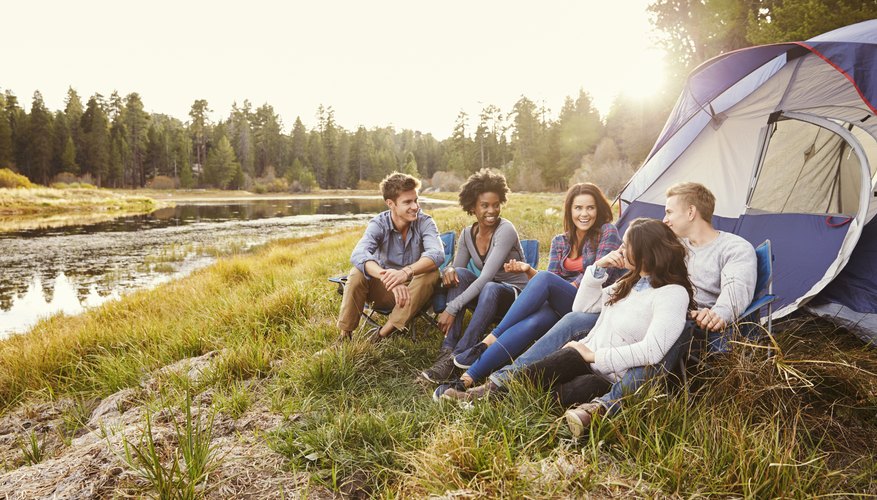 Unless you're the type who will walk into the woods, forage for food and lay down on the ground at night to sleep, shelter, food and water are the basics for any type of camping. Experts recommend a gallon of water per person per day and between 1.5 and 2.5 pounds of food per person. Shelter can be a tent, a hammock, the back seat of your car or even a trailer. Beyond that, the type of camping you're planning to do and the comfort level you need determine what else to take with into the great outdoors.
Campground camping
Purchase a tent that's sized appropriately for the number of people setting up camp. A four-person tent for a single camper isn't just overkill on size, it's more difficult to set up alone. A ground pad under the sleeping bag insulates from the cold, but a cot or air mattress goes much further in providing comfort. Pack a tarp and bungee cords to secure it to a tree for camping trips lasting more than a couple of nights. A tarp provides more protection from the sun or rain when stretched over a picnic table or a couple camp chairs, and if your tent springs a leak it's easy to toss it over the tent and keep the water out. If you're headed to a windy location, take extra-long tent stakes.
Off the grid
Think lightweight for backcountry camping. Ditch the tent and the sleeping pad, leave the sleeping bag at home if you're camping when it's warm, and pack a camping hammock instead. A length of Tyvek, purchased from a home improvement store, is an inexpensive, lightweight alternative to a tarp. Layer your clothing so you can be warm on chilly mornings but cool in afternoon sunshine. Pack a kit of the bare essentials like sunscreen, first aid and a flashlight. Campers in bear country should carry a length of rope to hoist food items into the air. Water is the heaviest item on a backcountry camping trip must-have list. Carry a water filtration system instead of packing in water.
Gender-specific tips
Camping is ultimately a gender-neutral proposition, so most tips carry the same weight for men and women. Cut down on toiletries – perhaps you can do with just a comb and not a hairbrush, for example. Opt out of shaving for the duration and let loose the notion that you need to bathe every day. If you're in the backcountry, carry plastic bags for packing out used personal hygiene items. And if you're traveling alone and bringing your dog as an extra layer of protection, keep the animal's needs in mind. Melting ice from your cooler poured into a bowl keeps her hydrated and cool.
Car camping
Car campers have myriad options for shelter beyond the back seat of the auto. For less than $200, you can buy a tent for your SUV that pops up in minutes to create a sleeping shelter for two. With the hatch open, you have easy access to the gear you've packed for the camping expedition. Trucks with a shell over the bed can be adapted with a low sleeping platform with storage underneath that's always ready to go on spontaneous overnight stays. A small pop-up trailer that doesn't need to be unhitched at the campsite becomes a miniature home once it's set up. Since your vehicle is there at your campsite, you can carry whatever gear you want – even your heaviest cast iron skillet.
References