Where to Camp in Big Sur and Other Camping Tips
By Amy Curtis

; Updated June 08, 2017
The best ways to enjoy camping on the Central California coast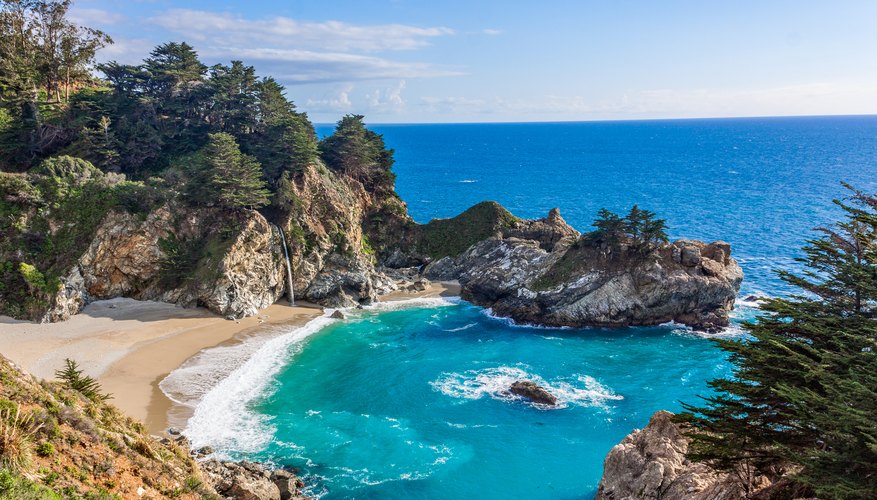 The scenic California coast entices even people who aren't outdoorsy to get out and enjoy the outdoors. One of the most rugged and striking areas on the coast is Big Sur, located between Carmel and San Simeon where the Santa Lucia mountains meet the Pacific Ocean. The resulting landscape is so stunning that it has inspired artists, photographers, filmmakers and songwriters, as well as countless other visitors. With so much natural beauty, it's no wonder camping in Big Sur is popular. Here's a rundown on the best places to camp.
Where to camp in Big Sur
Big Sur is home to six state parks, a state beach, two natural preserves, a national forest area and two federal wilderness areas. Of these 12 publicly held lands, seven allow camping:
Pfeiffer Big Sur State Park – Situated on the western slope of the Santa Lucia Mountains, this park is high above the Big Sur River Gorge where the Big Sur River flows, and redwoods, conifers, sycamores, willows and other trees line its banks. Hikers, bikers, car campers and RVers enjoy the scenic trails and camping along the river, and the Big Sur Lodge provides 62 guest rooms. There's also a conference center, grocery store and café.

Andrew Molera State Park – Relatively undeveloped, this park offers opportunities for hiking through meadows and bluffs and across hilltops and beaches. Primitive, first-come first-serve camping is allowed in 24 identified walk-in campsites about one-third mile from parking.

Limekiln State Park – 56 miles south of Carmel, this park offers trails among the redwoods, gorgeous views of the rugged Big Sur coast, and 33 developed campsites on 716 acres.

Silver Peak Wilderness – Located in the southwestern portion of the Monterey Ranger District, this park is positioned along the Big Sur coastline. Campsites are located by the river and in the forest. Though developed sites are available, campsites tend to be primitive, making this an excellent choice for backpackers.

Ventana Wilderness – The Ventana wilderness has campsites amidst redwoods, a clear-running mountain stream and magical natural hot springs. There are also waterfalls and grottos, beautiful cliffs, vast meadows and Ponderosa pines. It's a great place for backpackers, with 237 miles of hiking trails passing through areas of great natural diversity and those for quiet reflection. Accessible from those trails are 55 designated trail camps.

Julia Pfeiffer Burns State Park - Reaching up from the coastline into 3,000 foot mountain ridges, this park features spectacular views of the ocean and coastline, as well as an 80 foot waterfall that cascades over granite to tumble into the sea. Camping

Nacimiento U.S. Forest Service – This park features a small campground in which eight campsites are situated amidst oak trees and near a running creek. Tent camping is allowed, and RVs that aren't longer than 25 feet.

There are also several privately owned campgrounds, with facilities ranging from tent camping to cabins with fully equipped kitchens. Amenities vary as well, with some focusing on natural aspects like hiking trails and tubing the river, and others offering such modern comforts as Wi-Fi and espresso bars. In the north, Big Sur camping features stream and riverside camping among the redwoods, while ocean-view bluff camping is available in the south.
What to bring
Common items every camper needs include basics like shelter, water, a sleeping setup, some method of making fire, first aid supplies, food and water. In Big Sur, it's important to bring clothes to layer at all times of year, because coastal fog can develop overnight and bring temperatures that are quite cool.
Camping rules
Some camping rules apply to all campgrounds on public lands, and others are specific to particular parks. Common rules are:
Do not collect wood

Do not feed wildlife

Do store food/trash properly

Do not put nails in trees

Quiet hours are from 10:00 pm to 6:00 am

Vehicles must be registered and have a valid parking pass

Check out is at noon

The speed limit is 10 mph

Dogs must be leashed, and no dogs are allowed on trails. In Julia Pfeiffer Burns and Andrew Molera state parks, dogs are not allowed on campgrounds, and in Andrew Molera park they're not allowed on the beach at all.

At Julia Pfeiffer Burns and Pfieffer Big Sur state parks, bicycles are not allowed on trails, and amplified music is not allowed. Noise must not carry past each camper's campsite.

At Andrew Molera, there's a maximum headcount of four people per campsite, all the beaches and trails close at sunset, and the park is in a marine-protected area. That means no ocean fishing is allowed, and river fishing is allowed only at certain times per year.

Throughout Big Sur, camping along the highway or sleeping in a vehicle is prohibited.

Other considerations
California's weather conditions can sometimes be unpredictable. Mudslides, rock slides, forest fires and extreme drought or flooding are all possible. Check on the conditions of the campground before heading out to ensure that all systems are go.