The Ultimate List of Camping Supplies
By Fred Decker

; Updated June 08, 2017
The master list to ensure you never forget camping essentials again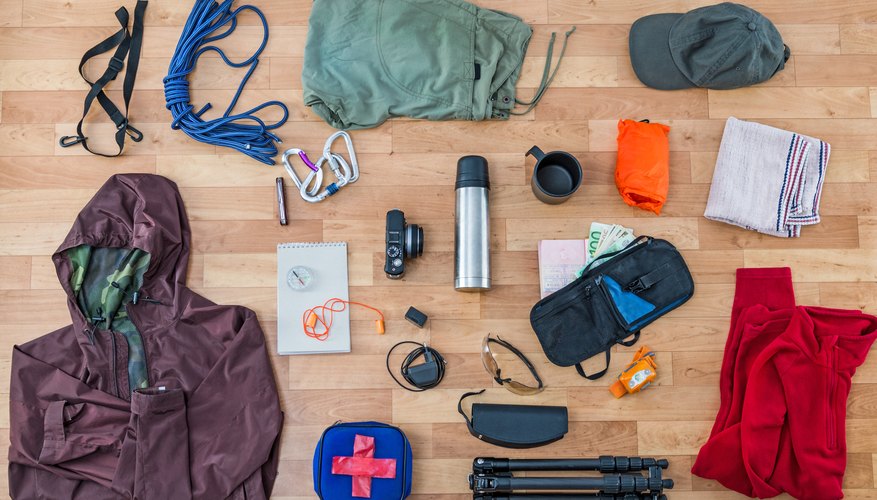 Late in the day at the end of a long hike to your campsite is no time to realize that you've forgotten something important at home. Most hikers have that experience at least once, and once is usually all the motivation needed to find a more methodical way to pack. Creating a checklist to work from is the obvious answer, but it's a big job: There are literally hundreds of things you might opt to bring on any given trip. To make the project more manageable, break it down into smaller, self-contained lists.
The basic essentials
Start by thinking of the things you'd bring along on any day hike, whether driving in and out or starting and finishing at an established camp. A good starting point is the "10 essentials," a list of hiking necessities that's been around since the 1930s. It includes sun protection; extra food, water and clothing; some form of light; a way of making fire; an emergency shelter; first-aid supplies; a few essential tools; and some way to navigate in the bush. How you check those boxes is a matter of personal preference; for example, you might navigate with a compass and paper maps or instead opt for a modern GPS device.
Anything beyond those essentials is a matter of personal preference. A serious photographer, for example, would probably make room for a camera, a lens or two and perhaps a lightweight, collapsible tripod or monopod.
Loading up the big pack
If it's just going to be you and the contents of your backpack for several days, you'll need to tote along more of everything: food, clothing, fuel for your lamp and camp stove and so on. You'll also need a few additional things. Sleeping out requires a sleeping bag or bedroll and ideally an air mattress or foam pad. Minimalists can sleep under a tarp or ground sheet, but a tent is more comfortable, and they've gotten very lightweight. Remember to pack along extra stakes, just in case.
When out for more than a day, plenty of water is essential. Carry as much as you're comfortable with, and bring along purification tablets to "wild-source" drinking water if necessary. However pristine that stream may look, the water still needs boiling or treatment with tablets, and tablets are easier to carry than extra stove fuel. Bring toilet paper in waterproof packaging, plus hand sanitizer for afterward and a folding shovel to conceal the evidence.
Car camping allows for a few luxuries
It's possible to bring some extras when backpacking in a group – one carries the tent, one carries extra water and so on – but camping in relative luxury requires a car or boat for bringing in most of the supplies. You can bring along some pots and pans, for example, and a greater variety of food to cook in them with extra space for a cooler or two. A larger, heavier tent provides additional space or for passing a rainy day indoors. You'll have room to pack a few additional amusements as well, from toys and games to a volleyball net or inflatable boat.
Space is still limited, though, so think carefully about what to bring. When in doubt, opt for extra bug spray or toilet paper over perishable food items. The internet is filled with checklists compiled by experienced campers, so draw on those for inspiration when you're refining your own personal list.
A few words on comfort, hygiene and safety
It's the little comforts that make the trip enjoyable, so give them some thought. For hot weather, bring clothing that wicks moisture away from your skin, and for cold, plan to layer up to stay warm. In any weather, bring clothing that dries quickly if it gets wet. Don't forget to pack plenty of sunblock and bug repellent. Moist wipes are great for freshening up when a proper wash isn't an option, and so is hand sanitizer before cooking or eating. A few additional tips:
When packing perishable foods, keep them cold with ice or gel packs and plan to eat them early in the trip while they are still safe.

Check your first-aid kit to make sure it meets the minimum standards the Red Cross recommends. If you camp regularly, it's worth taking a first-aid course as well.

When bringing medications, make sure the prescriptions are filled before you go and bring along everything you'll need. A separate emergency stash of crucial medications in waterproof packaging is a really good idea, as well.

If going off the beaten path, let someone know your planned route and any potential detours, as well as how long you expect to be gone. If things go badly, someone can sound the alarm. If you regularly hike the backwoods, consider investing in a GPS-powered personal locator beacon, so searchers can zero in on you in a hurry if necessary.