What Do You Need for Camping?
By Beverly Bird

; Updated June 08, 2017
Camping 101: The essentials for overnight outdoor fun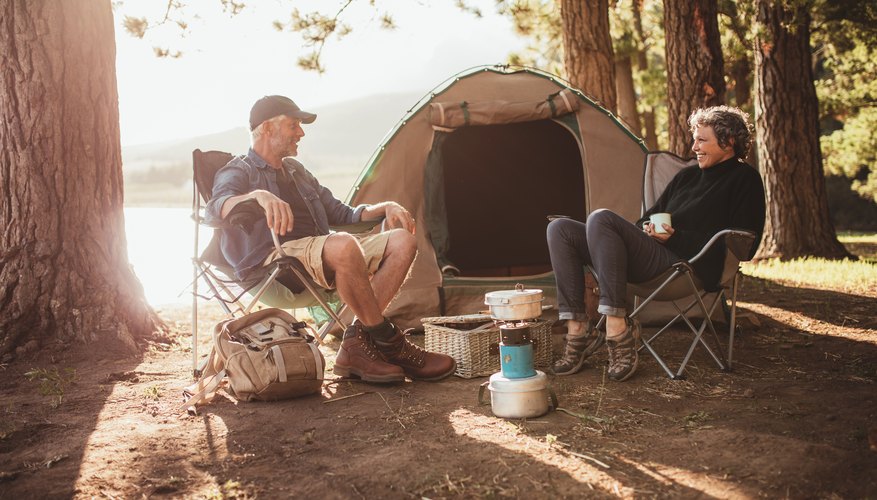 Packing for any trip requires a bit of forethought, but packing for a camping trip is even more complicated, with no wait staff, housekeeping services or stores to purchase that forgotten item. Campers are on their own, and this usually means they have to pack more – or at least they have to pack differently.
Some types of camping offer more leeway than others. Backpackers want to trim their loads so they're as light as possible. On the other hand, car campers can almost tuck their kitchen sinks into the back of their SUVs. Therefore, camping must-haves depend on how you plan to get to your campsite.
Sleeping and staying warm
Even car campers who drive right up to their campsites need a place to sleep. But there are tents, and then there are tents, ranging from bare-bones to fancy.
Look for one with a rain fly and ground cloth. The first keeps rainwater out, and the second, also called a footprint, prevents the floor of the tent from getting torn up by foot traffic and inclement weather. A tarp will do as a footprint in a pinch, and it can do double duty as an additional camp shelter if the weather turns wet and nasty – in which case, rig it up over the campfire.
Look for a sleeping bag with a rating of 30 to 50 degrees F, even for spring and autumn camping. Add 10 degrees or so, after the anticipated air temperature. The temperature rating is the coldest it can withstand and still keep you comfortable. A sleeping pad or air mattress and some blankets or sheets should do fine in hot, muggy climes. You may want a sleeping pad anyway to place under your sleeping bag to protect you against the hard ground.
Pillows and camp chairs are optional. Backpackers who don't want to carry along a pillow – however light – often just bring pillow cases and then stuff clothing into them to create makeshift pillows. They won't want to lug chairs into camp either, but car campers can usually find some space in their vehicles for this creature comfort.
What to wear?
Comfort is the name of the game. This isn't a time to invest in a new wardrobe – your favorite tried-and-true jeans or leggings won't pinch or otherwise cause unexpected discomfort. There will be dirt and sweat, so clothing that you can wash by hand at your campsite is ideal.
Don't forget rain gear, and even car campers will want shoes suitable for hiking. Plan for the weather with appropriate outerwear, and keep in mind that temperatures often feel colder in the great outdoors than they do on city streets. Extra socks are always a good idea – feet sweat, too. And comfy shoes for evening wear can be a nice addition.
A kitchen in the wilderness
Your needs for meal preparation also depend on how you're getting to the campsite, whether you're hiking in with a backpack or driving right up to your reserved spot. Car campers can bring a full array of ingredients for some serious cooking – make a list of ingredients, check it twice, then start pre-measuring and packing it all in sealable plastic bags. Backpackers might want to stick to small, light basics like ramen noodles. Don't forget some easy, nourishing snacks that don't require cooking. Peanut butter is healthy and high in protein, and it can be scooped straight out of the jar without fuss.
A decent camp stove can be a good alternative to hot dogs on sticks held out over the fire. Cast iron cookware is ideal for hanging over open flames, although a backpacker certainly won't want to lug in so much weight and should substitute light-weight aluminum cookwawre.
Bring fuel for that camp stove and a firestarter, or at least plenty of matches sealed in waterproof bags. Take plates and utensils – ideally paper and plastic. "Real" plates and flatware will require biodegradable soap for washing. Take garbage bags so you can leave the campsite neat for its next visitors.
Above all, don't forget to bring water. Available water at the campsite may not be drinkable, although you can boil it to purify it in a pinch – one minute plus an additional minute for each 1,000 feet of your location's elevation. You can also buy and tote along some water purification tablets.
Play it safe
Take along a first aid kit including – at a minimum – bandages, salve, painkillers, moleskin for possible blisters, and calamine lotion or aloe. Cellphones aren't reliable in the wilderness, so pack some whistles and two-way radios or walkie talkies for backup. Identify the location of the nearest medical facility. Take emergency contact numbers and keep them on your person.
Common sense goes a long way toward other, miscellaneous must-haves: trail maps and an old-fashioned compass are important – not one dependent on a charged cellphone. Take insect repellent for both the body and for the campsite, such as citronella candles. Pack sunscreen, headlamps, lanterns, flashlights and some change in case the campsite charges for showers. Some sites require permits, so look into this ahead of time. Having a rope or cord on hand can be indispensable in a variety of potential situations.