Tips for Getting Married on a Cruise
By Karon Warren

; Updated June 08, 2017
Making waves: A wedding on the high seas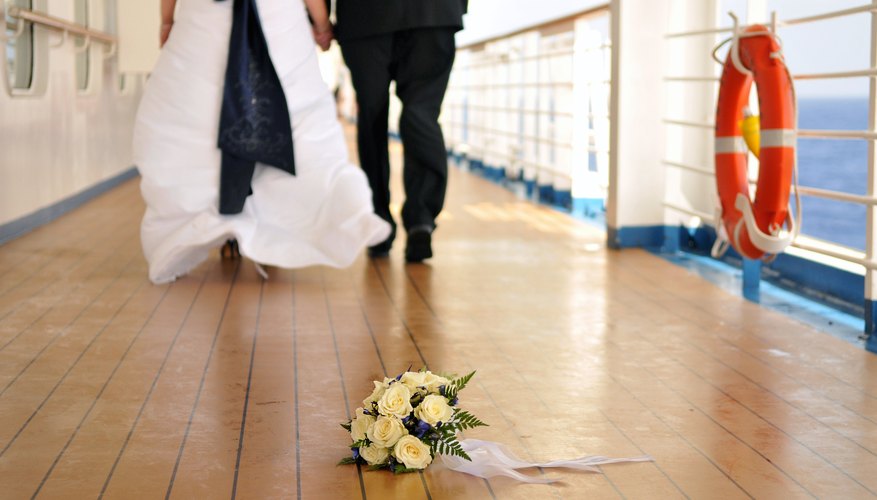 What could be more magical than getting married on a cruise ship before sailing into the sunset? For many couples, it's the dreamiest possible beginning to their future together, and it can involve less stress and, thanks to the cruise lines, planning that's a breeze. The trick is to schedule early so you can start planning your perfect day with plenty of time to tick off your list of "to-do's" before saying "I do."
Enlist professional help
Saying "I do" onboard a cruise ship is so popular that most cruise lines have their own wedding planners. These planners can help couples set a budget, customize their event and provide details on the necessary legal paperwork to get married at sea. So, once a wedding date is chosen, start working with the cruise wedding planner. Ship weddings book fast, so don't wait to get the ball rolling.
Think small for the big day
Weddings on cruise ships aren't for couples dreaming of an elaborate affair. In fact, while cruise lines strive to make the day special, there are limits to just about every element of the wedding. For instance, most cruise lines limit non-sailing guests (those attending the wedding but not cruising afterward) to around 50 people. Also, no outside flowers, food, entertainment or other vendors are permitted onboard; couples have to choose these items from those provided by the cruise line.
Land a location
A cruise wedding can take place on the ship in a specific port or on land in specific destinations. Some ships even have their own onboard wedding chapels. Likewise, a small number of cruise lines permit their captains to perform the ceremony. Couples set on getting married by the captain or in a certain port should research all cruise lines to find one that can meet all these requests.
Get licensed to wed
All cruise travel requires travelers to bring along specific paperwork: a passport, photo identification, birth certificate and so on. Likewise, couples are required to bring a valid marriage license to the wedding. This license should be issued by the port where the wedding will take place. Cruise wedding planners can provide details on necessary paperwork, but couples are responsible for obtaining these documents prior to the cruise.
Pack motion sickness medications
No couple wants to get sick at their wedding, so start taking motion sickness medications before the ship sets sail. Even if neither person has experienced motion sickness before, this is not the time to take chances. So, whether it's a patch or a pill, start taking medications at least 12 hours before heading out to sea and continue through the first day (and thereafter as needed) to keep motion sickness at bay.
References