Tips for Planning Romantic Getaways in Savannah, GA
By Blake Guthrie

; Updated June 08, 2017
Savor the best of Savannah with your S.O.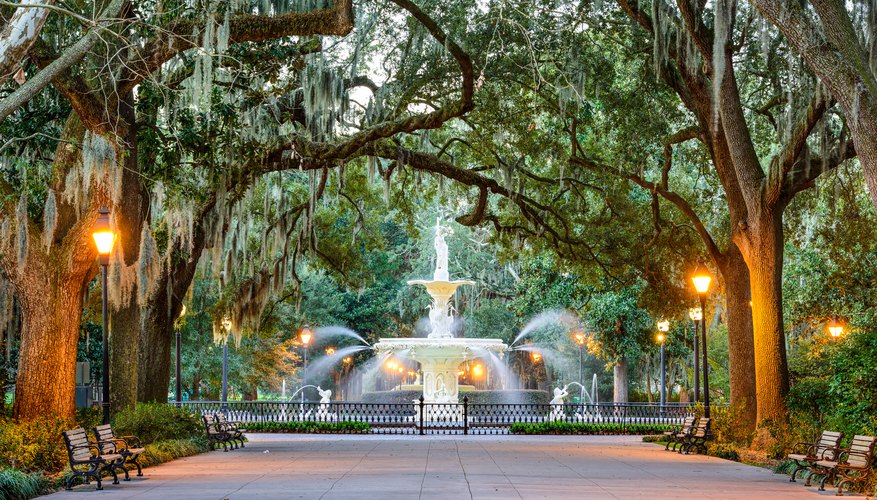 There's a reason Savannah ranks among Airbnb's top search destinations. It's something science can't explain, but lovebirds flock to Georgia's founding city for romantic getaways. It likely has a lot to do with the sense of history and mystery "The Hostess City of the South" exudes.
John Brendt, author of "Midnight in the Garden of Good and Evil," came to Savannah in the early 1980s to escape New York City and was so enchanted he ended up returning again and again to write his bestseller. A couple needs only a weekend before the itch to return sets in.
What to look for when planning a romantic vacation to Savannah
Book accommodations in the downtown historic district. It's a large area filled with shady streets, centuries-old squares and all manner of chain hotels, boutique inns and B&Bs. For the ultimate in romance, avoid the chains and go for the smaller properties. Savannah is filled with them, from Forsyth Park, the town's somewhat more residential, major greenspace, to the more commercial riverfront.
Four places to consider visiting
Telfair Museums
The major museum complex in Savannah is the Telfair, which includes three different sites: Telfair Academy (said to be the oldest art museum in the South); Jepson Center (showing contemporary art); and the Owens-Thomas House (a historic house museum, circa 1816). You can visit all three museums for one price on a ticket that's good for seven days.
Bonaventure Cemetery
No trip to Savannah is complete without visiting one of the city's beautiful old cemeteries, and Bonaventure fits the bill nicely. The "Bird Girl" statue made famous by its star turn on the cover of "Midnight in the Garden of Good and Evil" used to reside here before being moved to the Telfair's Jepson Center for preservation. Still, Bonaventure has plenty of other sights and hideaway spots on its expansive, Spanish-moss-draped grounds by the river.
Tybee Island (AKA "Savannah's Beach")
Only 20 minutes from downtown, Tybee Island is the place for a romantic stroll on the beach. Pro tip: the beach at the north end of the island is much less crowded than other spots on Tybee. Plus, there's a historic lighthouse to climb for a great view of the coast, waterways and marshland.
City Market
In the heart of the historic district, this former downtown street is now a four-block pedestrian-only zone, a prime spot for strolling, shopping, dining and night life. It's also a good place for sitting on a bench and doing some people watching.
Getting around
Many of Savannah's top spots are within walking distance of the riverfront, but the historic district stretches all the way back to Forsyth Park, which is too far to walk unless you're trying to get some serious exercise. Other options exist for getting around. Use DOT, a public transit service that operates a fare-free trolley system as well as a free ferry service across the Savannah River. Horse-drawn carriage tours are also popular for a romantic excursion; many companies offer curbside services throughout the district.