How Much Snow Is in Boston?
By Jodi "Jato" Thornton

; Updated June 08, 2017
Weathering winter Beantown style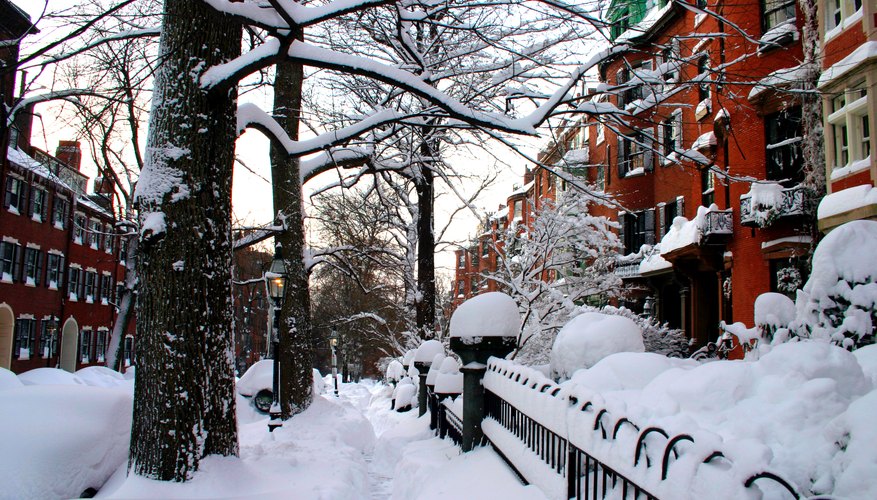 Whether you want to delve into the roots of American history or relax in natural surroundings, Boston offers a multitude of ways to meet your vacation goals. The busy season runs from April through October. Traveling to Boston in the off-season provides deep discounts on hotels and frees you from the packed tourist crowds, but you might be in for wintry weather. Here's what you need to know to cope with Beantown snow.
Let it snow
Snowflakes fall in Boston as early as November, bu you're more likely to just get rain. December is when the real snow starts, and an average of 44 inches fall in the city between December and April. Not all precipitation in the winter is snowfall, however. Temps vary between 20 degrees F and 45 degrees F, so expect sleet and freezing rain too.
Prep for weather as a visitor
Check the weather: If you're staying near the Berkeley Building in the Back Bay area, it's easy to tell when snow is in the forecast. Red lights on the beacon tower forecast rain, and the lights change to flashing red if snow is expected. The lights are blue during better weather. A local poem helps you remember the meaning: "Steady blue, clear view / Flashing blue, clouds due / Steady red, rain ahead / Flashing red, snow instead."
Don't get towed: Some streets have restricted parking during snow emergencies. Check the City of Boston's website for restrictions where you plan to park. Discounted parking garages provide nearby options, so you don't get ticketed or towed.
Keep fuel in the tank: Don't let your car's fuel tank get below half full. Condensation builds up in a nearly empty tank, resulting in a frozen fuel line.
Carry some just-in-case items: Keep an emergency kit in your trunk in case you get stuck. An ice scraper, snow shovel, flares, solar blanket and flashlight are cheap and can help you get back on the road sooner. Throw in a few granola bars and an insulated bottle of water to tide you over during long traffic tie-ups.
What to pack
Boston is made for walking, so wear shoes that are too. Insulate your feet from the cold pavement with thick soles and keep out winter slush with waterproof uppers. Keep your tootsies toasty with winter socks made of merino wool, shearling, fleece or other materials that don't lose their insulating value when they get wet. Leave behind cotton socks: Cotton absorbs perspiration and dries slowly, keeping your feet cold and clammy even in the most insulated winter boots.
Boston's changeable weather makes it necessary to dress in layers. A light windbreaker with a waterproof outer layer is less bulky to pack and layers nicely with fleece or wool layers underneath. Pack an itch-free merino wool base layer, including long underwear, especially if you plan to wear leggings. Remember to throw in a short-sleeved shirt for the unexpected 70-degree F day.
Winter months to visit for the least snow
If you're not wild about snowy weather, plan to avoid the months of January and February. January averages 13 inches of snow, and February gets 11 inches. November averages just an inch of snow but typically sees 4 inches of rain. March is the wettest month. Although it receives an average 8 inches of snow, expect more than 4 inches of rain to go along with it.