Tips for Choosing Where to Camp in Yellowstone
By Christine Bartsch

; Updated June 08, 2017
Picking the perfect spot to get up close and personal with nature at Yellowstone National Park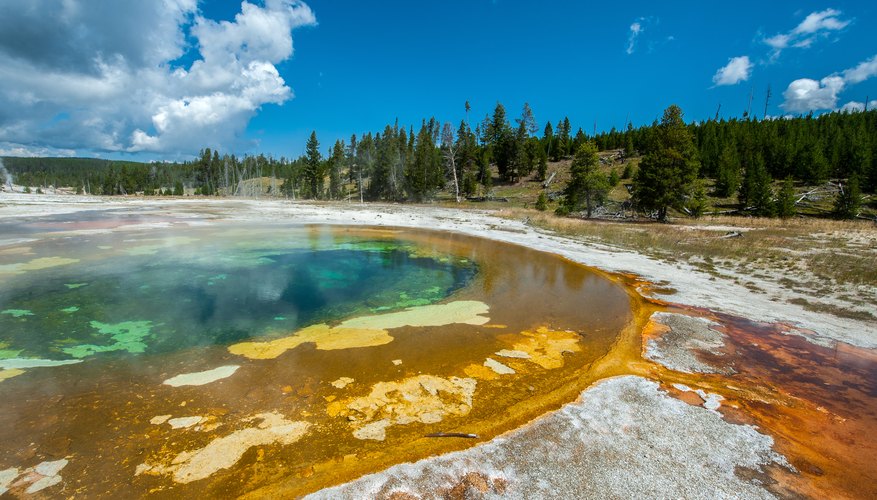 A pristine paradise famous for becoming the world's first national park, Yellowstone's many natural wonders make it a must-see destination. Geysers, Mud Volcano, waterfalls, Sulphur Caldron, hot springs and 20-mile long Yellowstone Lake are only a handful of the sights and activities on offer at the park. With so much to see and do, it's essential to find the right in-park campground.
Types of campgrounds
With more than 2,000 sites to choose from across 12 campgrounds, selecting the perfect place to set up camp might be overwhelming. Narrow it down to the best campground by evaluating the type of campsite needed.
Out of the park's 12 campgrounds, seven do not accept reservations; instead, they operate on a first-come, first-served basis. Of these seven, only Mammoth Hot Springs and Norris offer flush toilets on the grounds. Pebble Creek, Tower Fall, Slough Creek, Lewis Lake and Indian Creek provide only vault toilets. At these campgrounds, you'll find a picnic table and a fire pit on each site.
While all campgrounds in Yellowstone allow for RV camping, most have size limitations, which includes any other vehicles you're towing or parking at the site. Before you hit the road, calculate your RV dimensions and call ahead to learn which campgrounds allow for your sized vehicle. RV campers should note that most Yellowstone campsites do not offer hookups or an on-ground dump station, and some may not allow the use of a generator.
To reserve or not to reserve (that is the question)
Hosting over 4 million visitors annually, Yellowstone is a tricky national park at which to camp on a whim, especially during its high season in July and August. Luckily, five in-park campgrounds do accept reservations through Yellowstone National Park Lodges. All campgrounds that accept reservations – Bridge Bay, Canyon, Grant Village, Madison and Fishing Bridge RV Park – feature flush toilets and a dump station on site.
As Yellowstone's only official RV park, Fishing Bridge is the only campground where visitors have access to sites equipped with water, sewer and electrical hookups. While Fishing Bridge is rich on amenities, the downside is that no campfires are allowed on the campsites, even in portable fire pits.
Counting on getting a reserved campsite? You'll have to plan your trip plenty early. If you're vacationing in spring or fall, you'll likely find availability by calling three to six months in advance. For camping reservations in June through September, plan on making your reservation six months to a year in advance.
Backcountry brave
If you can get along without your car nearby and don't mind a bit of a hike, grab your backpack and trek off the beaten path to one of Yellowstone's 300 backcountry campsites. Camping at these sites requires campers to obtain a backcountry permit that you'll need to keep on you at all times. Reservations are available for some of the backcountry sites; however, you'll need to complete a reservation application in advance of your trip and pay a non-refundable application fee. If you're feeling brave enough to hike until you reach an unoccupied site, feel free to wait until you arrive in the park to obtain your permit.
Make a move
Covering 2 million acres across a major swath of Wyoming and reaching into both Montana and Idaho, it's impossible to see all Yellowstone has to offer in just one visit. The sheer size of the park means you'll likely spend a chunk of time driving to reach the park's biggest attractions, unless you make the strategic decision to stay at two or more campgrounds during your visit. For example, you might spend a few nights camping at Norris or Madison to be near the geysers, then head north to Mammoth see the hot springs and tour historic Fort Yellowstone. If you're road-tripping to Yellowstone from out-of-state, consider starting out at a reserved campground to ensure you have a site when you arrive, then move to a first-come, first-served campground in another part of the park later.
Bundle up, buttercup
With an elevation averaging 8,000 feet, Yellowstone stays pretty cool throughout the camping season. In fact, you may even see ice on Yellowstone Lake as it continues thawing into late May and early June. Temperatures average in the 60s and 70s during the day from May to September, yet they can still dip into the low 30s at night. Prepare to face those cold nights by packing winterized sleeping bags and warm clothes for sleeping. On the plus side, the colder temperatures in May, June, September and October reduce the crowds and make campsites easier to snag – unlike the warmer, busier months of July and August.