What to Pack for Disney World
By Amy Curtis

; Updated June 08, 2017
What to take for style and comfort on a Florida Disney getaway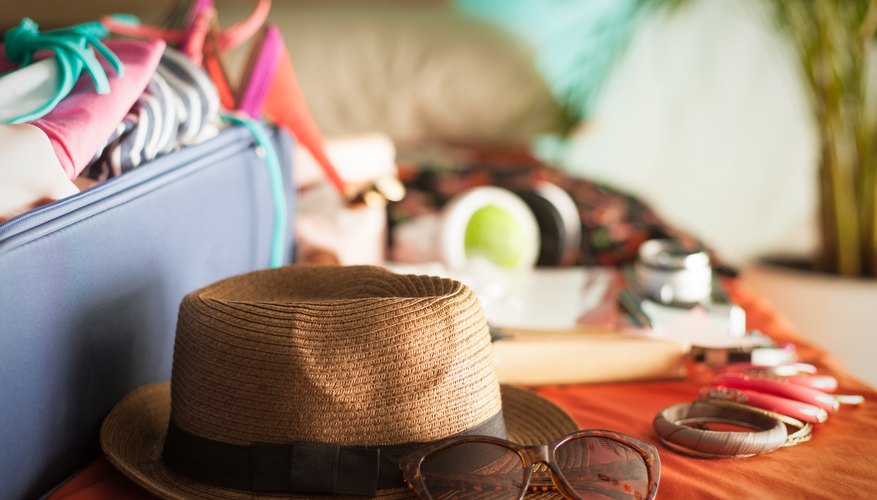 Disney World is all about magic and fantasy, but packing for the trip requires a little more practical planning. You won't need much inside the park, but thinking ahead can save stress and money.
What to pack
Bring comfortable walking shoes. Disney is a large property, and you'll do a lot of walking. Wearing the wrong shoes can make the day miserable, so make sure to bring some that are comfortable and well broken-in before the trip.
* Pack a poncho. It rains in Florida during the rainier seasons – a lot. That's how it stays so green. Heading to Disney without a poncho – especially in the summer – is a rookie mistake. Disney sells its own ponchos, but the price may be prohibitive.
* Bring a bathing suit. Even if you plan to spend the trip simply lounging around the hotel, whoever heard of a Florida vacation that didn't involve swimming? Who knows? You may even have time to visit one of Disney's water parks.
* Remember the charger. Here's a helpful tip: Disney has a charging station where visitors can plug in their devices via USB. Not sure you will have time to waste charging a device? Bring an extra battery or power pack.
* Take a backpack to the park. Backpacks are a great hands-free way to carry items that may be necessary at some point during the day – like that poncho. You will also need entertainment schedules, Disney maps, souvenirs and other things that require a place for stashing.

Tip
It's not a bad idea to tuck some snacks and a refillable water bottle into the backpack. Food at Disney is expensive, but the powers that be don't mind if guests bring their own. Water bottles can be refilled at drinking fountains, eliminating an unnecessary expense.
What to leave behind
Don't bring anything "just in case." It's Orlando, not a desert island. Anything forgotten can be easily purchased upon arrival – but it's best not to shop at the parks. Hit the stores before the parks to save money.

Don't tote toiletries. Unless you have allergies or some serious brand loyalty is involved, it's not necessary to bring toiletries like shampoo and soap to a hotel. Ditto hair dryers. Bringing sunscreen on a plane is tricky, not just because it's likely to burst in the suitcase, but also because it's not always TSA compliant. Fortunately, it's easy to grab some sunscreen at the drugstore or convenience store before heading to the park.
Don't bring restricted items. Disney has a list of personal items not allowed in the park. Some of these are pretty obvious, such as alcohol and firearms, but others may not be as apparent. For example, no wrapped gifts may be carried into the park – they must be unwrapped for inspection. No skateboards or skates are permitted, and neither are selfie sticks and folding chairs. To sum up: Check the list before packing for the trip.
Weather considerations
During the summer, temperatures soar during the day, and then the rain, as mentioned, comes down in torrents and cools everything off a bit. This can be refreshing, except for people standing outside, which includes most of the people at Disney.
Pack clothes that will provide sun protection but are still comfortably cool. Even in winter, Orlando temperatures rarely dip below the 40s, and they can still rise into the 70s. Layers are the key, and that backpack will come in handy when it's time to peel them off.
Tip
Disney has a dress code. Shirts and shoes are required, and any outfit that shows too much skin puts the wearer in danger of being ousted from the park. Then, too, some of the dining establishments require business casual attire for their guests. Check the rules before heading to Disney to prevent mishaps during the visit.
To carry on or not to carry on
Flying with only a carry-on is a convenient option, even though a checked bag offers more flexibility in packing. Because you probably won't need a variety of outfits or footwear at Disney World, it's easy to keep the bag light, bringing only the necessities and rolling clothes to save space.
If space permits, though, either because you checked your suitcase or because you drove to Disney, a few additional items are good to have. Cooling towels and personal fans, for example, are an ideal way to combat the heat. Room freshening spray makes a hotel room smell fresher, and personal items can make it feel more like home.
Other considerations
Even with the most comfortable shoes, all that walking can result in blisters. A small first-aid kit stocked with a chafing stick, bandages and moleskin is invaluable in helping to keep the party going when it hurts too much to walk. Sunscreen is another must-have in Florida, so make sure it's in the backpack.
Of course, the most important things to bring to Disney are a sense of wonder and a willing suspension of disbelief. Sure it's hot, crowded and costs a fortune, but ultimately, the magic of Disney holds up for the traveler willing to approach the experience with wide eyes and an open heart.