Best Time to View Sunsets in Arizona
By Jodi "Jato" Thornton

; Updated June 08, 2017
When to capture the famous desert sunsets of Arizona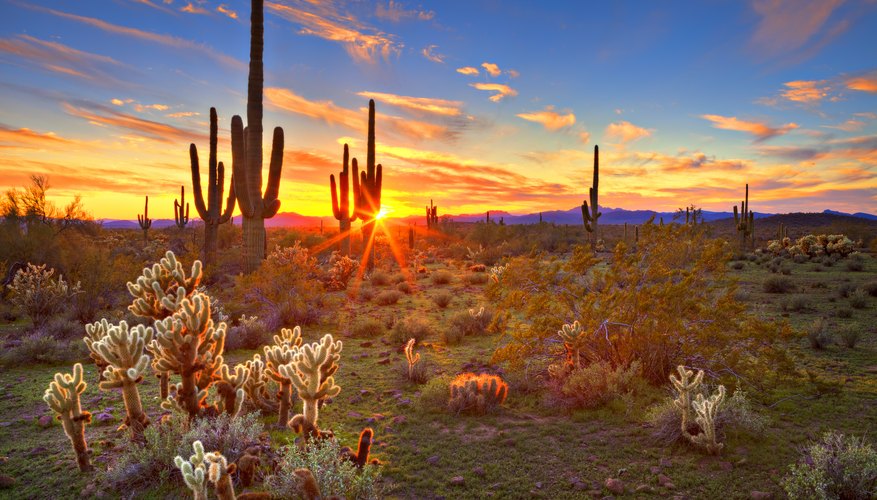 Arizona sunsets are legendary: Technicolor skies blaze behind the silhouette of a towering saguaro, canyonlands or palm trees in shades of orange and fuchsia. Sunset is undoubtedly the most beautiful time of the day in Arizona. Here's the best ways to enjoy the show.
Go at the right time
Some might say that Arizonans dance to their own drummer, but the state definitely marches to its own time clock. Arizonans don't spring forward or fall back, and time is the same no matter which season you're in. So sunsets happen earlier in the evening than they do back east.
Sunset in a winter sky
In winter, when days are shorter, sunset can come as early as 5:20 p.m. Look for super-early sunsets before you go to dinner in late November and early December. Watch the sunset from the low deserts from November through January where 67-degree F days can dip into the 40s during the night. Some of the best places for winter sunsets include:
Papago Park, Phoenix: Catch those technicolor skies reflected in the park's ponds with silhouettes of palm trees in the foreground.
Gates Pass, Tucson: Desert hills forested in towering saguaros are perfect for digital captures of that classic Arizona sunset.
Arizona's West Coast: Bullhead City, Lake Havasu and other destinations along the Colorado River as far south as Yuma roll out hills that glow deep red and purple in the setting sun. The whole show gets reflected in the river, offering an opportunity for unique photos from the vantage point of the water.
Stop and smell the wildflowers in spring
Keep to the low deserts for springtime sunset viewing, but shift your location to places where wildflowers abound. Days are getting longer, and the weather warms up to the mid-70s to mid-80s in March and April when wildflower bloom is at its peak. Sunsets vary from 6:30 p.m. in early May to 7:30 p.m. in late April. Capture the blazing skies vying for attention with vibrant wildflowers with a little artificial foreground lighting, such as a flashlight.
Check out Lost Dutchman State Park in Apache Junction or Picacho Peak State Park in central Arizona for stunning displays of white and orange desert poppies.
Dramatic storms, dramatic skies
Late June through early August brings the Arizona monsoon season. Towering clouds build during the day, sometimes bringing powerful storms in late afternoon that finish by sunset. Catch sunsets with enormous cotton-candy clouds that glow gold around the edges. Head to a high spot such as South Mountain Park in Phoenix or Windy Point Vista at the base of Mount Lemmon in Tucson. Both spots offer overhead protection and panoramic views of city lights. With any luck, you might even catch a photo of lightning slicing through a distant cloud. The sun sets as late as 7:42 p.m. in late June and early July.
Autumn colors
Northern Arizona is the place to go to view autumn foliage, and it's known for dramatic autumn sunsets too.
Expansive public patios and sidewalks at the Hillside Shops in Sedona offer panoramic views of red and yellow foliage along the creek set against red rocks vibrant with the setting sun.
Take a drive up Snowbowl Road in Flagstaff to discover vibrant yellow aspens after traveling about 3.5 miles. Scenic overlooks let you position yourself to catch an Arizona sunset.

The Grand Canyon presents miles of opportunities for sunset watching. The South Rim in Grand Canyon National Park is the most popular with tourists, but the North Rim is where you'll find the dazzling leaf displays. Keep in mind the North Rim closes October 15 after the peak of fall color.