Packing List for Kids
By Natalie Saar

; Updated August 11, 2017
Traveling with kids? What to put in the suitcase to keep them happy and comfortable all through the trip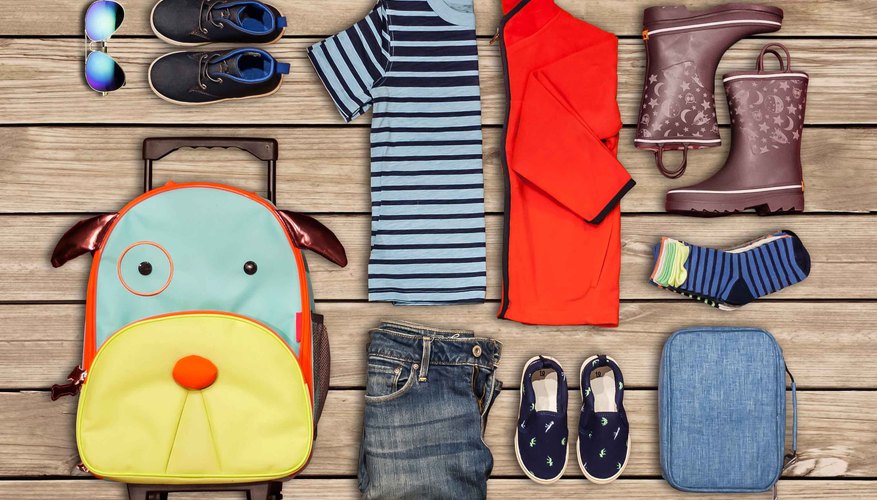 Packing for any trip can be a little tricky, and even more so when little ones are traveling too. No matter where you're traveling, though, kids need a few staples to have a successful, memorable vacation – and a few small extras as well. Add the following items to your packing checklist.
Keep it simple
As any parent knows, no matter how independent children think they are, they're never quite as prepared as an adult. So, when it's time to pack for the little ones, start with the essentials. Prescriptions, other children's medicines, and necessary items like diapers and bottles should be the first items to get packed. Next, set aside two pairs of clothes a day for young children and one pair for older kids who are still too young to pick their own clothes. Don't forget the pajamas. Try not to over-pack, though, no matter how many cute outfits your child has.
Factor in any other extras. For example, if a child is potty training, and the potty seat can fit in the luggage, bring it so the child's training doesn't have to stop. A bonus is that the child will get used to other bathroom settings as well.
Leave the big items at home
Children often have a favorite toy like a stuffed animal, but sometimes that toy can take up a lot of space. Talk to the child about why this toy won't be able to make the journey, but suggest a smaller, more manageable toy instead. Or if a child was gifted a very cute hat that will also take up a lot of room, leave that at home as well.
The key when packing for children is to pack as light as possible, because chances are that they've already taken up more suitcase space than expected. With any extra room left in the luggage, tuck in more essentials, such as diapers or other items that will result in extra travel expenses when they run out.
Get informed about the weather
Every vacation presents different weather considerations, and while adults can handle being a little under-dressed in a cool climate, kids should be kept as protected as possible. For this reason, it's vital that parents get as many details about the upcoming trip as possible. For a "fun in the sun" break, make sure to pack swimsuits, hats, watersocks or sandals, and lots of sunscreen. Or, if the vacation will be in a snowy place, ensure the child has water-resistant snow clothing, including hats, boots and gloves. That way, they'll stay warm and snug in the coolest temps.
Let them have responsibility
Add a little extra fun into the trip by giving children a sense of responsibility. Get him or her a child-sized suitcase or backpack that is manageable. Let them pack it with a few of their favorite things and some snacks for the trip as well. This way, they'll be in charge of making sure their suitcase gets to the destination, and it will teach them responsibility on the road.
Checked luggage is the best place for items that will be needed farther down the road but not necessarily on the flight. Some examples include extra diapers, any medicines, formulas and other items that aren't allowed on to a flight. Products for kids can be pricey, so if your child needs something to stay healthy, such as special lotions or body wash, these should all be checked to avoid having to buy them once the plane has landed. Additionally, if the child couldn't be talked out of packing that large stuffed animal; then, checked luggage is a great place to stow it away safely without making the plane-boarding process more stressful.