Best Time to View Sunsets in Phoenix
By Jodi "Jato" Thornton

; Updated June 08, 2017
Picture this: the panoramic pyrotechnics of an Arizona city sunset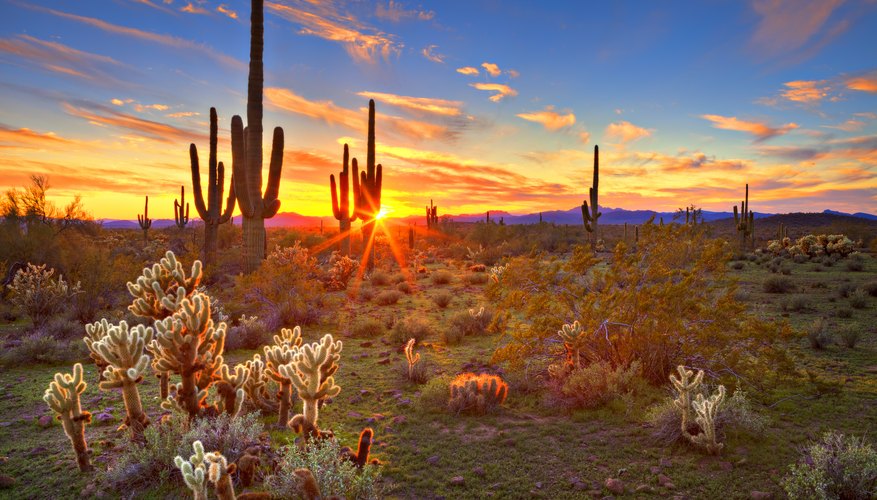 You've seen the pictures: Towering saguaro cacti silhouetted against a vibrant orange, pink and yellow sky. Phoenix is an ideal place to witness this end-of-day desert delight, but there are a few things you'll want to know before you go.
Best times for vivid skies
Sunset isn't the only time you'll see the sky ablaze in Phoenix. Sunrise brings shades of pinks, purples and oranges to start the day. Sunrise is also the coolest time of day in Phoenix, so if you're in the city during hot weather, it's definitely worth getting up early.
Winter: Longtime Phoenix residents will tell you that the city's two weeks of winter fall in early January. However, you'll witness the earliest winter sunset in Phoenix from late November through mid-December when the sun sinks below the desert horizon at 5:20 p.m. Late sleepers catch a break in winter as well. The sun doesn't peek above the desert floor until 7:33 during the first few weeks of January.
Spring: March and April bring peak wildflower bloom to the Phoenix area. If you want to capture vibrant photos of technicolor skies behind a field of blazing desert poppies, head out after an early dinner: The sun doesn't set until 7:00 p.m. by mid-April. The sun comes up by 6:00 a.m., bathing desert wildflowers with a dusky light.
Summer: Although Phoenix weather can get hotter than 110 degrees F, Arizona monsoon weather makes for the most dramatic sunsets of the year. Towering clouds blaze gold around the edges before taking on cotton candy hues as the sun dips down. The storms blow in during late afternoon and often blow out again in time for a 7:30 sunset in late July when storm activity peaks. A bonus: Desert creosote bushes release an invigorating perfume after the rain. Mornings are less spectacular during this time, but a 5:30 sunrise is a great time to beat the heat. Skies usually start out clear and build with clouds during the day.
Autumn: You won't find autumn color on the trees in Phoenix, but there's plenty to be seen in the skies. Autumn sunsets are the most vivid during this time of year. Days get shorter in September, and by mid-month, sunset occurs between 6:30 and 6:35 p.m. Look for sunrise at 6:10 to 6:15 a.m.
Where to get a look at the sunset
The Phoenix Mountains Preserve maintains scenic outlooks where you can hike a trail or sit at picnic tables in the shade while you're waiting for the sky to turn colors. North Mountain Park, Piestewa Peak at and South Mountain Regional Park are just a few of the popular sunset-watching spots in the preserve. Bring your camera to capture those giant saguaros silhouetted against the sky.
Warning
Share a sunset hike with your canine companion only if temperatures are below 100 degrees. The City of Phoenix prohibits dogs on trails when it's hotter.
Special sunset experiences
There are myriad ways to make sunsets extra special in Phoenix. Have cocktails or dine in the Compass Arizona Grill, the rotating glass restaurant atop the Hyatt Regency in downtown. Take a flashlight tour at the Desert Botanical Garden. The self-paced tour starts with a desert sunset and lets you explore nocturnal gardens by the beam of your light. Or take Friday night date night to Taliesin West, Frank Lloyd Wright's winter home, for a Night Lights Tour. Watch the sun go down over the Valley of the Sun and marvel at architectural features that come to life after dark, including a fire-breathing dragon.