What to Wear Hiking
By Kathryn Walsh

; Updated August 11, 2017
Tip to toe: What to wear for trailblazing comfort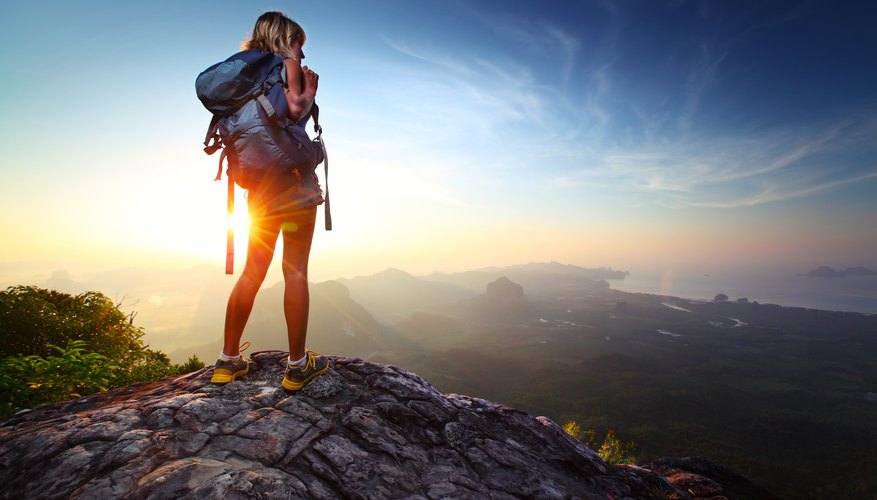 The best hiking clothes allow you to forget about what you're wearing and focus on what you're seeing. Durable, lightweight fabrics and comfortable, supportive footwear let you walk for hours with ease. Prepare to tackle places like Hawaii Volcanoes National Park on the Big Island – or a trail a little closer to home – by packing these essentials.
Wear: hiking boots (or supportive sneakers)
Hiking boots are the ideal footwear for a trip around the trail. After all, that's what they're made for. The best are lightweight, flexible, breathable and treated to be water resistant. If you're planning to hike on rocky or uneven terrain, or envision day-long trips, pick boots that come up around the ankle for added support. If less ambitious plans involve short walks on paved trails, you may be perfectly comfortable in running shoes.
Need to find new hiking boots? Go to an outdoor sports store to get a pro to help choose the right shoes for your feet and hiking style. Break them in before setting out for a daylong hike.
Don't wear: cotton socks
Cotton socks may be popular, but this natural fiber isn't the best choice for hiking. Cotton soaks up water and stays wet, causing friction and contributing to blisters. Instead, choose socks made of polyester or wool. It's important to pick a pair that fits perfectly; if too small or too large, socks will bunch or pinch, potentially causing blisters.
The thickness of hiking socks should correspond to the weather. Wear thick, cushioned socks in cold, wet weather, and stick with thin socks on hot days.
Wear: lightweight, durable pants
Pants are usually the best bottoms for hiking. Long pants offer protection from insect bites and nasty plants like poison ivy. Nylon is the ideal fabric for hiking pants, but you may also be comfortable in yoga pants.
On really hot days, or if it's warm and you're sticking close to civilization on a well-worn trail (basically, no chance of getting lost), wear shorts. Hiking pants that zip off into shorts, while not the most stylish choice, can also be useful on hot days.
Don't wear: jeans
Jeans, even thin capris, are not a good choice for hiking. They bunch and chafe, feel hot and heavy and, when wet, stay wet for a long time. Save them for post-hike drinks.
Tip
Hiking is serious exercise. A supportive sports bra is a must-have for women.
Wear: thin layers on top
When hiking, you can be cool starting out in the morning, get hot in the noon sun, shiver in the shade and then get sweaty after conquering a particularly steep section of the trail – all in the course of a few hours and on a mild day. So, prepare for big temperature swings by dressing in at least two, but preferably three, layers of light, non-cotton clothing. Wear a T-shirt or tank top made of performance fabric, which is designed to be thin and wick moisture away from the skin. Top that with a long-sleeved T-shirt or thin fleece pullover.
Unless it's going to be a short hike on a hot, clear day, wear or bring a coat made of thin, water-resistant fabric, like a hooded rain jacket.
Wear: a brimmed hat
To prevent sunburn and maximize your ability to see where you're going, wear a hat with a wide brim. Keep in mind that it will probably get sweaty.
Tip
Rain in the forecast? Heading to a wet, muddy hiking spot? Wear gaiters over shoes and ankles. They keep water, mud and pebbles from getting into the space where pants and shoes meet.
Hiking in winter
If you're the brave, hardy type, planning to set out for a snowy winter hike, you'll need to bulk up the gear. Bring gaiters to keep feet warm and dry; a hat, gloves and neck gaiter made of fleece or wool; and a warm, insulated water-resistant jacket with a hood. Pack an extra set of clothes, too, in case yours get wet or you want to add more layers.
What else?
A heavy, overstuffed bag is a pain to carry; on the other hand, getting stuck in the woods without adequate food and supplies is dangerous. Pack twice as much food as you think you'll need, along with a first-aid kit, map, compass, GPS and plenty of water. If hiking in a place that has water sources, skimp on water. If heading out into the backcountry, take at least two liters of water and a filtration system to allow safe drinking from streams and other natural sources.