Tips and Must Haves for a Hiking First-Aid Kit
By Meg Jernigan

; Updated June 08, 2017
The essential first-aid tips for safety on the trail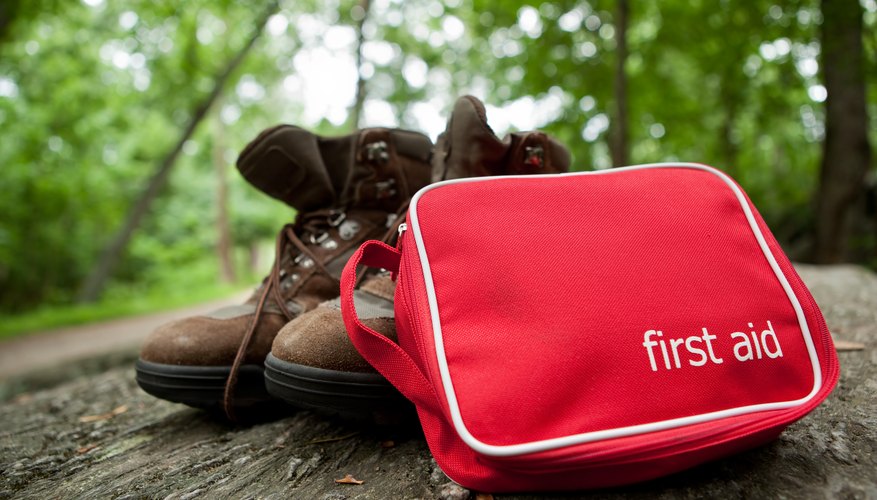 A first-aid kit from your local drugstore should suffice for a short walk in the woods, but it probably doesn't contain some of the essentials you need for a serious hike. Personalize the kit with items like allergy treatments or extra athletic tape if you're prone to sprains, or build a customized kit. Use baggies to keep bandages dry and keep leaky bottles from getting things that should stay dry wet, and watch the expiration dates on drugs and ointments.
For a short hike
Hikers in particular understand the need for blister treatment. Paint-on products like Second Skin, moleskin pads and sterile dressings all alleviate the pain and prevent further damage. Remember to wipe the skin around the blister with an antiseptic wipe first. Pack sterile gauze or gauze pads, tape to hold them in place, and a handful of Band-Aids of different sizes. Add a travel pack of over-the-counter painkiller, an antihistamine in case of an allergic reaction and bee sting treatment wipes. An ACE bandage comes in handy for a sprain or to cover a gauze bandage – make sure you have clips or safety pins to hold it in place.
Into the backcountry
Hikers planning a long trek into the backcountry should add a few more items to their first-aid kit. Up the number of Band-Aids you carry and pack a longer roll of gauze. Lip balm adds protection from the sun and heals cracked lips. Tweezers remove ticks and splinters, and a small pair of scissors with blunt ends can be used to cut gauze and tape. Cotton swabs are useful for applying ointment. Blister treatment is probably not among the things you've used duct tape for, but it's an effective way to prevent blisters from worsening. Hydrocortisone cream treats a multitude of skin conditions, and latex gloves protect the wearer from bloodborne infection.
Helpful, but not essential
A silver space blanket is helpful for hypothermia but not needed if temperatures are reasonable. Aloe vera lotion or cream helps ease the pain of minor burns, but isn't a must-have on a hike. Powdered drink mix packets help restore electrolyte balance, but they shouldn't be needed if you stay properly hydrated. Hikers with no first-aid training should add a first-aid book to the kit. If you're experienced with treating wilderness wounds, leave the book at home. Anti-diarrheal tablets are helpful if you think you might get an intestinal upset, but not essential.
Leave these at home
Generally, unless you're a medical professional, you should leave items like sutures and elaborate splints at home. For serious wounds, it's best to stop the bleeding and wait to get help. And, unless you are traveling far into the backcountry under extreme conditions, you probably don't need to buy an expensive satellite GPS messenger or personal locator beacon. Satellite devices send and receive texts, track your location and act as emergency beacons, but they're rarely essential.