Best Time to View Sunrises in Ocean City, MD
By Meg Jernigan

; Updated June 08, 2017
Greet the break of day at Maryland's oceanside playground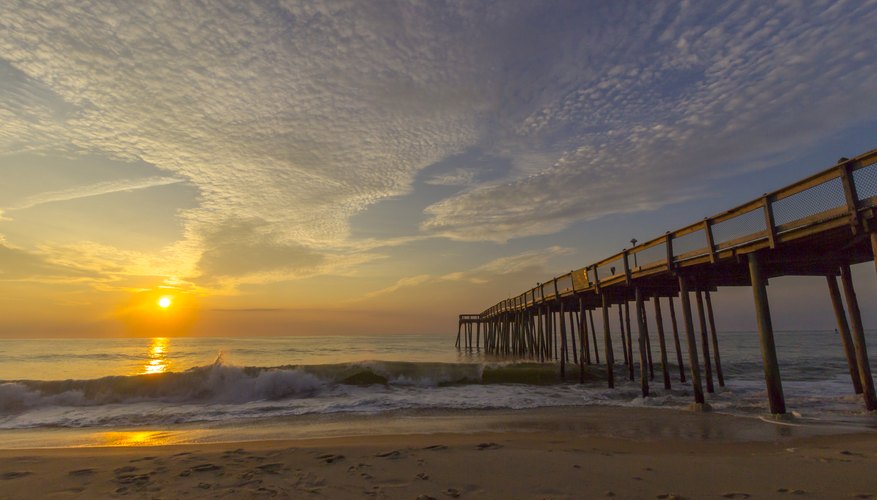 About eight million visitors flock to Ocean City's 10 miles of Atlantic Ocean beach every year, most during the summer when the ocean is warm and all the attractions are open. The city sprawls along a barrier island that continues on into Delaware's beach towns to the north. Thousands of hotel rooms and short-term condo rentals, many of them beachfront, provide lodging with a view. Wherever you stay on the island, the beach and its sunrise views are only a few blocks away.
When does the sun rise?
At the beginning of August, the sun rises a few minutes after 6 a.m. Summer temperatures typically reach into the high 80s in July and August, but early morning temperatures are typically in the high 60s, making it the best season to take your cup of coffee to the beach in time to see the sun rise.
January lows hover just below 30 degrees, so you'll need to really bundle up on windy mornings. The sun rises around 7:15 a.m. at the beginning of the month and closer to 7 a.m. at the end of the month. You'll need to be an early riser to catch the sunrise in May, when it begins to peek over the horizon at a couple of minutes after 6 a.m. In October, the sun rises a few minutes before 7 a.m.
What about weather conditions in Ocean City?
Morning fog can obscure the sunrise when warm air over land collides with cold ocean water. In Ocean City, this happens most frequently in the fall and winter. However, the muted rays of the sun as it rises above a fog bank can be just as breathtaking as an unobstructed view.
Ocean City's average annual snowfall is only around eight inches, and winter temperatures hover in the mid-40s – but standing on the beach in a bitter cold wind is not the ideal condition for watching the sunrise. If you do happen to be there after a snowfall, you may get the double pleasure of seeing the sun's rays reflected in the snow as it rises.
Best places to watch the sun rise
Without a doubt, the Ocean City beach and boardwalk are the best places for an unobstructed view of the sunrise. As the sun rises, the businesses that line the three-mile-long stretch of boardwalk come to life, and you'll smell the first batches of Thrasher's Fries as they hit hot oil. Small shops move their souvenir t-shirt selections outside, and amusement park rides prepare to rumble into motion. Watch the sun rise in your bathrobe in oceanfront rooms at hotels along Atlantic Avenue, the easternmost street in Ocean City, or enjoy breakfast in one of the coffee shops clustered around U.S. Route 50 or state Route 90 where they cross the sound and end on the barrier island.