What to Pack for the Beach
By Kathy Adams

; Updated August 11, 2017
Taking it to the shore: The things you'll need for a perfect beach outing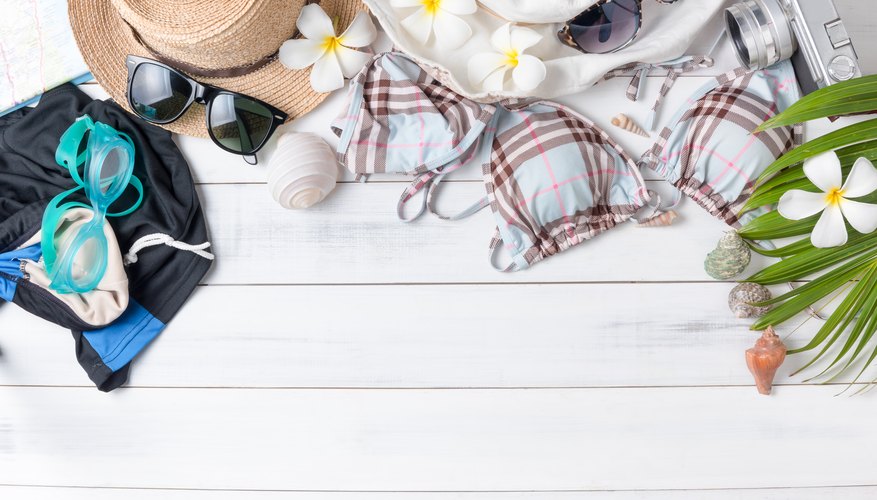 A beach trip can be the ultimate escape from day-to-day reality, whether the beach is 20 minutes or 200 miles from home. Keep these essentials in mind when packing for your beach day or weekend to ensure the absolute best fun-in-the-sun experience. The brief time spent planning what to pack is well worth the reward: many hours of carefree, beachy bliss.
Beach bag essentials
Whether a beach outing involves a couple of hours of reading and relaxation or non-stop action on the sand or in the surf, these must-have items ensure the excursion will be a success.
Pack at least one beach towel per person – the larger the better – and use it to claim a spot on the sand. If it's a group trip, a beach blanket provides more lounging space than individual towels, with room left over for other belongings. Also pack one beach towel per person for drying off or warming up after getting out of the water.
Pack, or wear, your bathing suit, plus a beach coverup, sundress or shirt and shorts. For guys, make that a T-shirt or button-front shirt and boardshorts. Keep in mind that any clothing reaching the beach will wind up sandy and possibly wet, so leave dry-clean-only goods at home.
Tote goods to the beach in a beach bag that can be washed, since it, too, is likely to get wet and sandy. If flying to a beach vacation, the tote bag can be used as carry-on luggage for items used on the flight.
Pack a few mesh bags – the type used for laundry. They're perfect for toting wet toys, towels and clothing back to the car or hotel room.
Beach-worthy sandals or flip-flops are the best footwear option. Enclosed boat shoes or sneakers collect sand.
A sun hat, baseball cap or other favorite sun-blocking hat is also a must-have for the beach, even for babies. Because sunburn happens before you know it – even on lips – waterproof sunscreen and sun-blocking lip gloss are also necessary bring-alongs. Remember sunglasses, too. The scenery's so bright, you've gotta wear shades.
Activities and eating
Since going to the beach usually means more than sitting on a towel or jumping in the water, pack items like books to spend time with – old-school paper versions, not e-reader.
If kids are involved, pack a sand pail and shovel set so they can hone their sand castle-creating skills. Save packing room by purchasing the toys at a local convenience store or tourist shop on the way. Floating balls, flying discs or oversized squirt guns offer plenty of fun for the young and young at heart while in the water.
Pack simple snacks that won't melt, such as nuts, raisins, carrot sticks or a trail mix that doesn't contain chocolate. This way, everyone can stave off hunger without creating a melted chocolatey mess. Pack snacks in zip-close bags.
Dehydration can happen easily, even when playing in the water, so pack either individual bottles of water or a jug of water from a nearby store, along with recyclable cups for each person. Just be sure to place the cups in a recycle bin at the end of the day.
Don't bring these to the beach
Don't bring jewelry to the beach. It can get damaged, lost or even stolen. Leave nice sandals and shoes behind. They're easily ruined if worn in the sand. Straps on sandals can break when worn in deep sand.
Electronic toys, laptops and other personal electronics don't mix with sand or water. Keep cellphones and cameras in interior zippered beach bag pockets when not in use, or make sure they have waterproof housings.
Perishable edibles like macaroni salad and lunch meats are a no-no. They can spoil. Likewise, sweet drinks and sugary treats, such as watermelon, attract flies and bees.
Beach bonanza: extras to bring if there's room
If driving to the beach and there's room in the car, fill that space with more aquatic-adventure gear. Pack beach umbrellas, beach chairs, large inflatables (if the beach allows them) and even a cooler. If packing a cooler and including alcoholic beverages, be sure the beach allows this. Also bring trash or recycling bags in case there are no cans around.
A small portable radio, or a phone and a Bluetooth waterproof speaker, allow you to listen to favorite jams while lounging.
Read up on the beach in advance
Some beach destinations, especially large touristy beaches, offer rental items such as chairs, cabanas and sometimes even snorkeling gear or surfboards. Check the website of the beach or resort before heading there to determine whether it's necessary to bring any of these items.
Also check the beach's website to ensure that items you wish to bring are not prohibited. Some, for example, do not allow large inflatable water toys or balls.