Best Time to View Sunsets in El Paso
By Jodi "Jato" Thornton

; Updated September 26, 2017
Capture the drama of a big, west Texas sunset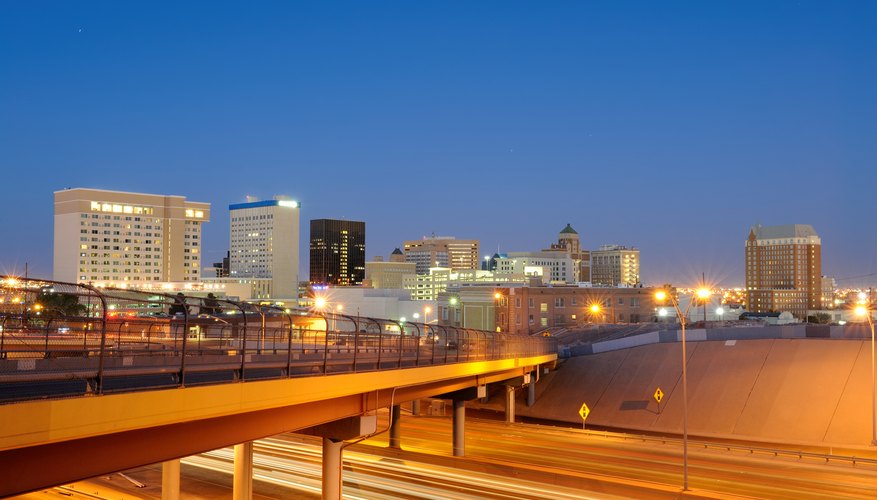 With a spectacular view stretching across three states and two countries, there's possibly no place quite as dramatic as El Paso to catch a sunset. Savor way-out-west end-of-day shows featuring technicolor skies that make mountains surrounding the city glow in shades of gold and mauve. The city's mild, year-round desert climate make this a must-do activity when visiting El Paso at any time of year.
Sunset-watching weather
El Paso has a fairly mild year-round climate with average temperatures ranging from the mid-40s to the low 80s. Even though the weather is mostly pleasant, be prepared for possible extremes any time of the year when you head out to watch the sunset.
Summer brings billowing clouds in the late afternoon that unveil dramatic sunsets following a monsoon rain. Temperatures that can rise to the upper 90s during the day cool dramatically after the rain, sometimes dropping as much as 20 degrees. Avoid crossing dry washes when you head out to see the sunset, however, as flash floods can sweep a car away with only a few inches of water. If you find yourself cut off by a flood, find another way around or wait for water levels to subside, usually within a few hours. Enjoy sunset picnics as late as 8:15 p.m. in late June and early July. August is the height of the rainy season, with a 29 percent chance of rain early in the month.
Autumn foliage comes in the form of red maples in McKittrick Canyon 100 miles east of the city, but you can still see plenty of color in the sky. The dry, clear weather allows more of the sun's light particles to pass through the atmosphere, producing particularly vivid colors during this season. Enjoy autumn sunsets in the 7:00 p.m. time frame with temperatures in the 70s and 80s.
Winter: Trade in your snow boots for hiking boots and take a hike in one of the city's mountain parks. Even during the coldest months, daytime highs reach into the 50s and 60s, but be prepared for dramatic drops in temperatures that can occasionally reach the freezing point after the sun vanishes below the horizon. You'll have plenty of time to warm up after in a restaurant or your hotel room: The sun sets as early as 5 p.m.
Spring comes early to El Paso. Mexican gold poppies start to blanket the desert hillsides as early as late February. Days in the low 70s are ideal for a hike, and the poppies rival sunset colors at dusk. Plan for sunsets between 7:15 and 7:30 p.m. until mid-March when Daylight Saving Time puts the sunset an hour later.
Scenic vistas for sunset viewing
Scenic Drive runs along the tip of the Franklin Mountains from Rim University to Newman Park.Two scenic viewpoints offer off-road parking and vistas ideal for sunset watching. Neither overlook has facilities such as restrooms or water, and there is no shade. Scenic Drive Overlook on the western end has stairs leading to the lower viewpoint but plans to add shade and ADA accessible access in the future.
Franklin Mountains State Park: North Franklin Peak rises to 7,192 feet, towering about 3,000 feet above the city of El Paso. Hike, bike, rock climb or camp overnight. Watch sunsets on weekends from the first Saturday in April to the second Saturday in April when the park has extended hours until 8 p.m. The park closes at 5 p.m. all other days, letting you catch a sunset sky on your way out during winter.
Wyler Aerial Tramway: Get an above-it-all view encompassing two nations and three states when you ride the Wyler Aerial Tramway. The $8-per-person tramway operates from noon through 7 p.m. but may close during bad weather or high winds. The tramway can get crowded on holiday weekends, so arrive early and have a backup plan in place.