How to Dress in New York
By Judith K. Tingley

; Updated August 11, 2017
Casual to high fashion: Doing NYC in style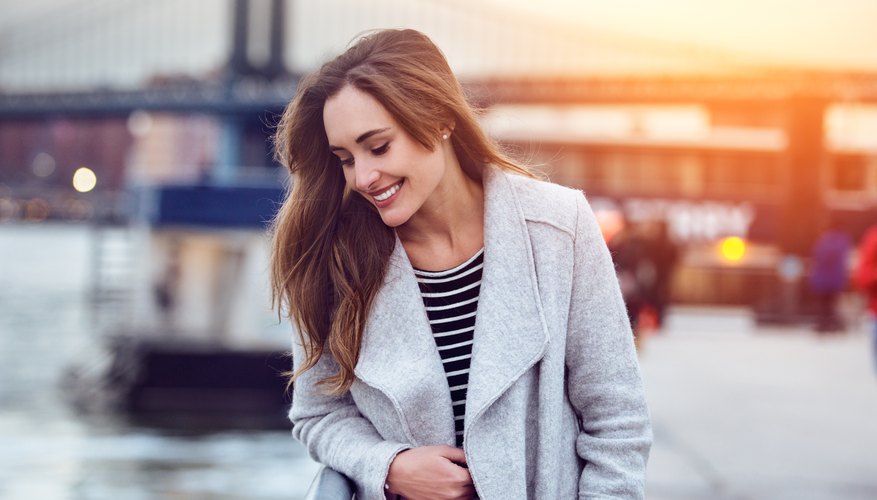 Anyone can be both comfortable and stylish in the Biggest Apple of them all , no matter if the weather is fair or foul.
Be prepared: what to pack and how to pack it
Whether traveling by car, train or airplane, use a suitcase that can take a drubbing. Consider a hard case with wheels for easy maneuverability. Before packing, check the weather report, then pack light but pack well. Don't stuff more than you'll need into your case. Try to keep things less burdensome by sticking to one medium-sized case and making sure the hotel accommodation includes laundry services.
Choose a coordinating wardrobe with pieces that can be switched out to transform themselves into various combinations, so that it appears that your case magically contains several outfits. Include garments with pockets; they will come in handy. More pieces of clothing will fit with fewer wrinkles if they're rolled, burrito-like, rather than folded. As soon as the destination is reached, hang the clothing and let it breathe.
And here are even more things to tuck into your case: scarves, undies, socks, leggings, a waterproof baggie for toiletries and whatever else it's impossible to live without.
Street style
New York is truly the city that never sleeps, and stylish New Yorkers are out on the street strutting their stuff at all hours. Match the outfit to the time of day and the occasion. Choose comfortable clothing, but don't go so far as to wear tracksuits and flip-flops.
Current favorites are patterns that don't match but do coordinate, bold colors and color combinations (the jury is still out on purple and yellow) and bulky, oversize outerwear (for those who can manage to look good in it).
Dark plaid is not as in evidence as it was a few years ago, nor are those gauzy full-length skirts that used to be seen everywhere. Leggings and skinny jeans are still go-to casual wear, worn with bulky tops, tunics or perhaps an embroidered denim jacket. Fond of pink? Now's the time to flaunt it.
Fans of Diane von Furstenberg will be pleased to hear that the wrap dress is back in style – this kind of dress is evergreen, easygoing and figure-flattering for just about anyone, with the added advantage of being supremely packable.
New Yorkers can face any kind of weather
For casual daytime wear in spring and summer, stay fresh in light cotton shirts, crisp trousers and a light sweater tied at the waist – it might come in handy when evenings turn cool. It's okay to wear a t-shirt with a message as long as it's fun and upbeat (think "Woman Power") instead of vulgar or hostile. Do not, in any case, become a walking billboard.
For special events in any season choose a sleek sheath (so much easier to pack than a flouncy number) paired with cute mid-heel pumps in a fun color.
Bring along a few sweet gingham dresses for hot summer days. Don't forget the sunscreen and a wide-brimmed hat for good measure. Add sunglasses and be the living embodiment of Audrey Hepburn!
Black is still with us and will never go away as the perfect choice for afternoon receptions and evening soirées.
Layering is key during the fall and winter. Try contrasting textures and colors for maximum effect. Wear skirts and dresses of heavier material (best if washable) and thick, cozy leggings underneath. Commodious heavy-duty trousers are also a good choice.
Boxy, plushy jackets and coats are fashionable but only for those who can carry them off with style. Florals are such a hit now that a big, bright flowery design against a dark background can carry a jacket right through fall and straight into winter.
Shoes, shoes, shoes!
Leave heavy-duty, clunky super-high heels to the supermodels. Sure, heels can be fun but they can also be a pain. Take along your most comfortable pair of heels to wear at the special occasion or party, but when walking the streets, wear walking shoes.
Never ever buy a pair of shoes for a special occasion without wearing them several times first. It doesn't matter how great they feel in the store; walk a mile in the shoes before you walk the streets.
Spending the day walking around the city? Walking shoes are a must, shoes that have already been broken in enough that comfort is assured. And these days, walking shoes come in all kinds of colors and styles. As long as they have good arch support and provide a cushion against those concrete sidewalks and (most importantly) fit without cramping, all should be well. Your feet will thank you.
On slushy, mushy, snowy or otherwise sloppy days, wear basic mid-calf boots with shockingly bright laces.
Bags and what to put in them
A bag is required. A bag can hold all the little necessities of life such as Kleenex, change purse, lip balm, a comb, mints, a little notebook for jotting down impressions and addresses, and a pen to do the jotting. Small purchases can easily fit into a medium-size cross-body bag, but if you run out of room, an answer is at hand in the form of a specially constructed folded shopping bag that can fit into the smallest purse and, when needed, can open into a full-size, environmentally friendly tote.
A cross-body bag is a marvel of engineering. It leaves both hands free and can be held against the bosom so that its location is known at all times and it provides no temptation to would-be purse snatchers. Choose one with a secure zipper or other type of impenetrable closure. Anyone who wants to live large can use a messenger bag, which has the same properties as a cross-body, but might get a little heavy by the end of the day.
Not forgetting the menfolk
Of course, men can be stylish, too. In fact, men who feel stifled and dowdy in their offices back home may want to take a little leap into fashion in the big city. Why not take at least one pair of trendy ankle-length pants and a colorful shirt or two?
Last but not least
Remember that if clothes don't mesh with the wearer's personality, no outfit is going to work, fashionable or not. Any would-be fashionista's first rule of style should be: Choose the clothes that make her feel terrific. Choose the clothes that bring out her confidence and light up her smile. And that goes for any location.