What to Pack for Hawaii
By Amy Curtis

; Updated June 08, 2017
Aloha! Things to take on a Hawaiian getaway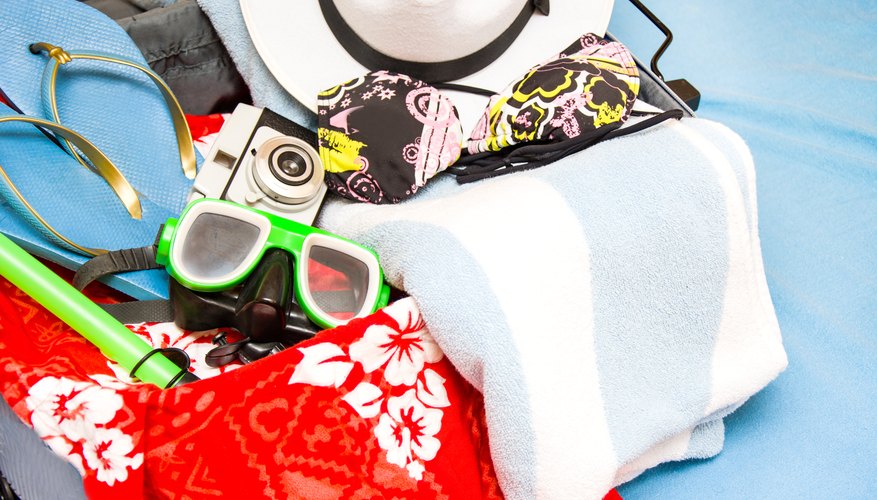 Traveling to Hawaii is a dream come true for many travelers, and you might envision packing only a bathing suit and lying on the beach all week. But there's so much more to do in Hawaii than soak up the sun. Smart packers assess their itinerary and plan for all the contingencies, yet keep their baggage light.
What to pack
For daytime wear, casual clothes are best. Shorts and T-shirts are great for every day, though long pants are necessary for hiking over lava, riding horseback, flying on a zip-line and similar adventures. The weather is warm, so clothing should be lightweight.

Going out at night is still pretty casual. Men can wear khaki pants, or even shorts, and a collared shirt. Women can wear sundresses, capri pants or dress shorts with a blouse.

For the beach and pool, bring two bathing suits and a cover-up. Packing two bathing suits ensures that one is always at least mostly dry. A sundress easily works as a cover-up.

What to leave behind
Don't bring a surfboard. Maybe the board is a cherished possession, and it's always been your dream to ride it on the big waves in Hawaii. But it's better to leave your board behind than pay to bring it and risk damage on the plane. There are plenty of places in Hawaii to rent a board, and it's an opportunity to meet some locals and make new friends. This applies to beach toys, snorkeling gear, towels and sunscreen, as well.

Leave valuables at home. Hawaii has an alarming number of car break-ins, so it's best not to travel with expensive items or a lot of cash.

Fancy clothes can stay home with the valuables. Hawaii is a casual place, so dress clothes and fancy shoes are not necessary, even if there's a nice restaurant in your plans.

Don't bring a plant. This sounds like a no-brainer, but since the state government has rules against plant travel, it must be something people try to do. The government wants to prevent invasive species from gaining a toehold.

Weather and seasons in Hawaii
Hawaii is warm all year, with highs in the 80s and 90s. In the winter, however, temperatures can be a little bit cool in the evenings, dipping into the 60s. Bring a light sweater or jacket, just in case it gets chilly.
Condensing for a carry-on
It's easy to pack for a Hawaiian vacation using just a carry-on because you don't really need too much. The same sundress worn out to dinner one night can work as a cover-up on the beach the next day. Comfortable sandals are acceptable almost anywhere, except for hiking and a few other strenuous activities. To save space, wear your bulkiest outfit and heaviest shoes on the plane, and pack the lighter-weight items in your carry-on.
If more space is available
There's really not much need for more clothing, so if you have extra room, use it for gadgets. Binoculars are fun to have in Hawaii, and a really nice camera can net some gorgeous photos. These things aren't necessary, but if you've got room in the bag, go for it.
Other considerations
A unique but popular and useful item to have in Hawaii is a pair of hiking sandals. These are sturdy, close-toed sandals that are breathable and moisture-wicking. They're extremely versatile and work for kayaking, hiking, biking and playing in water where the bottom can be rough on your feet. In Hawaii, where waterfall pools sometimes have lava-rock bottoms, hiking sandals are great for protecting the soles of the feet.
Hawaii is a relaxed place, with a laid-back island lifestyle. Packing simply is easy to do and can make your vacation even more relaxing.