What to Pack for a Road Trip
By Beverly Bird

; Updated June 08, 2017
Road tripping done right: What to take along for the ride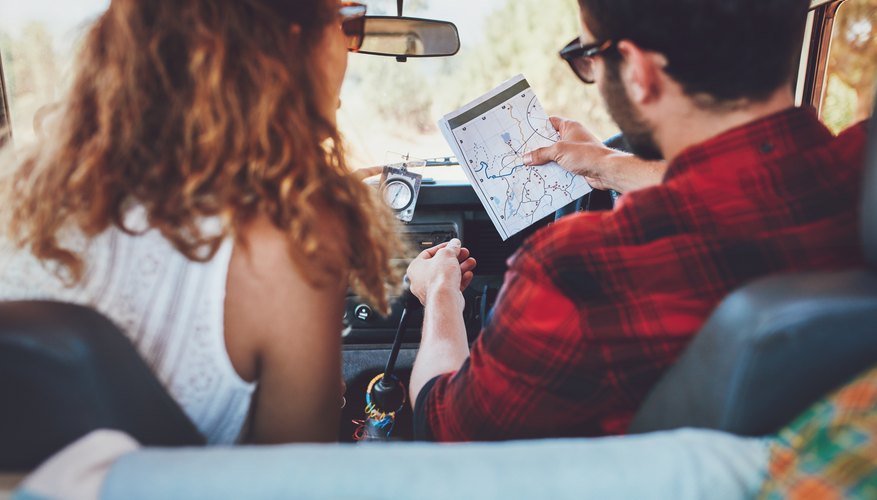 Road trips can be glorious or they can be disastrous, as anyone who remembers the movie "National Lampoon's Vacation" can tell you. Part of ensuring success involves packing right and being prepared for almost any eventuality. By the same token, there must be room left over in the car for passengers. Admittedly, it's a balancing act.
Be prepared for all kinds of weather…
Weather can change on a dime, particularly on a road trip. Travelers might find themselves crossing a sun-soaked valley in the morning, then winding through much cooler mountain roadways toward nightfall. Take clothing suitable for both extremes and for weather that falls somewhere in the middle – and make sure it's all comfortable, not brand new and untried.
At least one road trip veteran suggests organizing everything by need: items for rainy days in one suitcase, clothes for sunny days in another, and those for icy days in still another. And no, this doesn't mean numerous outfits in each category. Two or three sets of clothing in each should more than suffice, although you may have to stop to do some laundry on a longer trip.
Of course, you might not want to take suitcases at all. They take up significant space in your vehicle. Duffel bags, gym bags and the like can be more easily crammed into crevices.
… and for car trouble
Nothing can derail a road trip more completely than engine or tire trouble. It goes without saying that vehicles should be thoroughly checked and tuned up before hitting the highway, but pack for worst-case scenarios anyway in case something goes wrong. Even brand-new tires can encounter debilitating nails and glass on the roadways.
Take jumper cables and flares. Make sure the spare tire is in good condition, the car jack works, and the owner's manual is within easy reach. Consider buying an American Automobile Association membership just in case you need extra help in a pinch.
Other necessities you'll probably want to make room for…
Music. Munchies. These things make your time in the car a vacation rather than a grim just-get-to-the-next-stop event.
Pack snacks that will satisfy a variety of cravings, from salty to sweet, and keep them within easy reach to avoid parking and searching for them when the urge hits. Plenty of fresh water is mandatory, particularly if you'll be crossing long expanses of highway that are pretty much void of civilization.
Other good things to have on hand include sunblock, baby wipes and/or hand sanitizer, toilet paper, a flashlight with extra batteries, a bottle opener, a knife and – of course – a first-aid kit complete with painkillers and bandages.
… and some things you can leave at home
Unless you're planning to camp your way across the country, leave the shampoo, conditioner and various other toiletries in your home bathroom. You won't need them – hotels and motels almost always supply these things free of charge. The same goes for appliances like hair dryers. In fact, you can leave behind anything that you anticipate will come part-and-parcel with your nightly accommodations.
Women will probably want their makeup bags, but even these can be scaled down depending on the itinerary. If a black-tie event isn't on the calendar, that full arsenal of eyeliner and shadow is probably unnecessary.
Don't overload on the electronics
A road trip is an experience, so live it. It's one thing to capture photos for posterity, but quite another to remain glued to laptops and tablets. If you can't bear to leave your email and social media contacts behind, your smartphone alone can keep you in touch, and it can meet pretty much any other electronic need or urge you might have while you're on the road as well – including taking those photos. So unless you need them for business reasons, leave the other devices at home and enjoy your time on the road.
That said, make sure the electronics you do take remain up and running. Pack a USB adapter or two and a cellphone charger and adapter. Some states require that you have a wireless headset or other hands-free mechanism for your cellphone.
And about that music for the ride. It's perfectly OK to bring the iPod with your preferred playlists – it doesn't take up much space. Just remember the adapter, so you can hook it up and play it in the car. But if you really want to pare down your packing, consider Pandora or another radio subscription if most of your trip will be within civilized limits where streaming is available.