Best Time to View Sunsets in Seattle
By Jodi "Jato" Thornton

; Updated June 08, 2017
Sleepy in Seattle: A Pacific Northwest sunset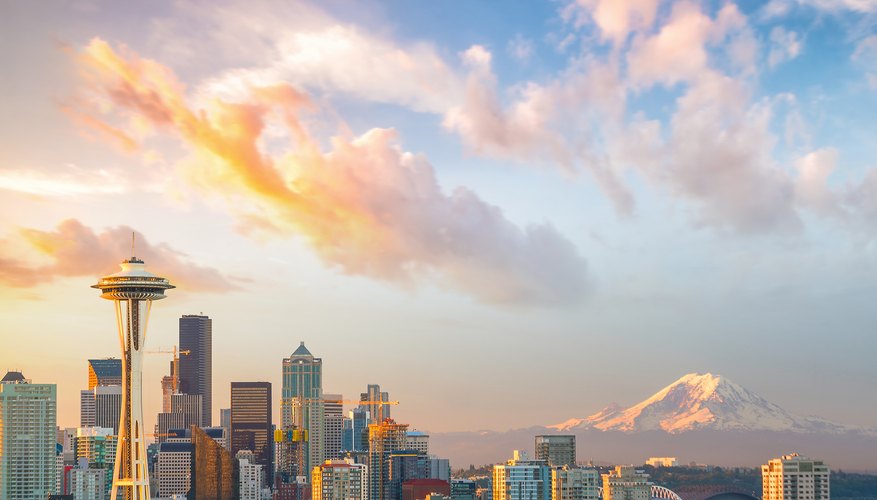 Seattle is known for its rainy weather, but even so, the Emerald City makes travel expert Rick Steves' list of places to watch the world's best sunsets. Steves views the sunsets from his deck in Edmonds, north of the city. "As the sun goes down, a golden path of sparkles leads across the bay to the snowcapped Olympic Mountains," he comments. He also notes that the ferries take on a glow like so many floating lanterns.
Best time for sunset skies
The rains that Seattle is known for mainly fall between October and April. Visit during late spring through early autumn to enjoy the best sunsets. Autumn sunsets are particularly vivid due to the sun's angle. Autumn days average between 60 to 70 degrees F, but things cool down down quickly after dark when temperatures can drop below 40 degrees F by October's end.
In November, cloudy days make up 80 percent of Seattle's weather and continue through February. The city receives most of its famous rain from November through January – more than 5 inches each month. Look for sunsets on the other 20 percent of the days, which vary equally between partly cloudy and mostly clear. Cloud cover is the least during July when the sky has low clouds for 60 percent of the time.
Sunset times:
mid-spring: 7:24 p.m.

mid-summer: 9:10 p.m.

mid-fall: 7:08 p.m.

mid-winter: 4:20 p.m.

Where to watch the sun go down
The Space Needle: Nothing blocks your sunset view from the Space Needle's observation deck. Enjoy a panorama of the Emerald City, the Elliot Bay waterfront, Mount Rainier and the lights of downtown.
Pike Place Market: The hillside location of Pike Place Market gives an unobstructed view of the sunset. Get creative and capture the Seattle Great Wheel in the foreground or the changing colors of the snowcapped Olympic Mountains as a backdrop.
Seattle Great Wheel: Check out the colorful sky from 175 feet in the air as you ride the Seattle Great Wheel. Climate-controlled gondolas make a great way to view the sky when winter chill is nipping at your nose.
Kerry Park: Gaze over the central city and Elliot Bay with Mount Rainier in the background as you drink in the sunset at Kerry Park. The lower park is where you'll find the best view, as well as spacious lawns and play equipment for the kids.
The ferry: Don't just look at the ferries glowing like lanterns as they cross Puget Sound; be on one. Get a unique perspective of a Seattle sunset reflected in the water with snowcapped mountains in the background. Enjoy the one-hour ferry ride to the town of Bainbridge with its shops, restaurants and free events along the waterfront. Then savor the lights of Seattle – the frosting on the cake as you return to the city.