Best Time to View Sunrises in Denver
By Jessica Ozar

; Updated June 08, 2017
Daybreak in Denver: Mile-high inspiration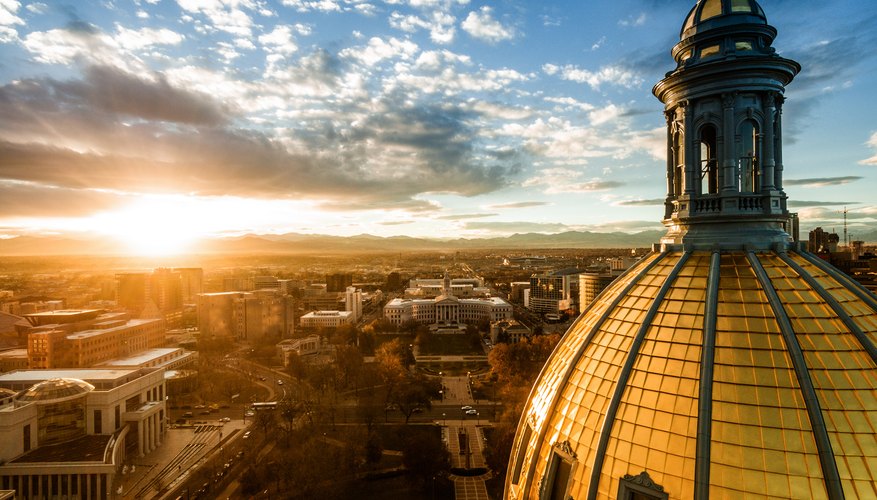 The Mile High City is a perfect place to watch the sunrise. With both the surrounding mountains and nearby plains, early risers are sure to be in for a gorgeous view.
Considerations for viewing the sunrise in Denver
In summer, the sun rises as early as 5:30 a.m., so get to your viewing location early to watch the whole event. By October, the sun rises at 7 a.m.; 7:20 a.m. in January and 6:30 a.m. in spring. Check the time online at www.timeanddate.com for the day of your visit.
Weather changes quickly in Denver, so be sure to bring extra layers and pay attention to the weather forecast. One day it could snow and be in the 30s, but the next day may be 70 degrees F and sunny. It's also not uncommon to have snow in May.
Because of Denver's elevation, some visitors can feel fatigued and take up to a week to adjust. The air is very dry, so drink extra water if you're more accustomed to a humid climate.
Best places to view the sunrise
1. Red Rocks Amphitheater
A geologic phenomenon with a natural acoustic amphitheater, Red Rocks is home to two 300-foot monoliths that give visitors the feeling of being in prehistoric Colorado. The park, about 35 minutes outside of Denver, opens an hour before sunrise and closes one hour after sunset, giving visitors the opportunity to watch both. Check the calendar to make sure there is not a special event, like a concert, that would make it difficult to find parking. During the summer, Red Rocks hosts Yoga on the Rocks early in the morning. Participants pay a fee for entry, but places sell out quickly and make it more difficult for nonparticipants to enjoy their visit.
2. Lookout Mountain
Lookout Mountain is in nearby Golden, only 35 minutes from downtown Denver and 15 minutes from Red Rocks. It is another place to see a beautiful sunrise, and visitors can view the foothills and the western part of the city. Home to Buffalo Bill Museum and Grave, Lookout Mountain also offers short hikes. The nature center is open Tuesdays to Sundays, and while the preserve is open 8 a.m. to dusk, visitors can drive up near the top of the mountain at any time. Watch out for deer, bears and mountain lions that roam the area. Visitors in winter must have snow tires and all-wheel drive to navigate the roads.
3. City Park
For a view of the sunrise from within the city, visitors head to City Park in the northeast section of Denver. It offers views of both the mountains and the skyline. Leave extra time to get to the park on weekdays because of morning commuters.