Good evening, America. See sundown in the nation's capital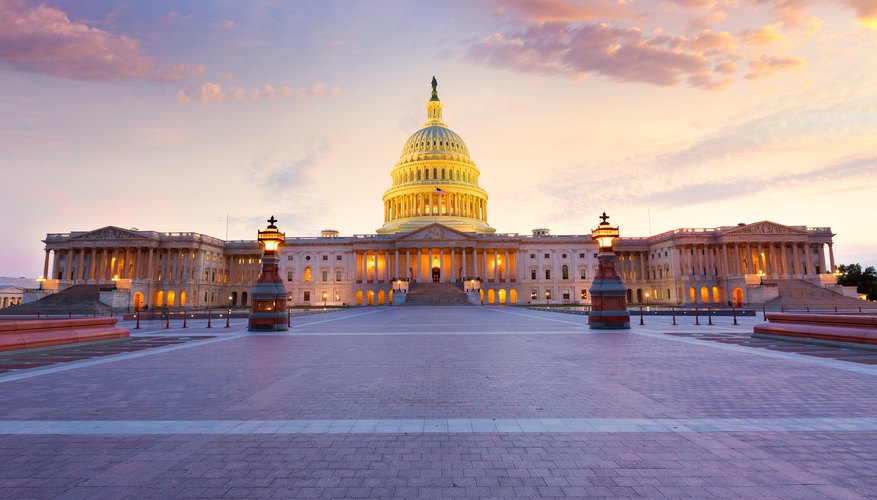 The slanting rays of sunset highlight the monumental skyline of Washington, D.C., with shades of yellow, orange and red. White marble memorials glow pink as the last remaining daylight glitters on the Potomac River. Settle in a quiet spot on the Mall, look west and wait as your surroundings change from stark daylight to a softer-hued evening.
Best times to catch the sunset
The crowds start to swell in the spring in Washington, D.C., as the weather becomes moderate and the Cherry Blossom Festival nears. The sun starts to set at 8 p.m. at the beginning of May and sets a half hour later by the end of the month. By Aug. 24, the sun is setting around 7:50, the time of day when the city's hot and humid weather begins to cool. Autumn is another favorite season in Washington, when cooler weather is the norm and the leaves in the City of Trees change colors. The sun sets around 7 during fall evenings. If you're visiting in mid-January, you may be able to watch the sun go down a little after 5 with a snowy filter. Dark nights after the sun sets are the perfect time to photograph the marble monuments along the Mall.
Weather considerations
Hot summer days tend to be hazy in Washington, when particulates in the air obstruct clear views of the sunset. Late-afternoon storms typically clear the air, but the weather returns to hot and humid soon after the storm stops, and the haze may return before sunset. The city ranks high on the "dreariness index," a measure of cloudy, rainy and snowy days, conditions that make watching the sunset a hit-or-miss prospect. A brilliant harvest moon rises in late fall. It's best viewed from a high point in nearby Virginia, such as the Marine Corps War Memorial across the Potomac River. There you can watch the moon rise over the city's monumental skyline.
Where to watch
Position yourself at the east end of the National Mall near the Capitol for views of the sun setting behind the Lincoln Memorial. Downtown hotels with rooftop decks provide birds-eye views of the sunset, and rooftop bars around town not affiliated with a hotel let you kick back with a beverage as the sun drops over the city. The revolving Skydome Restaurant atop the DoubleTree in Crystal City, Va., provides a 360-degree view that includes Washington's monumental core and Reagan National Airport. Pack a picnic dinner and head to Haines Point, a spit of land south of the Jefferson Memorial, for a sunset view that includes the Potomac River and Arlington National Cemetery. If you find yourself in Washington in January, consider climbing the 333 steps to the top of the National Cathedral's central tower. At other times of the year, the cathedral may be closed before sunset.