Best Time to View Sunrises in Miami
By Ashley Friedman

; Updated June 08, 2017
Watch Miami light up at daybreak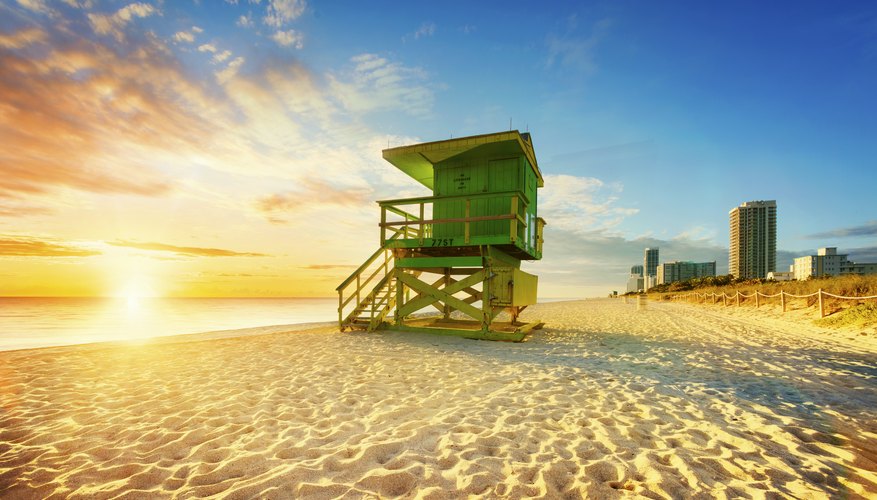 A tropical city located on the southeastern tip of Florida, jutting into the Gulf of Mexico, Miami boasts some of the most incredible sunrises visible in the United States. The clear, blue-green water of the gulf, the swaying palms and the white and pastel buildings of the city make the Magic City a truly magical place to wake up.
Best time by season
The best time to watch the sunrise in Miami depends on the season you're there. In the wintertime, the sun rises between 6:40 and 7:10 a.m. depending on how close to the winter solstice you are. As the spring approaches, the days get longer, so sunrise in Miami in the springtime varies beginning anywhere from 7:15 to as early as 6:45 as the calendar approaches the summer solstice. From mid-June to September, the days are long, so the ideal time to watch the sunrise is between 6:30 and 7 a.m. Autumn days are shorter, so factoring in daylight savings time, the sunrise can be anywhere from 7:15 to 7:30 in September and 6:15 to 6:30 in November.
Weather and seasonal considerations
Like any other coastal city on the Eastern Seaboard, Miami is subject to the whims of the weather, and cloud cover on rainy or overcast days can make the sunrise viewing less than spectacular. The very best time of year for Miami weather is between March and May. Skies are clear, the weather is warm and you are all but assured a glorious sunrise. As the spring turns to summer, Miami enters its hurricane season, and perfect sunrises become more of a rarity. From September through February, rain is always possible, but thanks to the tropical climate of the city, storms often roll across the sky quickly and are gone in an hour or two. The sky after a storm can be lovely, so stormy nights giving way to clear mornings can make for a pretty impressive sunrise view.
Best places to view the sunrise
Without a doubt, the beach is one of the most popular places for watching the sunrise in Miami. Whether you're interested in tourist-favorite South Beach, the white sands of Bal Harbour, or the quiet, dune-hidden expanses of Haulover Beach, an oceanfront sunrise in Miami is as good as it gets.
If you're interested in taking in the sunrise from a more elevated vantage point, Miami boasts a number of venues with rooftop pools and lounges perfect for viewing the sunrise. Hotels like the Redbury South Beach, Boulan South Beach, Vintro Hotel and Kitchen and Sense Beach House have stunning views of the city and the ocean and are the perfect place to watch the sunrise. If you're not staying at the hotel as a guest, be sure to call ahead and see if visitors are welcome to come up to the roof and watch the sun lift from behind the horizon.