Best Time to View Sunrises in Fort Lauderdale
By Ashley Friedman

; Updated August 11, 2017
Finding the time for daybreak in Fort Lauderdale, Florida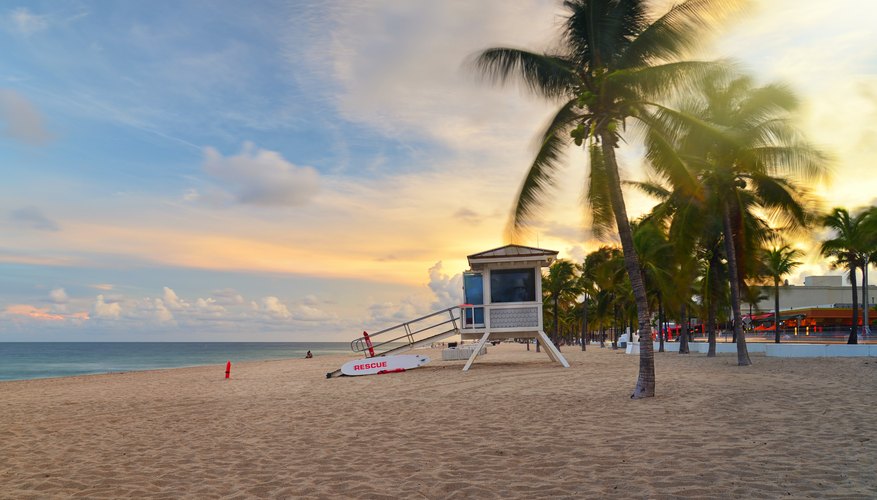 Located just outside Miami on the southernmost tip of the eastern seaboard and perched over the blue-green waters of the Gulf of Mexico, Fort Lauderdale is a fantastic place to take in the sunrise. Whether you're out on the beach, or have an elevated vantage point thanks to a hotel, watching the day break over the Atlantic Ocean in Fort Lauderdale's balmy, tropical climate will make getting up in the dark well worth the effort. Like anywhere else in the United States, the best hour to see the sunrise in Fort Lauderdale will change with the seasons, so be sure you know what time to set your alarm.
Best Times
In January and February, the sun rises around 7 a.m., so you don't have to get up too early to catch its first rays. The sun begins to show its face earlier as the calendar moves closer to the mid-March vernal equinox, appearing around 6:45. With the summer solstice in mid-June, days grow longer, and the sun comes up around 6:30 in late June and July. By October, daylight wanes, and sunset can be as late as 7:30. But, once daylight saving time rolls around in early November, the sunrise is at the 6:30 mark once again.
Weather and Seasonal Considerations
An overcast sky can quickly ruin the chance to see a beautiful sunrise, so be aware that, if you're traveling to Fort Lauderdale during the rainy season – May through October – early morning storms may make it difficult to catch the rising sun in all its golden glory. The clearest and most temperate times to be in Fort Lauderdale are November through January. These are the area's driest months, when it's least likely that clouds or rain will mar your view of a perfect sunrise.
Best Places
In terms of locations, it's tough to argue against the beach. Fort Lauderdale is known for its beautiful beaches and postcard-worthy views. The aptly named Fort Lauderdale Beach is great for sunrise-watching, flanked by palm trees and lifeguard stands. While the city has significantly fewer rooftop pools than nearby Miami, the Rooftop Resort – a nudist destination – does boast a lovely rooftop pool where guests and visitors can take in the sunrise. Clothing is optional. If you're not a guest and not opposed to seeing some skin, call ahead to see whether outside visitors are welcome to view the sunrise from the rooftop pool deck. For a more traditional hotel experience, try the Hilton Fort Lauderdale, where they have a stunning balcony overlooking the ocean. Again, if you're not staying at the hotel, call ahead and ask whether the balcony is open to the public during sunrise hours.